SOP Hosts High School Students Interested in Pharmacy
The third-annual Pharmacy Day attracts students from across Lebanon.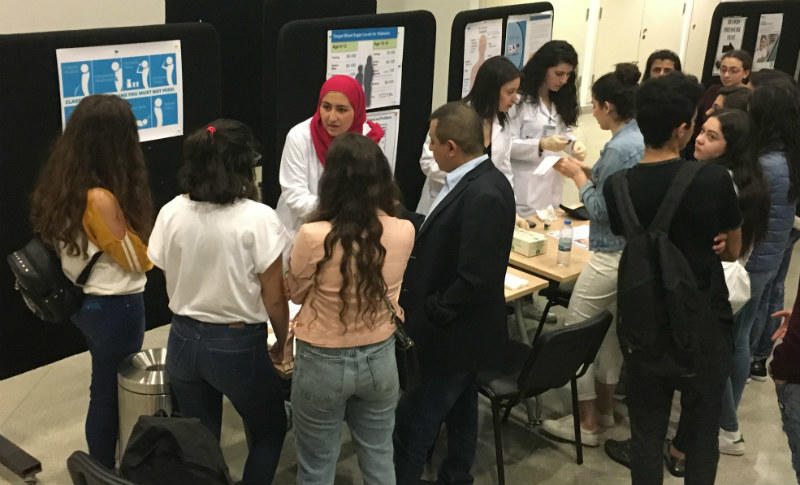 The School of Pharmacy (SOP) hosted its third-annual Pharmacy Day on LAU's Byblos campus on March 24. The event catered to prospective high school students, parents and guidance counselors interested in learning about the many opportunities that a degree from the School of Pharmacy offers its students.
SOP Dean Imad Btaiche introduced prospective students to the degree programs offered at the school – the Bachelor of Science in Pharmacy, Doctor of Pharmacy (PharmD), and Master in Pharmaceutical Development and Management – noting that one of the biggest advantages for graduates is compatibility with US pharmacy programs. "LAU's PharmD program is the only one accredited outside of the United States, and the SOP operates following US best standards of education," Btaiche said.
Another highlight is the SOP's partnership with LAU Medical Center-Rizk Hospital, he noted. Students benefit from hands-on clinical experience in which they are given responsibility and are held accountable for their own growth. Clinical Associate Professor Wissam Kabbara spoke about how critical it is for students to understand the opportunities that open up with a degree from SOP. "The role of the pharmacist has expanded from primarily working as a community pharmacist," said Kabbara, who has been organizing Pharmacy Day for the past two years. "LAU's program is tailored to meet every pharmacy student's needs, whether it is through traditional learning methods or experiential education."
Btaiche pointed out that a degree from the program involves more than just honing technical skills. "The role of the pharmacist as a healthcare professional is to improve patient care, so we strive for our students to develop an inquisitive mind and also learn how to be investigators."
To that end, SOP students participate in co-curricular activities, geared at developing the soft skills that are paramount for pharmacists. "Patients will value how much you care," said Btaiche. Soft skills like communication, teamwork, leadership, problem-solving and self-awareness are honed within the degree programs alongside technical coursework, producing well-rounded graduates who are equipped for success in the field.
In her address to attendees, Vice President of Student Development and Enrollment Management Elise Salem assured students that a degree from the SOP carries weight. "All of our students with a degree in pharmacy from LAU are ensured a complete student life experience on campus, and future job security and job satisfaction," she said, adding that their university experience would be unique. "LAU is a student-centered institution – students here are a name, not a number."
Prospective undergraduates had the opportunity to hear from current SOP students. Yasmine Hamwi, a third-year pharmacy student noted that "[Pharmacy] is one of the toughest majors, but with good time management, you can be successful." Another third-year student, Diana Franjieh, echoed the dean's message on the school's uniqueness: "The LAU program strengthens you before you hit the field; you will be proud of what you know."
And the audience, consisting of mostly senior-year high school students, was listening. Tia Doumit felt that Pharmacy Day answered many of her questions: "[The event] shed light on the numerous aspects of pharmacy that I never knew were part of the field."
Mia Chelala, another high school student, agreed: "Pharmacy Day helped me gain a better understanding of what a degree in pharmacy entails."
After the dean's message and overview of the programs, students were invited to visit the booth area, where current students were available to answer questions and provide specifics on the program. Guided tours of the Clinical Simulation Center and SOP laboratories were also offered, followed by a networking reception in the courtyard.