Starting Off the Year After a Season of Giving
LAU students, faculty and staff regularly hold events to benefit the greater community.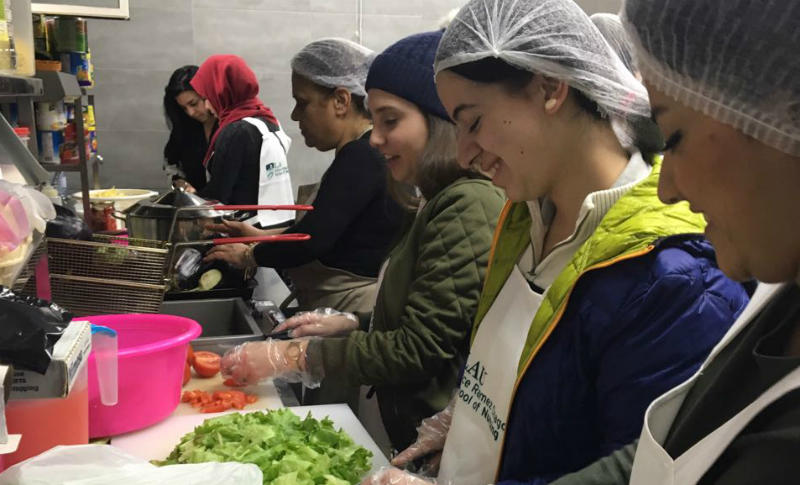 From food donations to special events, the spirit of giving was in full swing over the past two months, as LAU students, faculty and staff donated their time, energy and money to serve those less fortunate.
In the run-up to Christmas, Alan Kairouz, associate manager of Byblos campus activities, and a number of students, faculty and staff embarked on a two-day trip across the country to hand out supplies to those in need. These included food, clothes, toys, diapers, baby formula and household necessities, many collected by student clubs, some donated by embassies, and some purchased with money raised from university activities.
The Christmas donation drive is a tradition that Kairouz has led for 17 years.
"There is always heavy student involvement," said Kairouz. Indeed, "the students get out more out of it than those receiving the aid. It helps them see the value of community work and gives them a chance to achieve and to shine."
Other recent events Kairouz and students have worked on are the Orphan Fair, where around 500 local orphans were invited to the Byblos campus for a day of food, fun and games; a visit to an elderly home in Beirut; and a trip to an orphanage in Tripoli during which volunteers distributed food, clothes and other necessities. All were arranged in collaboration with the Dean of Students' Office.
Mohammad Takkoush, a third-year industrial engineering student who volunteered at the Christmas donation drive, felt deeply impacted by the experience. "It was really amazing, and it made me think once again about my current social and economic level. When you see families who manage to live in houses smaller than most students' living rooms, then you definitely recognize how thankful you should be," he said.
"It was a great experience and I advise all the students to take part in such events in the future," he added.
Back in Beirut, Riman Jurdak, associate manager of Beirut campus activities, and members of the Palestinian Club collected boxes of clothing for the NGO Unite Lebanon Youth to give to residents of the area's refugee camps. The Social Work Club also worked with Lebanon's team for the Dakar 2018 race to raise money for Ballouneh-based charity Anta Akhi.
"The recipients are always grateful and thankful for the support they get from LAU, especially from enthusiastic young students," said Jurdak. "As for the students, they always feel selfless when they think of others, and such acts give them great satisfaction."
In a similar vein, this past season's efforts by the LAU Byblos Nursing Club has touched both donors and recipients.
Members of the club delivered food they had collected to the Byblos branch of charity Bonheur du Ciel a few days before Christmas and helped prepare a feast for disadvantaged people – including widows, parents of young children, and refugees – who depend on the center.
Farah Bou Said, third-year nursing student and president of the Nursing Club, said after the event, "Some people have houses but not homes, and they miss the feeling of having warm family gatherings. They come not only for the food, but also for the people and the sense of community."
"My heart was filled with happiness to take part," she added.
While many of the recent charity activities were tied to the holiday season, organizers of these drives hope that this spirit lasts throughout the year.
"We're putting this mentality into students that giving is not just for this period of time – it should be their lifestyle," said Jurdak.
"To put a smile on the face of a child or an elderly person is wonderful. Still, we don't just want the students to have fun memories; we want them to really make a change," she added.