Students and Faculty Win Big at the LIRA 14 Expo
LAU's School of Engineering students and faculty won three awards for projects presented at the LIRA 14 Forum and Expo.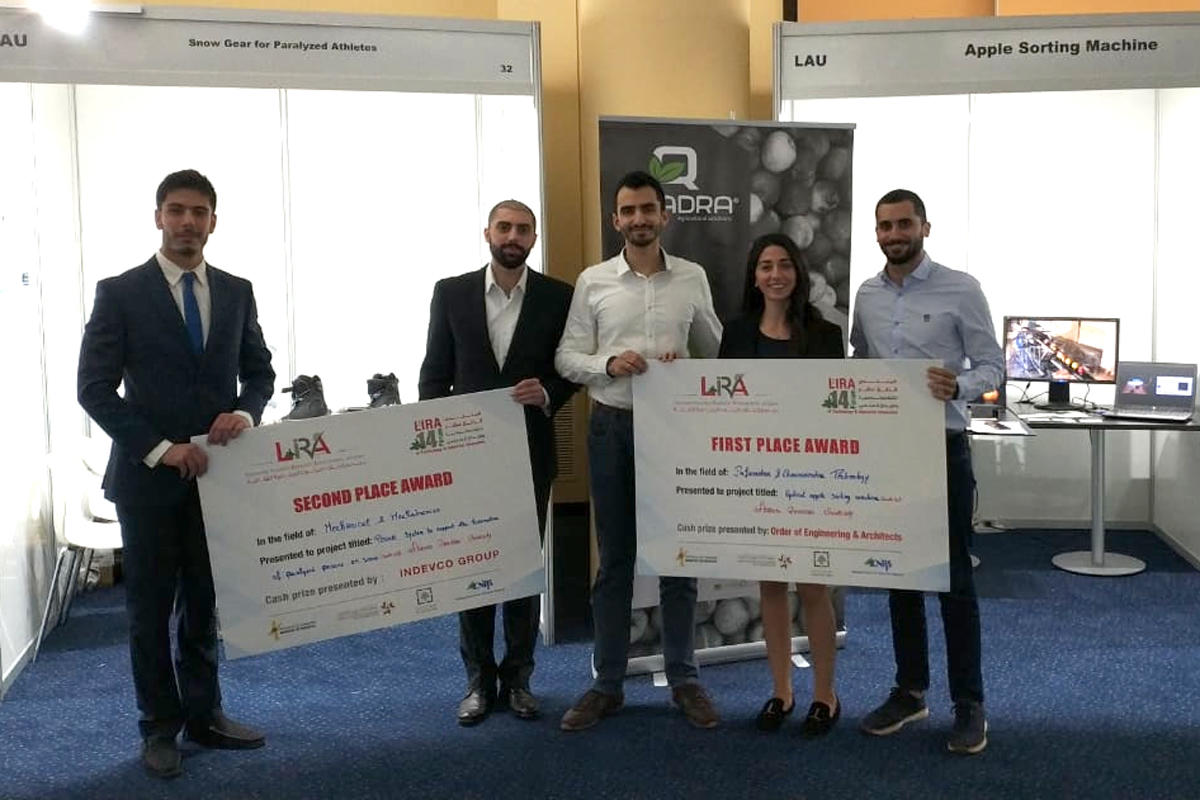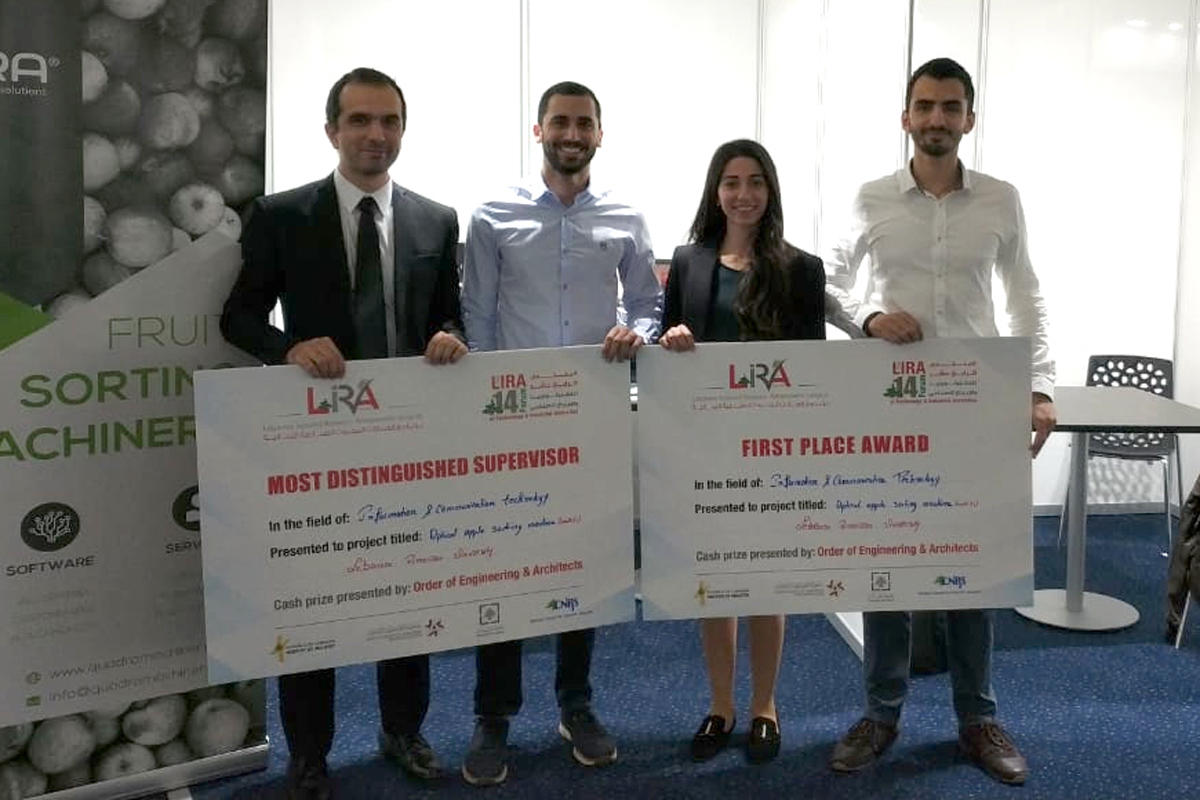 On Saturday, December 1, while most university students were preparing for final exams, five of LAU's best from the School of Engineering (SOE) were presenting original projects at the Lebanese Industrial Research Achievements (LIRA) 14 Forum and Expo – projects that earned them three of the highest awards.
LIRA's mission is to link Lebanon's academic sphere to its industrial sector, which is poised to benefit from the research and knowledge base present in universities.
Each year, LIRA tasks universities with developing a project that provides academic solutions to industrial-sector problems in various categories such as Information and Technology, Packing and Packaging, and Mechanical and Mechatronics. The projects must not only showcase innovative engineering in design and functionality, but they must also demonstrate financial feasibility and social significance.
SOE undergrads Kevin Boutros, Kristina Farah and Serge Khoury, under the supervision of their advisor, Dr. Ali Ammouri, won first place in the Information and Technology category for their Optical Apple Sorting Machine.
"Using state-of-the-art technology in computer vision and machine learning, our students developed a sorting machine that is affordable and reliable, and will guarantee high-quality exportable apples," said Dr. Ammouri, a practice lecturer in the Department of Industrial and Mechanical Engineering. "With their solution, Lebanese farmers will be capable of having high-quality, exportable apples that will have an impact on the apple industry in Lebanon."
In preparation for the event, students were challenged to look for ways to apply the theoretical and technical aspects of their education to an area of industry that can benefit. After a year of research and development, prototype modeling and feasibility studies, the students took their idea to the Expo, unsure of how their project would be received.
Over the three-day event, projects were judged based on a number of criteria, such as research and design quality, market research and analysis, and added value to Lebanese industry. Additionally, students had the opportunity to network with industry professionals and pitch their ideas to an audience of potential investors.
Kristina Farah said, "The main highlight of this event was that we had never exposed our project to an engineering jury before. The feedback [from the agricultural sector] was motivating, and the event acted as a validation for our start-up."
Dr. Ammouri was also honored with the Most Distinguished Supervisor Award. "These awards show that universities can provide solutions to industry with the skillsets that we have, and it is rewarding for the students to receive recognition for their hard work," he said.
LAU's success at the event stretched further, with second place in the Mechanical and Mechatronics category for the project Passive System to Support the Locomotion of Paralyzed Persons over Snow – developed by LAU students Rami Karkafi and Michael Maalouly under the supervision of Associate Professor and Assistant Provost Barbar Akle.
For Rami Karkafi, the experience was a "win-win" from every angle.
"We got to know other people's opinions regarding our project, whether they were positive or constructive, and this was a confidence-booster as well as an eye-opener to work on minute adjustments to our prototype," said Karkafi.
Winning at the Expo also means that students can take their projects further with the aid of prize funding and increased exposure within the industrial sector.
"[It's exciting] to find out what level of innovation is out there in Lebanon, added Karkafi, "and as a student, you feel proud when exhibiting a well-working and tested prototype and get positive feedback from the public."