Students from Germany Visit LAU for a Different Perspective
LAU graduates and their counterparts at Freie University of Berlin exchange perspectives on refugee politics in their respective countries.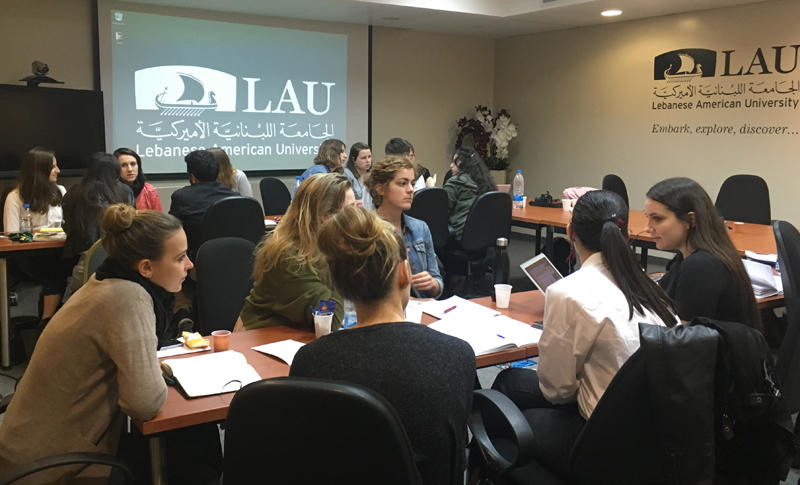 Six of LAU's international affairs graduate students will travel to Germany in mid-June 2018 as part of an exchange program between LAU and the Freie University of Berlin (FUB). The trip, designed for students to acquire insights into the politics of refugee governance in host countries, is fully funded by a German Ministry of Education grant to LAU's Social Sciences Department and FUB.
While in Germany, the LAU students will visit civil society and international organizations and attend university seminars to learn about refugee politics there.
Associate Professor of Political Science and International Affairs Tamirace Fakhoury and Junior Professor of International Communication at FUB Carola Richter applied for the project grant in their capacity as members of the Arab-German Young Academy for Humanities and Sciences.
Through the exchange, the students are producing common projects centered on three main themes: refugee representation in the German and Lebanese media, political parties' stances toward asylum seekers in the two countries, and the grassroots initiatives that German and Lebanese communities have devised to integrate refugees, said Fakhoury. "The aim is to encourage cross-disciplinary and collaborative research initiatives between LAU graduate students and other student communities," she added.
Students from FUB have already visited LAU for a week earlier in March. While here, they attended a workshop on Byblos campus with their LAU counterparts organized by the Social Sciences Department and LAU's Institute for Social Justice and Conflict Resolution.
With Fakhoury and Richter acting as moderators at the workshop, the students were divided into clusters and asked to produce posters focusing on the program's three themes.
While this is the first student exchange project between the universities, for the past two years FUB has worked with the Communication Arts Department on the Media and Digital Literacy Academy in Beirut in addition to several research projects with Fakhoury.
"All of the students were here for the very first time. Most of them had not been to the Middle East before," said Richter at the end of the trip. "It is a new experience for them, and it went very well. We talked to so many people."
As the graduates are all majoring in media, it was important for Richter that her students have the opportunity to compare such representation between Germany and Lebanon, which has the highest ratio of refugees to citizens in the world.
The students visited a number of informal refugee settlements, in addition to civil society organizations and the UNHCR. The visit allowed for a fresh view of the refugee crisis.
"It has absolutely been a positive experience," Richter said. "This is something one has to see by him or herself, and then with the kind of academic background you can really disseminate these kinds of ideas into society."
For FUB student Jutta Brennauer, the trip gave her a better impression of the needs and goals of refugees. "I understand why refugees choose Germany or Europe, but I also understand why they choose Lebanon. Lebanon is closer, similar culturally, and there are many families who already live or work here, so it is possible to integrate."
She would like to return to Lebanon because it "has been very enriching, and we have met so many people who have the will to really try and change the perception of society. And I always admired this, especially under these circumstances, which are more challenging than they are in Germany."