Students Get Creative
LAU's Sixth Annual Creative Writing Competition rewards innovation and skill in writing.
By Hanan Nasser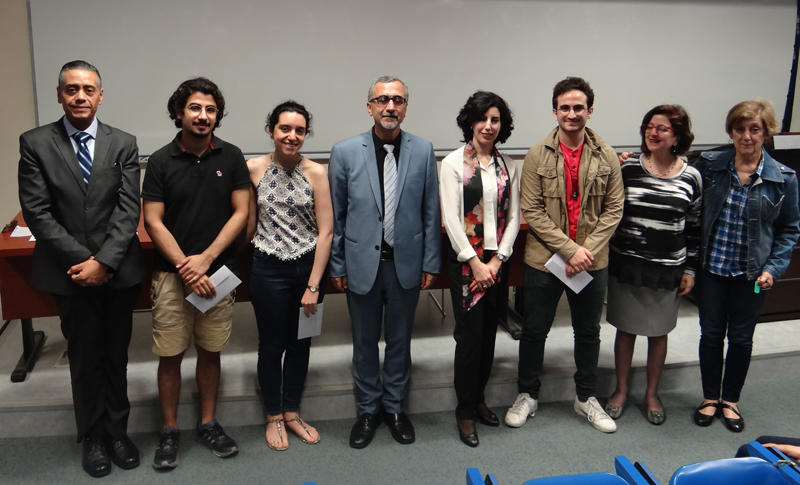 Stephen King once said, "When you sit down to write, write. Don't do anything else except go to the bathroom, and only do that if it absolutely cannot be put off." Perhaps the winners of LAU's Sixth Annual Creative Writing Competition did just that in order to produce their pieces on the topic Your Contribution to Your Country as a Global Citizen Once You Graduate.
Dean of the School of Arts and Sciences Nashat Mansour handed out the awards – vouchers from Antoine Bookstore – on April 20 to the winners: psychology major Marianne Azar, who won first prize for Best Essay; English major Khaled Rajeh, who took second place for Best Essay; and television and film major Adam Jammal, who came in first for Best Short Story.
Chair of the English Department Rula Diab said the competition aimed to encourage students from "any major and any discipline" to write.
"It's a really great way to acquaint people all over campus with the importance of writing and writing skills, and reminding both students and faculty that creative writing is not just limited to English majors," she said.
The competition was started six years ago by English Instructor Samira Shami and Lecturer Chadi Shidrawi. A jury of four – Diab, Shami, Shidrawi, and Paula Habre, senior instructor of English and the director of the LAU Writing Center – selected the three winners from among 10 contestants.
The winners were chosen based on two criteria: creativity/innovation, and language proficiency, Diab said, explaining, "How competent the student is in language and how well they can play around with words and get their message across."
Contestants were required to pass by the Writing Center before submitting their work. "They have to go to the center once they have produced their piece. It serves a double purpose: It helps us make sure it's the student who is writing it, and it also gives some support in the writing of it," Shami said.
Jammal said the competition forced him to write something other than a screenplay.
"I am the kind of person who puts himself in a position where I am forced to do something at a specific time. So this was a chance for me to write something in prose, something for me to let out, because in screenplays you cannot write subjectively; you have to translate what you are seeing," he said.
The competition also gave him the opportunity to get into someone's head "and just throw in everything that I wanted them to say. It was a beautiful experience."
The winners will receive their certificate at the SAS Awards Ceremony on May 10.