Supporting Our Own: Dr. Myrna Doumit
ARCSON's Assistant Dean and Fellow of the American Academy of Nursing Dr. Myrna Doumit aims for the Presidency of the Order of Nurses.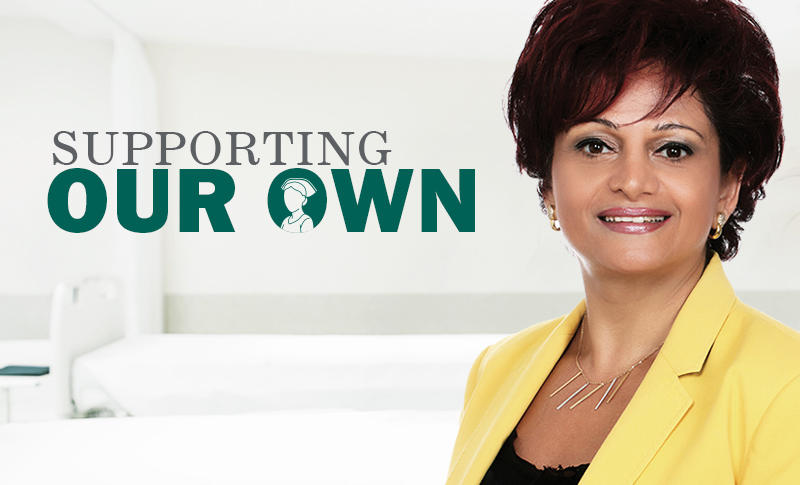 Associate Professor and Assistant Dean of LAU's Alice Ramez Chagoury School of Nursing (ARCSON) Dr. Myrna Doumit has dedicated her career to cancer research and awareness, palliative care, and actively championing her vocation. In 2017, she was Lebanon's sole representative among 173 leaders in the nursing profession awarded a fellowship at the American Academy of Nursing, and is currently running for the Presidency of the Order of Nurses.
Here, she speaks about how her work and achievements are relevant to LAU, her students and healthcare in Lebanon.
ARCSON has just seen off a new wave of competent nurses. Besides practical skills, what important message do you hope they will have taken with them?
I hope they will have taken with them the power of knowledge, the leadership skills and the science and art of nursing that we emphasize at ARCSON.
From your experience, as an advocate for the nursing profession and patient-centered care, what obstacles are they likely to face and how can they overcome them?
Like all new graduates, they will be faced with a reality shock, but I would hope that with the education and training we have provided them they will be able to overcome it and grow into successful novice nurses.
In your research and outreach initiatives, you have focused on cancer awareness and palliative care. Why?
Not only is cancer becoming a chronic disease, but it is also taboo in Lebanon. I would like people to be more informed about it, in order to better fight it. Palliative care is a human right.
What other issues, particular to Lebanon, do you believe should be addressed?
The shortage of nurses and its serious consequences on people's health; the importance of having a standardized level of care across all hospitals; and the right of the nursing Order to be included at the national decision-making table for health-related issues.
In 2017 you were awarded a fellowship at the American Academy of Nursing (AAN), and you are currently running for the position of President of the Order of Nurses. How does this visibility help promote the nursing profession in Lebanon?
I believe it plays an important role in showing others what nurses can do and achieve at the national and international levels. It also gives us visibility as nurses within the university and nationally. My plan consists of using politics and media to promote the nursing profession in Lebanon. I want the Lebanese public to understand the important role nurses play within the healthcare system, the shortage of nurses we are facing, and the dangers of excluding them from the decision-making process or having different work entry levels for nursing.
Which of your many qualifications do you believe fit the role of President of the Order?
My passion, skills, commitment and experience. I am wholeheartedly dedicated to the nursing profession, which I value and respect. I have acquired invaluable experience and made an impact through voluntary work, the different administrative, academic and clinical positions that I hold to this day, in addition to being a part of several national, regional and international committees.
What is the effect of the brain drain on Lebanese-trained nurses, especially in the case of LAU's graduates and its CCNE-accredited ARCSON?
The brain drain of Lebanese nurses will not have any impact on LAU's School of Nursing per se, but it will have a serious effect on the health of the Lebanese population. It is a very serious issue that needs to be examined at all levels.
Do your students ever come back to you for advice after they graduate?
Sure they do, even years after they have finished their studies. Several of them are dear colleagues of mine. Once they graduate, my students become, to me, co-workers, and I try to mentor them as much as possible to help them reach the highest position or degree they aspire for.
On June 24, Dr. Doumit was elected President of the Order of Nurses in Lebanon.