Survey Helps LAU Excel
National Survey of Student Engagement results bode well for academic strength and process at LAU.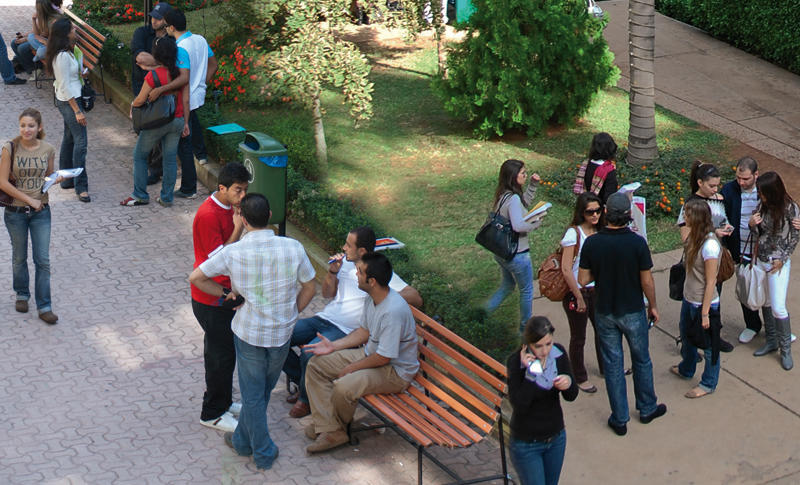 Every year since 1998, the Indiana University School of Education for Postsecondary Research has administered the National Survey of Student Engagement (NSSE) to first-year and senior students at universities in the United States and Canada. LAU, as an American institution, has for a number of years participated in the survey, with the goal of measuring the characteristics and quality of their undergraduate experience.
"In the past, the survey administrators chose the Canadian universities as our peer group, because Canadians start university at the sophomore level, similar to LAU," says Diane Nauffal, assistant to the LAU president for Institutional Research and Assessment. "But this year we asked that they compare LAU's results to American institutions, specifically those in the New England region, and our Carnegie counterparts."
For LAU, participation in the NSSE is part and parcel of the university's commitment to the highest academic standards. "We are keen on gearing the academic process in ways conducive to student engagement," says LAU Provost George K. Najjar, "particularly by way of innovative pedagogy, proactive learning and productive interaction with various communities of practice beyond the gates."
In 2017, the survey was administered to 517,850 students from 725 institutions of higher learning, of which 650 in the United States and 72 in Canada. A total of 1,352 LAU students participated, roughly divided equally between first-year students and seniors.
The wide-ranging questions included ten so-called Engagement Indicators, which were themselves divided into four themes: academic challenge, learning with peers, experience with faculty, and campus environment. "We compare very positively with all of our peer groups on learning with peers," enthuses Nauffal. For example, "our senior students report that they are engaged in more collaborative learning, and both first years and seniors say they have extensive discussions with diverse others, which is not the case among their American peers."
More than that, the LAU respondents tended to report that they had encountered effective teaching practices more often than the benchmark US institutions, as well as a very supportive campus environment. "In terms of effective teaching practices, our students mentioned clearly-explained course goals and requirements, classes taught in an organized way, and feedback on work in progress," among others.
In addition to the Engagement Indicators, the NSSE probed the extent to which participating students were involved in "high-impact practices," specifically engagement in learning communities, service learning, research with faculty, internships, study abroad, and a culminating senior course. First-year students were asked about the first three, while seniors answered questions about all six categories.
According to the survey results, "on all of these questions, our students do very well compared to US institutions," says Nauffal proudly.