The Case for Etiquette
Etiquette coach Balsam Al Khalil gives a lesson on how to present yourself for success.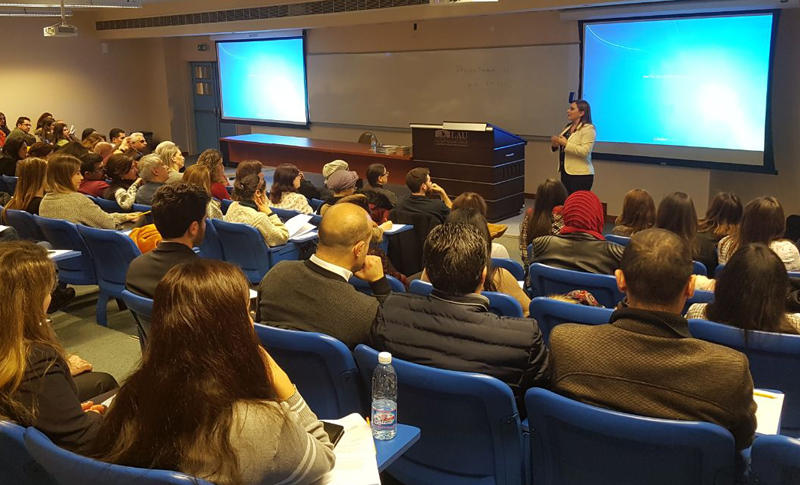 How should you address an email to a client? How should you dress for a business trip in a foreign country? How do you best convey respect to a new professional contact?
The answers to these questions aren't always as obvious as they would seem. That's why the Alumni Relations Office invited etiquette consultant Balsam Al Khalil to impart her expertise.
In a packed auditorium of aspiring and established professionals at the Adnan Kassar School of Business Thursday evening, the world-renowned business etiquette coach gave examples and fielded questions on best practices.
Al Khalil is currently the chief representative officer for Bank of Beirut in the UAE and the Gulf. She has degrees in law and protocol, and certificates in fashion styling. From her decades of experience, she has found that good business etiquette can improve a company's branding, customer care, employee engagement and level of teamwork. But when it comes down to it, Al Khalil said, using good manners is simply the right way to treat others.
She began her lecture with the primary step: making a first impression. In addition to appearance, eye contact, posture and active listening, Al Khalil has put together what she calls the three Cs – confidence, competence and credibility – which convey dependability and a sense of responsibility.
She also discussed the importance of having a good professional wardrobe. Strong, plain colors are generally considered de rigueur. Conservative suits are the best default attire for both men and women, she said, and casual clothes for the beach or the gym are generally inappropriate.
Beyond the visual, she emphasized the importance of different types of communication, such as facial expressions, eye contact, posture and, in some cases, silence. Communication also extends to emails, she noted, advising attendees to be concise, double-check the name of the recipient, and never use caps lock, as it can come across as aggressive.
For attendee Hanadi Hijazi, the lecture was very informative. She only wishes she had access to the information earlier in her career. The alumna, who specialized in Computer Science (BS '94) said, "I liked the tips. It was good for young and aspiring businesspeople. It's so important to know about how to behave and carry yourself in business settings."
Civil engineer and alumnus Dorian Sfeir (BE '85), found that the lecture provided valuable insight even for those in the middle of their careers. "Business etiquette is essential for any professional contact or relationship. Etiquette, if followed, shows respect to oneself and to others. It is the first impression that people have of the interlocutor, whether supplying or demanding a service."
Beyond these important common-sense tips, Al Khalil noted that business etiquette can differ from one culture to the next, even within the Arab world. Doing business over drinks is much more acceptable in Lebanon than in other Arab countries. Shaking hands can be off limits for some in the Gulf, so watching for the other person's cues is recommended.
Whether someone is just starting out or needs to give themselves an edge in the business world, observing proper etiquette and protocol is an important skill.