The Golden Age for Young Biologists
Bio students, faculty and thought leaders gather at LAU for an illuminating symposium.
By Hanan Nasser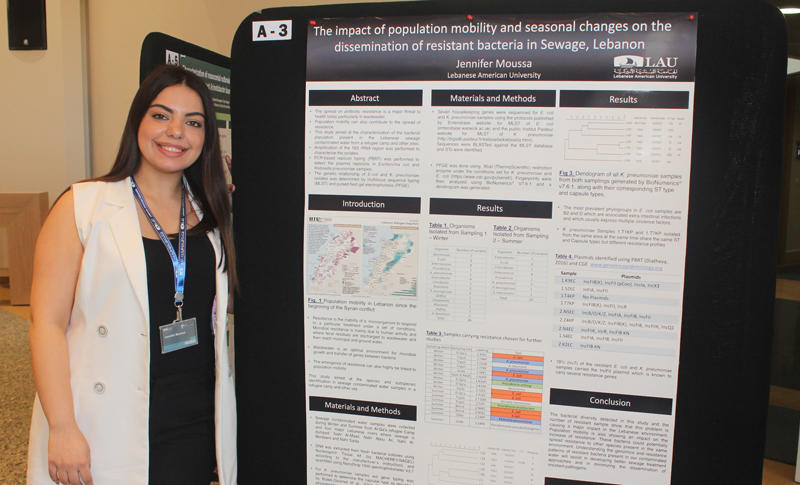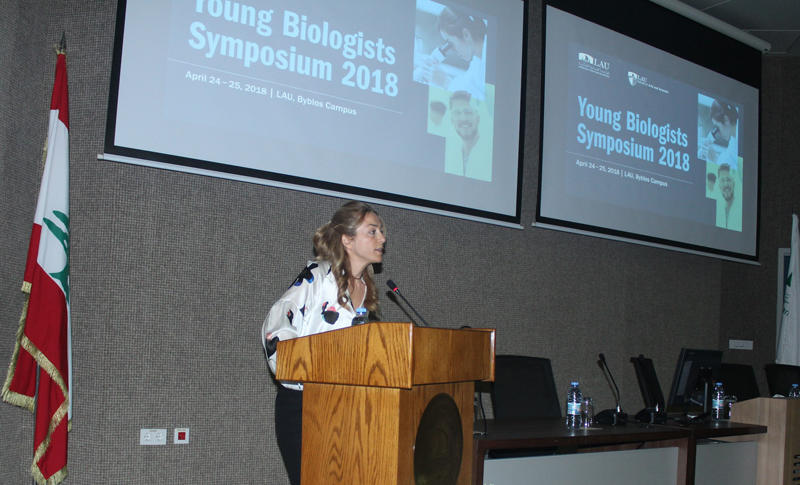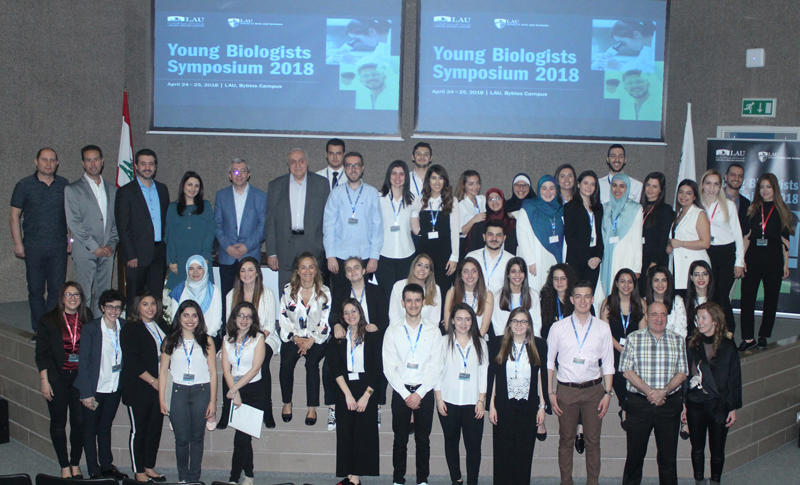 LAU's young biologists made their way to the Gilbert and Rose-Marie Chagoury Health Sciences Auditorium on Byblos campus for two days of research, presentations and discussions on the latest advances in science during the annual Young Biologists Symposium on April 24 and 25.
The theme of the symposium – organized by the Natural Sciences Department and co-sponsored by the National Council for Scientific Research (CNRS) – was Computational Biology: The Genomic and Computational Revolution.
"The acceleration of discovery in so many fields makes this the golden age of young biologists, who will pave the way for new understandings and ultimately the betterment of humanity's living conditions," said Chair of the Department of Natural Sciences Sima Tokajian, who revived the symposium after a three-year hiatus.
The first day of the symposium brought together scientists and researchers from the American University of Beirut (AUB), Carnegie Mellon University in Qatar and the University of Antwerp, Belgium, who presented the latest findings in antimicrobial resistance, telescripting and oncogenomics. Other attendees included undergraduates, graduates, postdocs and prospective PhD students.
On the first day, keynote speaker Professor Ghassan Matar, the vice chair of AUB's Department of Experimental Pathology, Immunology and Microbiology, and Ihab Younis, assistant teaching professor at Carnegie Mellon in Qatar, gave compelling presentations. Later on, LAU students presented their research projects during an interactive poster session and discussed their work and achievements.
The symposium is "a source of motivation for the graduate students and a means for the exchange of information," Tokajian said. "It provides exposure to inspiring stories and trains the students to develop the needed expertise to present and discuss their research in a clear and meaningful way."
For LAU Molecular Biology graduate Zeinab el-Masri, whom Pennsylvania State University granted a full scholarship to work toward her PhD, the amount of information delivered by the speakers was "amazing." She said the poster session resembled a résumé through which she was able to present her project.
Senior Biology student Mohammad Khalifeh found the symposium "very beneficial, especially for those who want to continue graduate studies. The speakers are from more than one field, which helps you weigh your options." Khalifeh was accepted into Redding University's neuroscience master's program.
On the symposium's second day, a workshop on Computational Approaches for Medical Oncogenomics was given by Joe Ibrahim, one of the biology program's success stories, who is currently finishing his PhD in medical bioinformatics at the University of Antwerp. He graduated from LAU's biology graduate program in 2015 and pursued a second MS at the University of Manchester, England.
"The symposium is a very good opportunity for young researchers, for older researchers, for post-docs, and for PhDs to get together around one common goal, which is science," he said.
Ibrahim credited LAU with fostering an environment that propelled him "toward research and toward this kind of inquisitive mentality."
"I had background knowledge that I acquired from LAU, from the labs, the courses, from being a research assistant to Dr. Tokajian," he said.
"LAU gave me the best education I could have had and prepared me for this journey."