The Hen Who Dreamed, a Surreal Journey of Courage
LAU's spring theater production tackles liberation and longing for a new life.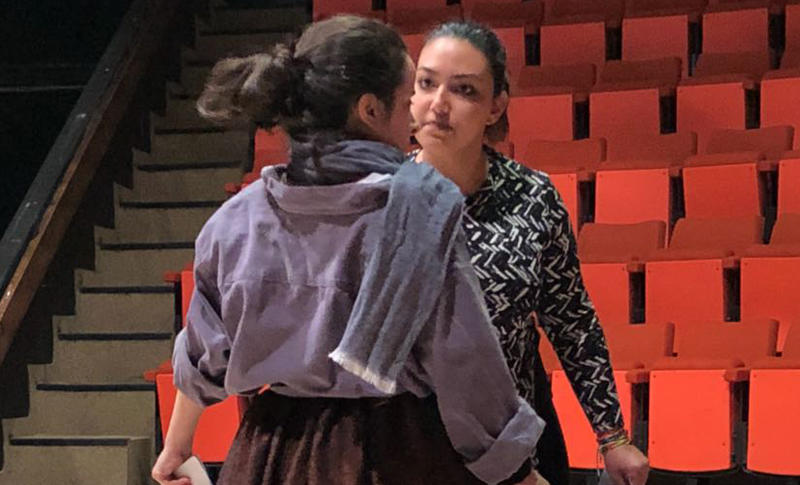 Can hens dream? And if they can, what do they dream of? In her major spring theater production The Hen Who Dreamed, Associate Professor of Theater Lina Abyad takes us on a courageous quest for freedom and individuality with the journey of an unlikely hero: a hen.
The play was adapted from the novel The Hen Who Dreamed She Could Fly, by South Korean author Sun-Mi Hwang. It is set on a farm, where the hen, Waraku, is no longer content to lay eggs on command only to have them carted off to the market. She dreams of being liberated. Then one day by mistake – or is it by chance? – the farmer releases her into the wild, where she finds an egg, which turns out to be that of a wild duck.
Asked about why she chose Hwang's story as the basis of her play, Abyad said, "I asked a friend of mine what she was reading, and she said, 'I am reading this book. It's about a hen and it is extremely moving, and very philosophical.'"
Abyad said what moved her the most about the story was that Waraku wanted to be part of something bigger. "Waraku did not simply want to nurture the egg," she noted, "but aspired to be like the hardy leaves of the Acacia tree that flourish and endure and then fall in autumn so they could nourish the soil again. So, although, the text is about self-actualization, it is also about recognizing one's place in the cycle of life."
The story is reminiscent of the fables of Aesop, La Fontaine and Kalila Wa Dimna, in which animal characters are allegories for people. Such a structure creates a surreal feeling throughout, noted Television and Film major Rachid Hneineh, who is the puppeteer in the production.
Though Hneineh was skeptical when he first read the script and discovered that the play was about a hen, he soon realized that it was essentially a philosophical and political representation of our society.
"What is nice about this kind of work is that we always start from scratch. Lina always tells us at the beginning that there is something very difficult we have to do, but we will do it," he said.
For senior high-school student Karim Makkouk, who plays the rooster, taking part in a play with Abyad was like a dream come true. "I didn't expect her to cast me. There were so many others at the tryouts. I was so surprised," he said.
The play, he noted, has many positive themes, "Although it is a sad story, you cannot watch it and feel that you did not learn something. It contains a lot of wisdom."
In the end, a hen is an unlikely hero. "We usually hate to be compared to a hen because it is seen as a weak animal," Hneineh said. "But like the hen, each one of us, at every stage in life, has a dream – it doesn't end. Once we achieve one dream, we will have another."
The Hen Who Dreamed will premiere on March 20 at the Gulbenkian Theater, LAU Beirut campus, at 8:30 p.m.