The White Coat, Symbol of a Pure Heart
As 53 white coats make their way into advanced clinical learning, they are reminded to serve with compassion and without prejudice.
By Ceem Haidar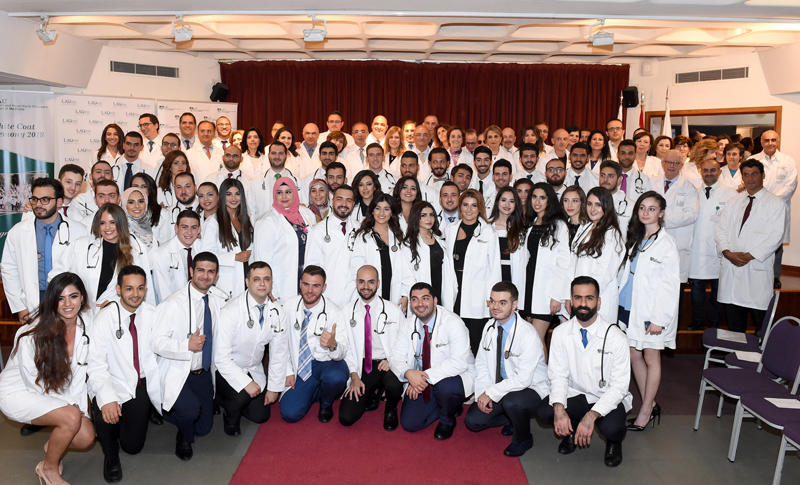 In its eighth edition, the White Coat Ceremony at the Gilbert and Rose-Marie Chagoury School of Medicine marked the transition of 53 students from pre-clinical to clinical learning, following two rigorous years of an interdisciplinary hands-on approach to medicine.
The theme of this year's ceremony, reflected in the words of the faculty of the School of Medicine, centered on adopting a humane approach, while adapting to the advancements in the medical field.
Congratulating the students on how far they have come, LAU President Dr. Joseph G. Jabbra reiterated the values that bind doctors and aspiring professionals. "To me, the White Coat Ceremony symbolizes a very sacred promise, one that every doctor makes to himself and to his patients – and that is, in accordance with the Hippocratic Oath, to heal and care for them," he said.
Addressing the students, Dean of the School of Medicine Dr. Michel Mawad drew their attention to the advancements in the medical field, optimized by the use of computers and artificial intelligence. "We, as your clinical teachers, mentors and advisors, must prepare you to adopt all these new advances. We must impart to you, as physicians of the future, a modern way of thinking and practicing medicine," he said. "We want you to be open to new ideas and to embrace new technology, and always try to do better than us, your teachers. You outshining us is a measure of our own success as a School of Medicine."
The school, led by the pioneering spirit of dedicated faculty members, has in fact made notable achievements in recent years. From a unique curriculum that enhances learning during the pre-clinical and clinical periods, to direct supervised patient contact with a focus on interpersonal skills, students are prepared for realistic settings from the outset.
Dr. Zeinat Hijazi, associate dean for Medical Education, proudly shared how students have transformed over the past two pre-clinical years, highlighting the advantages that the program offers them. "Our curriculum is integrated and we start introducing our students to clinical practice from early on… We hope that they are going to apply all that we have taught them in the pre-clinical years, to do with communication skills, professionalism, patient safety and care," she said.
LAU's School of Medicine program, added Assistant Dean for Clinical Affairs Dr. Sola Bahous, is based on a humanistic approach as well as teamwork, and "is an integration of all the disciplines together." As students move on to the clinical stage, what matters most, she said, is for them "to feel a continuum, so they build on what they have learned and the knowledge they have acquired. It is now time they apply this knowledge for the benefit of the patient."
The transition to clinical learning is one that the medical students have been looking forward to, said student representative Paul El Fata. On this new journey, he said, "keeping the humanitarian aspect, a spirit of helping others, as well as integrity and honesty, remains the main priority beyond any other target or temptation."
Two significant milestones this year attest to the stellar education that the school's aspiring physicians receive: in the course of the academic year, the Clinical Simulation Center (LAU-CSC) – where students undergo hands-on training in a controlled environment – earned its accreditation by the prestigious Royal College of Physicians and Surgeons of Canada; and only recently, under the auspices of Dean Mawad, the first Comprehensive Stroke Center in Lebanon was launched at LAU Medical Center-Rizk Hospital, the university's teaching hospital.
Commenting on LAU's trailblazing record, Director of LAU-CSC Dr. Vanda Abi Raad also highlighted the introduction of the five-step Interprofessional Education (IPE) program. "IPE is something extremely new, built by LAU. In the fourth step, we have added simulation. We need students to interact in the simulation center, benefit from interactions with their patients, their colleagues and peers, and from the extraordinary offerings that they receive here."
A short film compiled by the students and screened at the ceremony documented their journey from curious minds to critical thinkers – a recollection of social occasions, lectures, patient-interaction and problem-solving sessions.
Looking ahead, however, Dr. Mawad saw it fit to remind them of the universal meaning attached to the white coat.
"The white coat is the symbol of science, and also of cleanliness," he said. "Cleanliness of the heart, that must be clean from any bias, toward patients' gender, ethnic background, race, sexual preference, social or financial background. A patient is a patient no matter what. All lives are of equal worth. Your conscience and your heart must be as clean as this white coat."