Tidying up the Web
A computer engineering professor and his team are working on ways to sort out the content on the Internet.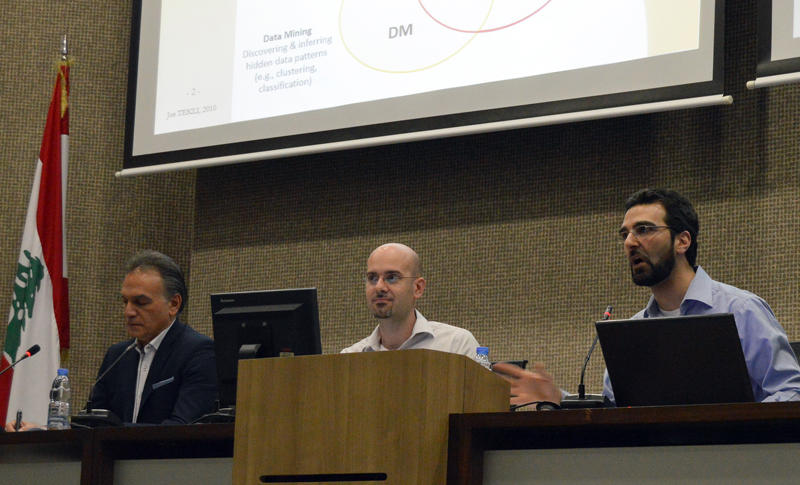 How can we make better sense of the data on the web? That is the question that has always intrigued Assistant Professor of Computer Engineering Joe Tekli. With the aim of achieving intelligent data processing – or as some may call it, "tidying up the web" – the ambitious researcher set out to look for answers and is already making progress.
Billions of pictures, videos, graphs, animations and texts are uploaded online daily. However, all this data is useless if it's not easy to search and manage. It is for this reason that Tekli and a group of students and colleagues are working on a way for machines to automatically analyze data, such as individuals' Internet usage history and preferences, in order to provide us with more intelligent services and answer our data requests more accurately.
"In this context, our goal is to develop solutions and frameworks that allow intelligent data processing on the web in a fast, accurate and predictive manner," says Tekli who, after completing his master's degree in Lebanon, went on to obtain another MA in Computer Science, Instrumentation and Image Informatics and a PhD with High Distinction from l'Université de Bourgogne, France.
The idea is not new; it has existed for more than a decade as an independent research area. "My contributions are like bricks added to the wall of research innovations happening in the area," says Tekli.
How one would go about tidying up the web is via similarity-based data processing, which means comparing any data published or action performed on the Internet with that of others and inferring data or actions accordingly. Tekli and his team are working on just that, as well as other projects related to data clustering – or grouping similar data together – and semantic disambiguation, which allows machines to automatically extract the proper meaning of words from a text by analyzing context the way humans do.
In a somewhat Orwellian task, the team is interested in developing software that can identify the precise human emotion in texts, tweets or songs, which is essential to building machines able to properly interact with humans. The team has also tackled geographic data processing, newsfeed merging, news article summarizing, medical image analysis, and web accessibility for the blind.
Despite his projects' potential, Tekli is not planning on pitching them to tech companies, as he prefers the calmer life of research and academia, which comes as no surprise given the postdoctoral research projects, publications in peer-reviewed journals, and professional memberships that he has achieved. "I take pleasure in investigating an original idea, in publishing a major paper, in teaching a class of enthusiastic engineering students," he says. "I'd say let our engineering students reap in industry what we sow in academia and research."
He also dismisses the idea of leaving the country in search of more money or stability, as many Lebanese professionals do. He insists on staying and giving back to the community. "Lebanon's distorted image in the eyes of the developed world can be gradually changed through hard work and through producing world-class research and teaching," he says.
Tekli's LAU family is a major source of motivation. "The highly professional academic standards at LAU have allowed me to have a clear mindset to focus on my research," he says. "I strongly enjoy the full support of my department, school, and fellow faculty and staff in answering any research or academic need that I've expressed since joining the university."