Two Faculty Members Receive Excellence Awards from LAU
Drs. Khnayzer and Rizk honored for distinction in research and teaching.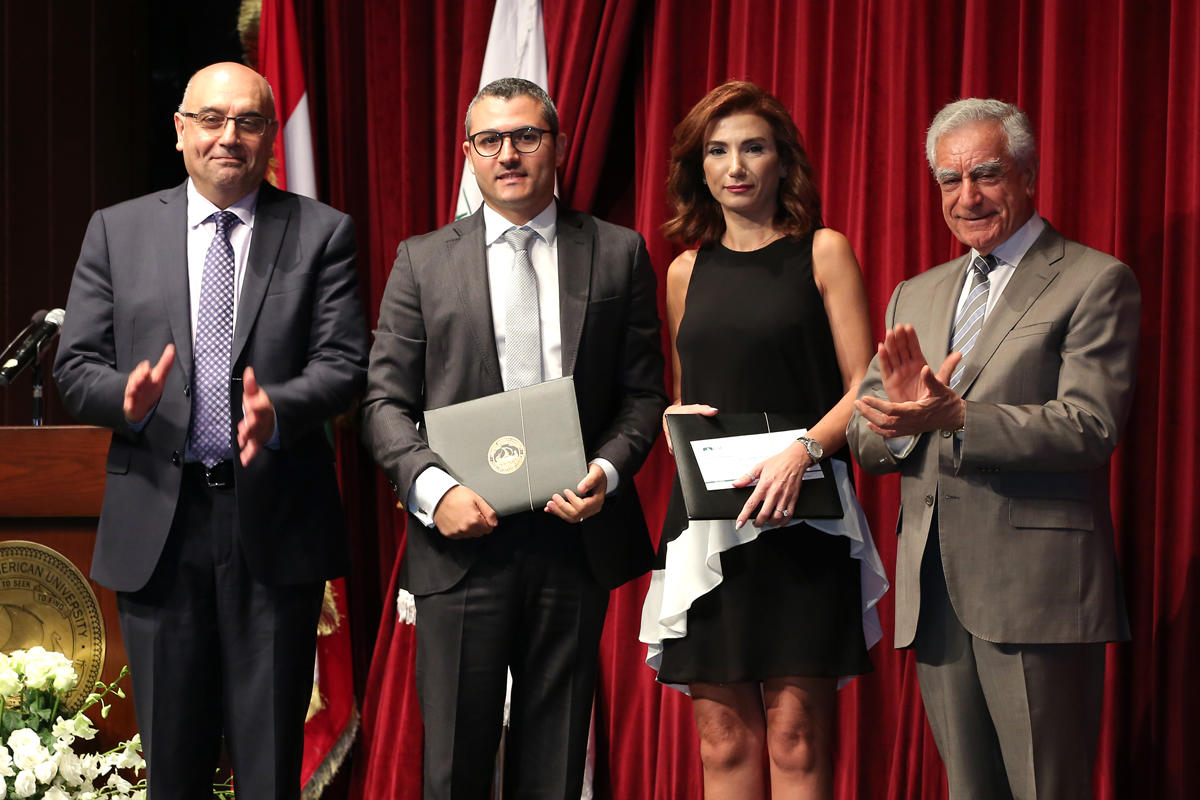 The fall semester is officially in full swing, with faculty and a number of staff gathering for the first University Faculty Meeting on September 29.
Following the introduction of new faculty members, LAU President Joseph G. Jabbra and Provost George E. Nasr briefed the crowd on the state of the university and recent initiatives. They then presented awards to two outstanding faculty members.
Dr. Nasr announced that the Faculty Research Excellence Award would go to Dr. Rony Khnayzer, who joined the university in 2013 as assistant professor of chemistry. As Dr. Nasr noted, Dr. Khnayzer's achievements include having over 1,000 citations, being the co-author of 25 peer-reviewed articles, appearing in a number of top-tier international journals, and being an active member of the American Chemical Society.
"It's an honor to be part of this institution and to accept this award today," said Dr. Khnayzer. "As educators and researchers, we are all fortunate to have the opportunity to make a difference in our society." He noted that LAU is a hub for interdisciplinary and collaborative research, which has often led to impactful findings. "Our undergraduate students have also played a vital role in our research endeavors," he added. "LAU has served as an excellent platform for both teaching and research, which successfully helped in yielding well-rounded graduates who are well fit for the competitive market."
Dr. Khnayzer noted how functional teaching and research labs have noticeably enhanced the experiential learning of LAU students, and that the university has fostered a healthy research atmosphere by supporting interdisciplinary graduate programs, establishing facilities, and hiring qualified staff and technicians to help with research. "This direction will certainly improve the quality and quantity of our research output and bring our efforts to fruition," he said.
Next to be honored was Associate Professor of Biology Sandra Rizk, who won the Faculty Teaching Excellence Award. Dr. Rizk joined LAU as a full-time faculty member in 2004 and was appointed assistant dean of the School of Arts and Sciences in 2012. Two years later, she was appointed founding director of the Honors and Freshman program – the first honors program established in the Middle East. Dr. Rizk has succeeded in developing this program across four schools in LAU, noted Dr. Nasr, and it now includes eight different majors and around 200 students.
"In LAU, we always focus on academic excellence," said Dr. Rizk. "Our mission and values promise to demonstrate dignity and respect for and from our students."
Dr. Rizk thanked her family, who she said has stood by her side throughout her academic journey, as well as her "bigger" LAU family, starting with President Jabbra, who she said has served as an example of what leadership is.
"Last but not least, I would like to thank my students for always inspiring me to move forward," she said. "These students come from different generations and cultures, and it's always an interesting challenge to find different ways to reach out to them."
She concluded by quoting a student who wrote in her recommendation letter: "Teaching is an art; when used skillfully, it blossoms in the hearts of learners."