Equipped for the Future
New SAS alumni welcomed by top international universities for graduate studies.
By Hanan Nasser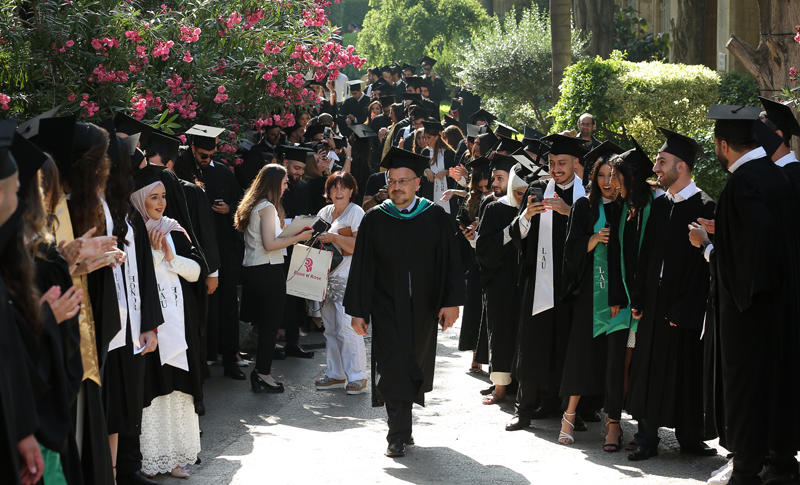 As new graduates from the School of Arts and Sciences (SAS) head to major international universities to continue their studies this fall, their success is proof of the excellent preparation, both professionally and academically, that they received at LAU.
SAS's Department of Natural Sciences has much to celebrate this year, with seven graduating students accepted into PhD programs with full scholarships in the US and Canada, including McGill, Bowling Green, Pennsylvania State, University of Ottawa, University of Texas Southwestern, Boston College, and the State University of New York.
Zeinab el-Masri, who will be heading to Penn State in September for her PhD, says it was her diagnosis with osteosarcoma – a type of bone cancer – at the age of 11 that pushed her to pursue her master's in molecular biology at LAU. "Experiencing that increased my interest in biology, and made me pursue a bachelor's degree in medical laboratory sciences," she said.
"I consider myself lucky to have had the opportunity to join the biology program at LAU," she added, "because it doesn't focus on cancer biology only, but also on other fields such as microbiology, bioinformatics and human genetics."
Her goal is to work on identifying novel key players in pediatric cancers, such as osteosarcoma, leukemia and neuroblastoma, "for potential therapeutic approaches as an alternative to the chemotherapeutic approach."
Students have noted that it is LAU's student-centered and research-oriented approach that gives them the added advantage of working in research labs alongside their mentors or graduate students, and publishing their own papers.
For instance, when computer science graduate Omar Farhat was applying to universities abroad, he had two internships and three published papers under his belt. Not only was he accepted to the University of Waterloo's PhD program, but he was also granted the Cheriton Type I Scholarship, awarded to top students for academic excellence.
Farhat has participated in a number of global activities related to his major, including the international competition Google HashCode, hosted by LAU's Computer Science Club, which Farhat founded.
"After winning one of these competitions, Google contacted me for an internship in Warsaw, Poland, last summer. I exceeded their expectations there, which entitled me to another internship. Currently, I am in London interning again with Google-UK," he said.
In addition to the internships – which he says have helped him secure his place at Waterloo – Farhat was already a published researcher with two journal articles and one conference paper to his name while working as an undergraduate research assistant with Associate Professor of Computer Science Dr. Sanaa Sharafeddine.
"I don't know if another computer science program puts such emphasis on equipping undergrad students with such skills. This is purely a gem," he said.
Also from the Department of Computer Science and Mathematics, Maria Nakhoul is heading to Harvard for an MS in biomedical informatics. She is just one example of the great achievements made by LAU's Bioinformatics program, which was launched in 2014.
Meanwhile, at the Department of Communication Arts, Aceel Kibbi was accepted for a master's in journalism at both Columbia and Northeastern, settling on the latter; English major Tatiana Abi Aad will be pursuing a master's in literature and modernity at the University of Edinburgh; while Israa Abdul Hak was accepted into Melbourne University for a double degree in applied linguistics and psychology.
Translation graduate Israa Akil received acceptances from a string of UK-based universities to complete her master's – including the University of Surrey, SOAS in London, London Metropolitan University, Birmingham, and Essex – before settling on the first.
Over at the Department of Social Sciences, social work graduate Jana Abdul Jawad will be pursuing her MA in the same field at the University of Kent. For her part, political science and international affairs major Josiane Matar will continue with an MA in international public management at Sciences Po, Paris.
With such a solid academic background, SAS students are ready to take on the challenges of advanced degrees. They may be leaving LAU with a sense of sadness, but also with a deep sense of gratitude.