USP Students Share Success Stories
One of LAU's most selective scholarship programs continues to make dreams a reality for more than 475 students to date.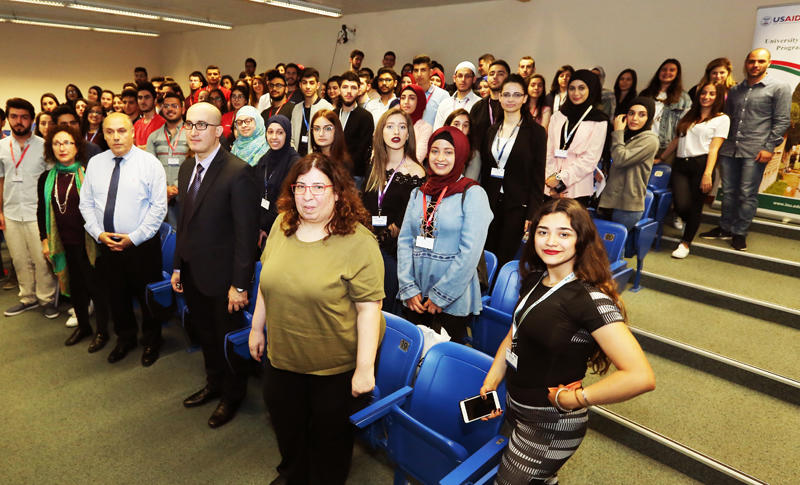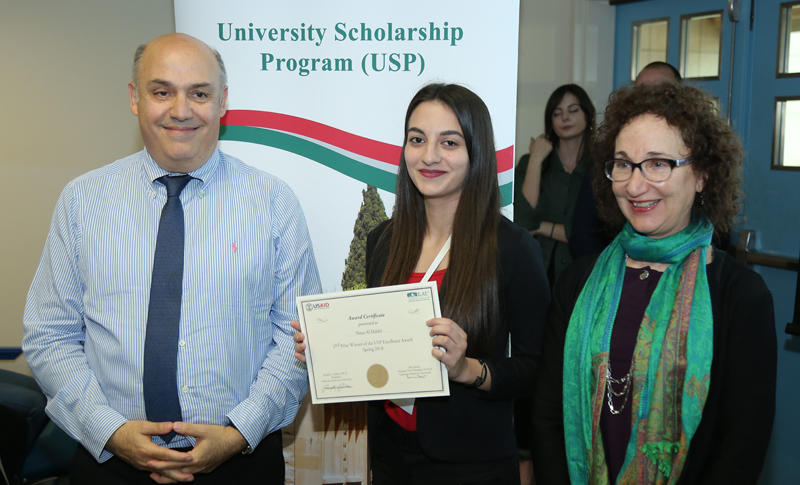 Imagine a high-school student in a remote Lebanese village with little to no hope of attending a prestigious university, who then one day receives a call letting them know they will be going to LAU. This story is very real, and has been told time and time again by the majority of the 250 University Scholarship Program (USP) students who have graduated with flying colors since the program's launch in 2010.
USP provides undergraduate LAU education for public high-school students and technical-school graduates from all six governorates in Lebanon. It is made possible with the support of the American people through the United States Agency for International Development (USAID) and requires scholars to engage in volunteer work, complete internships, attend workshops and give back to their local communities.
"You have been our pride and joy, raising the standards of our university, and on top of your academic success, you somehow managed to do community projects, join in simulation programs, become leaders in clubs, and leave an impact on your own communities across different regions of Lebanon for the better," said Vice President for Student Development and Enrollment Management Elise Salem in an address to USP students at a ceremony held in their honor in late April at the Adnan Kassar School of Business.
Students who are enrolled in the program benefit from tuition coverage in selected majors, full board, and countless opportunities to graduate with a "strong CV that is irresistible to potential employers," as Assistant Vice President for Outreach and Civic Engagement Elie Samia put it.
The event featured a compilation of USP scholars' successes, from a short documentary showcasing the students' visits to local NGOs, to interactive, impromptu testimonials from scholars who founded student clubs, planned fundraising events and interned at local and international institutions. Often, the same student's hand would shoot up in the air multiple times, indicating that they have done all three of the above simultaneously.
The event also celebrated the winners of the USP Excellence Awards, which offer three in-kind gifts to outstanding students for them to use on a professional or academic growth endeavor. Majd El Fakih, a business major and the first-prize winner, plans to use his grant to become a certified financial analyst. Nour El Halabi, a communication arts major and the second-prize winner, will use hers for a series of hands-on workshops at the Lebanese Film Academy. The third-prize winner, banking and finance major Nivine Maghazlik, will put her award toward a series of French language courses.
"USP was a turning point in my life, because before that I didn't have access to all the opportunities in Beirut," said El Halabi, who was first put off by the large pile of applications, indicating how competitive the selection process was. As early as her first semester, the previously timid El Halabi started signing up to "literally everything that landed in my inbox" from workshops to volunteer work and internships. She went on to establish the Environment Club, which led a gamut of activities that gave back to remote villages, like hers, through reforestation initiatives.
For Samia, the USP students' achievements are another example of "LAU living up, ad verbatim, to the letter and the spirit of its mission statement, which is commitment to academic excellence, student centeredness, civic engagement, the advancement of scholarship, the education of the whole person, and the formation of leaders in a diverse world."