Young and Promising Athletes Compete at LAU
LAU hosts games for high school students from across Lebanon, keeping an eye out for our next star athletes.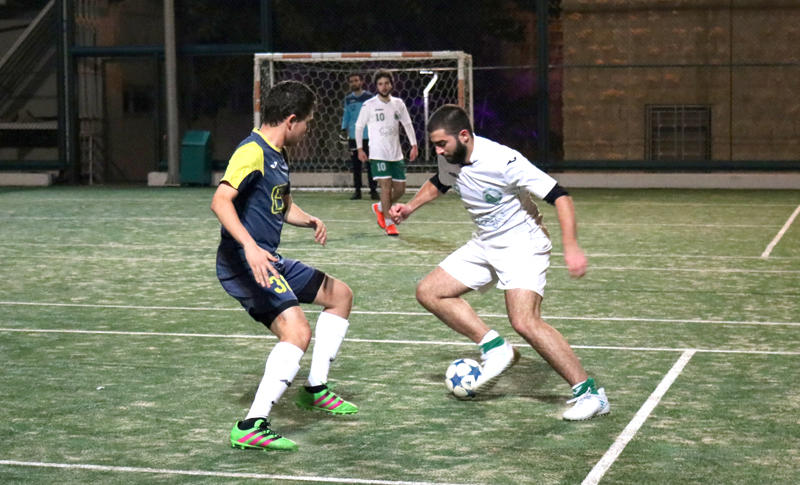 In the Beirut gymnasium Tuesday evening, high school girls bounded across the court in a lively game of basketball. The match was part of the 2018 LAU High Schools Invitational Sports Tournament, jointly organized by the Beirut and Byblos athletics departments. The tournament will end January 21 at the Prime Sport Complex in Halat with the crowning of the winners, some of whom may be eligible for university athletic scholarships.
"It's the end of the round robin stage," said LAU athletics director at Beirut campus Sami Garabedian, shortly after the game started.
This is LAU's 19th year of hosting 52 high schools from across Lebanon in competitions for girls' and boys' basketball, volleyball, mini football, swimming, tennis and table tennis. These games give young athletes a chance to play competitively, and in some cases get a shot at a sports scholarship. Every year, the level of participation and interest grows, with five other universities having instituted similar tournaments over the past decade.
"We pride ourselves on being the first ever university to host these events, and that other universities have followed suite," said Garabedian.
"Our main objective is to introduce high school kids to LAU and what it has to offer – to recruit students, to scout players of good caliber to join LAU, with the possibility of an athletic scholarship," he added.
According to Joe Moujaes, athletics director at Byblos campus, "We make the effort to host such tournaments not only to scout talent, but also to provide the youth of Lebanon with the chance to interact, and meet fellow students from all over the country. We definitely need to help the school sectors if we are to have better athletes coming to us."
Recruitments and scholarships have become important for LAU's sports teams, which are demonstrating more talent and skill with every new school year.
Senior Athletic Coordinator Sabine Fakhoury was previously a student at LAU and played on the basketball team. "I always had the idea that I wanted to come back to LAU, and I got the opportunity to apply here as an athletics coordinator," she said. "First we had 20 students on athletic scholarships, now there are 70. More students are involved and benefiting from scholarships."
For Karim Daccache, an LAU varsity futsal (mini football) player, a benefit of tournaments is being able to mentor young players.
"Organizing high school tournaments is like a mini World Cup," he added. "The tournament is great because you have students who are passionate about the game, and I can help them. They look up to me because I'm older and have more experience, and they ask for my advice on how to become college players."
For Rawan Kaissi and Pearla Fares, both 17-year-old high school futsal players, interest in the sport started when they were kids and began playing with their brothers.
"I started at five with my brother. He was playing with a team and I wanted to play, and my parents encouraged me," said Kaissi.
"I started when I was six," said Fares. "I used to play with a sponge ball and a round pillow, then I started to practice at school."
These students and others at the tournament may have the chance to turn their passion into a scholarship, and may help LAU athletics reach new heights in the years to come.
Games take place between the Beirut and Byblos campuses. For game times and locations, click here