A Passion for Nutrition and Medicine
Pre-med nutrition student becomes among first cohort to graduate from LAU's School of Medicine.
By Hanan Nasser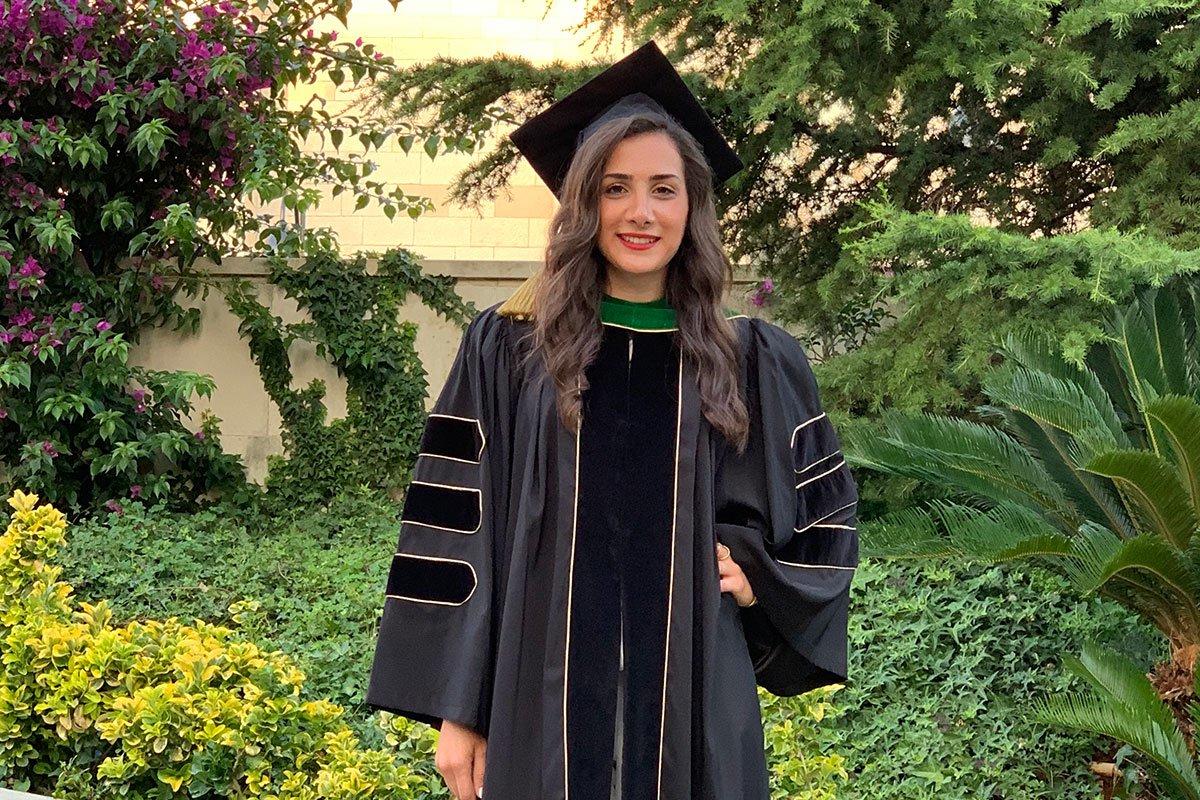 Aya Soubra (BS '16) joined LAU as a nutrition and dietetics undergrad contemplating going into medicine. In 2019, she was among the first cohort of pre-med nutrition students to graduate from LAU's Gilbert and Rose-Marie Chagoury School of Medicine.
"Since the first day of advising, I had this idea in mind of doing pre-med nutrition," said Soubra, who has already started her residency in surgical pathology at LAU Medical Center-Rizk Hospital.
"I went to my advisor and asked for his help in dividing my courses. I wasn't 100 percent sure I wanted to do medicine, so I chose to study for both nutrition and premed and see how things would go," she added.
Soubra's decision soon proved to be the right one.
"Being a nutritionist helped me a lot. I know all the basics of human nutrition, and I know the metabolism very well. Most importantly, when a doctor needed to give counseling about lifestyle changes for a patient, I was very comfortable doing so," she said.
The undergrad program also gave Soubra – who has a minor in biology – an overview of nutritional deficiencies and their clinical presentation, which helped her during her rotations as a med student.
"I also already knew how to deal with the nutrition of a pregnant woman, and what nutritional deficiencies could present a threat to her life and that of the baby."
Further, her background introduced her to the majority of diseases, allowing her to manage them, as much as possible, without medicinal or surgical intervention.
She said that while the nutrition program helped her learn everything that directly affects the day-to-day life of a client, especially when it comes to nutrition, medicine "helped me put this background in the clinical context of a patient – and not only a client."
Soubra is currently working on a research project tackling depression and stigma among LAU students, which she plans to submit for publishing.
As a health provider and a nutritionist, she is aware of her obligation to continue learning and remain up-to-date with the latest guidelines in order to provide the best patient care.
Underlining the importance of patient education, she said, it is an issue that should be addressed in Lebanon; "Education about who we are and our role in the hospital – be it medical students or nutritionists – and about the multidisciplinary provision of care."
"Doctors are not the only ones to deal with your health, but also nutritionists, nurses, pharmacists and even social workers."
Although she still has four years to go in her residency, Soubra is planning to apply for a fellowship in molecular pathology.