Byblos Graduates Take the Helm
LAU celebrates the class of 2019 and honors the Stoltzfus family's legacy to the institution.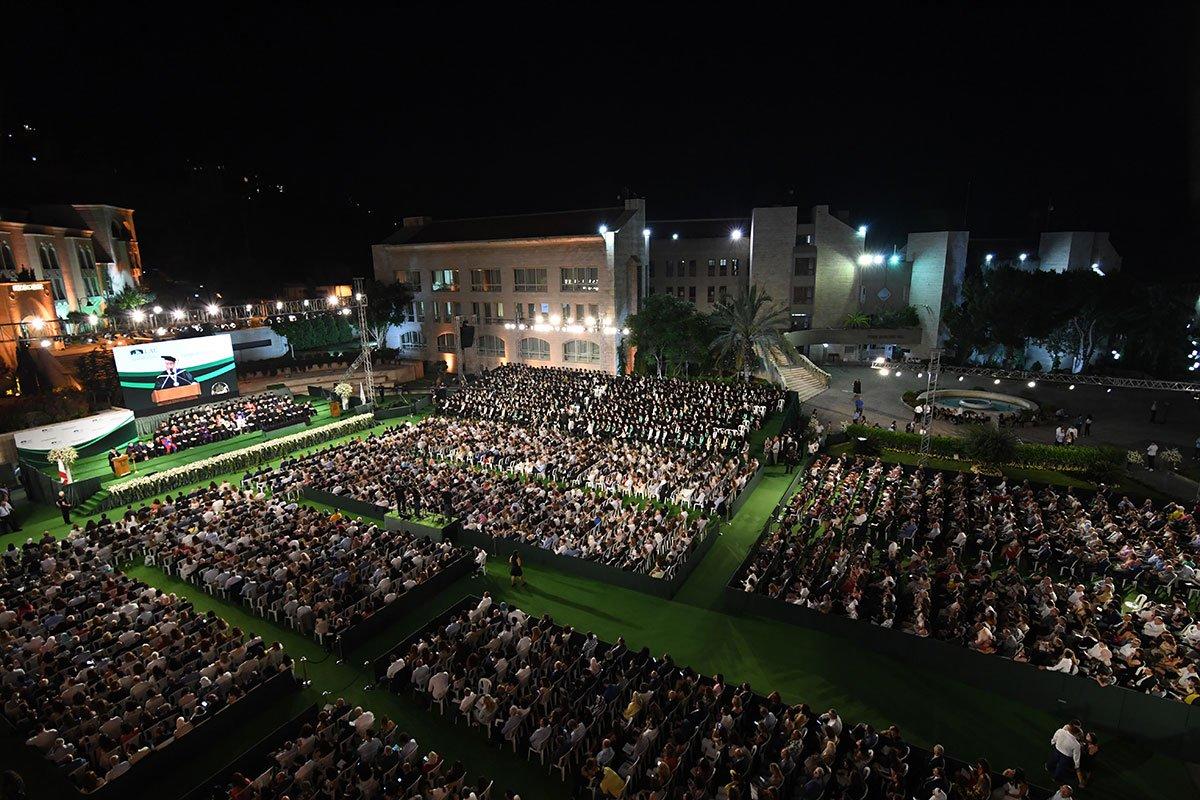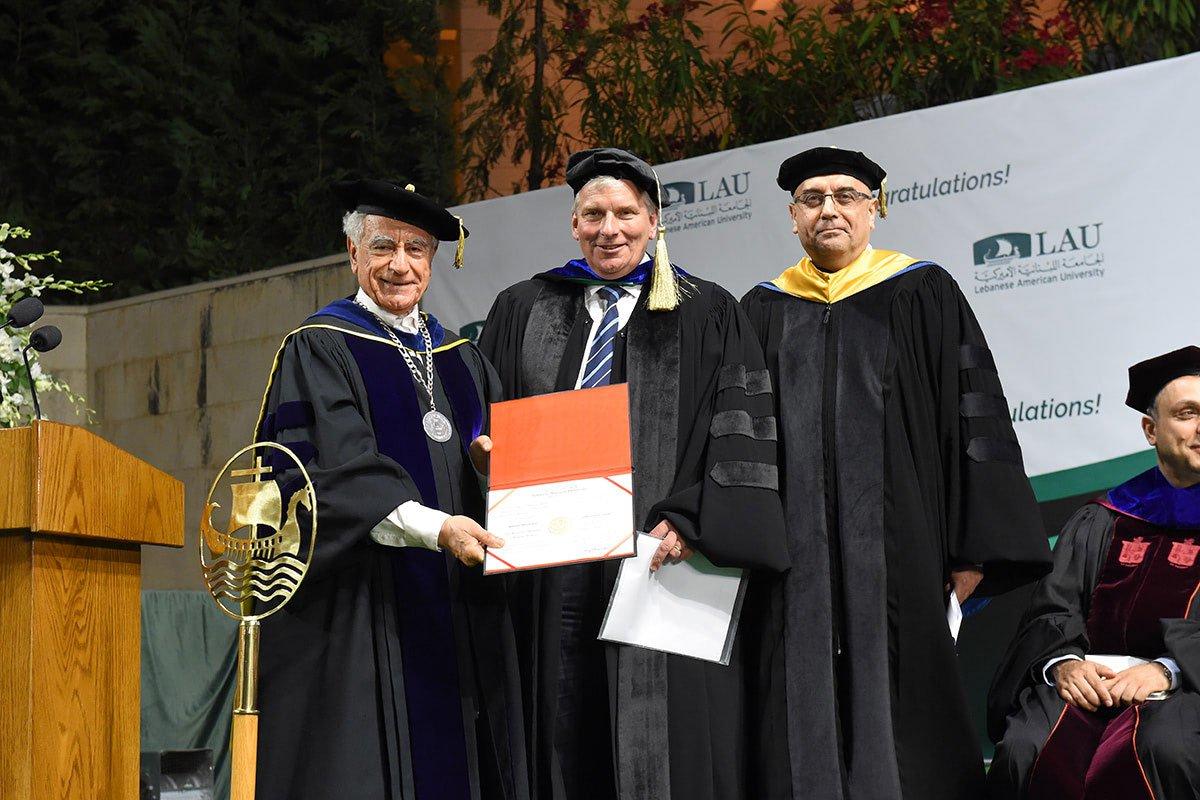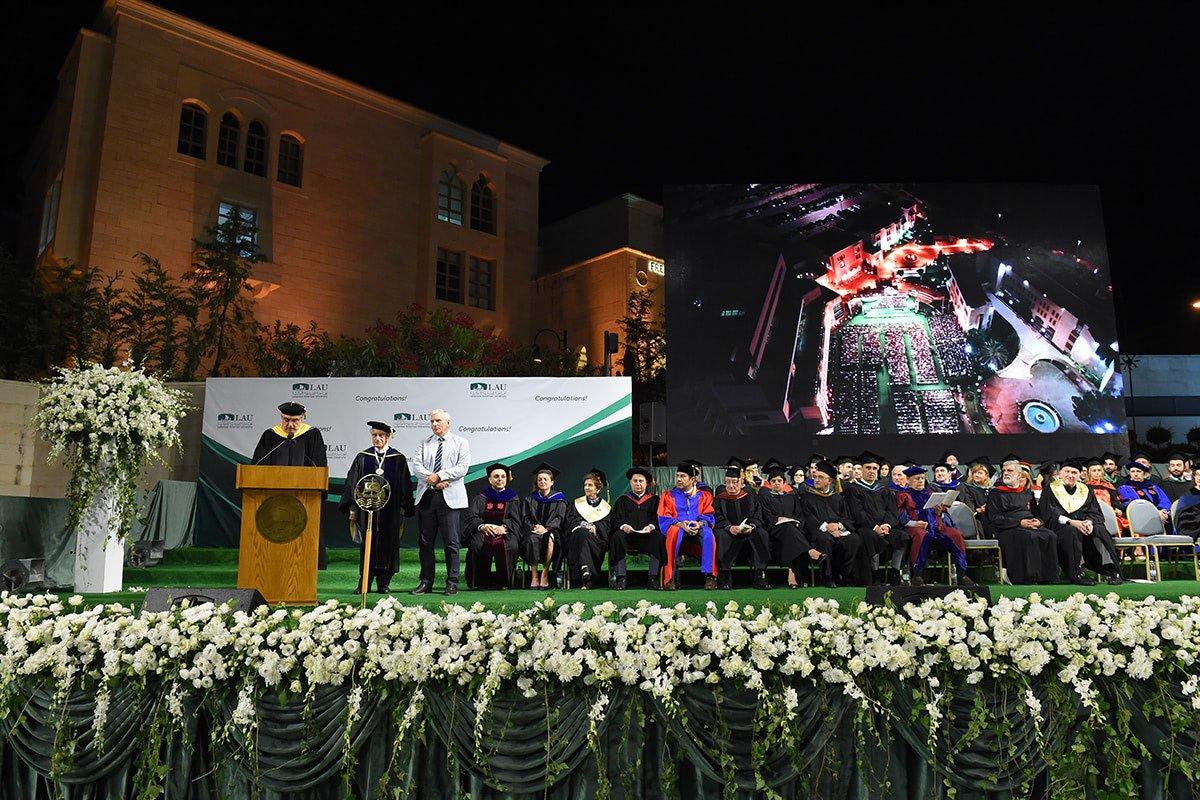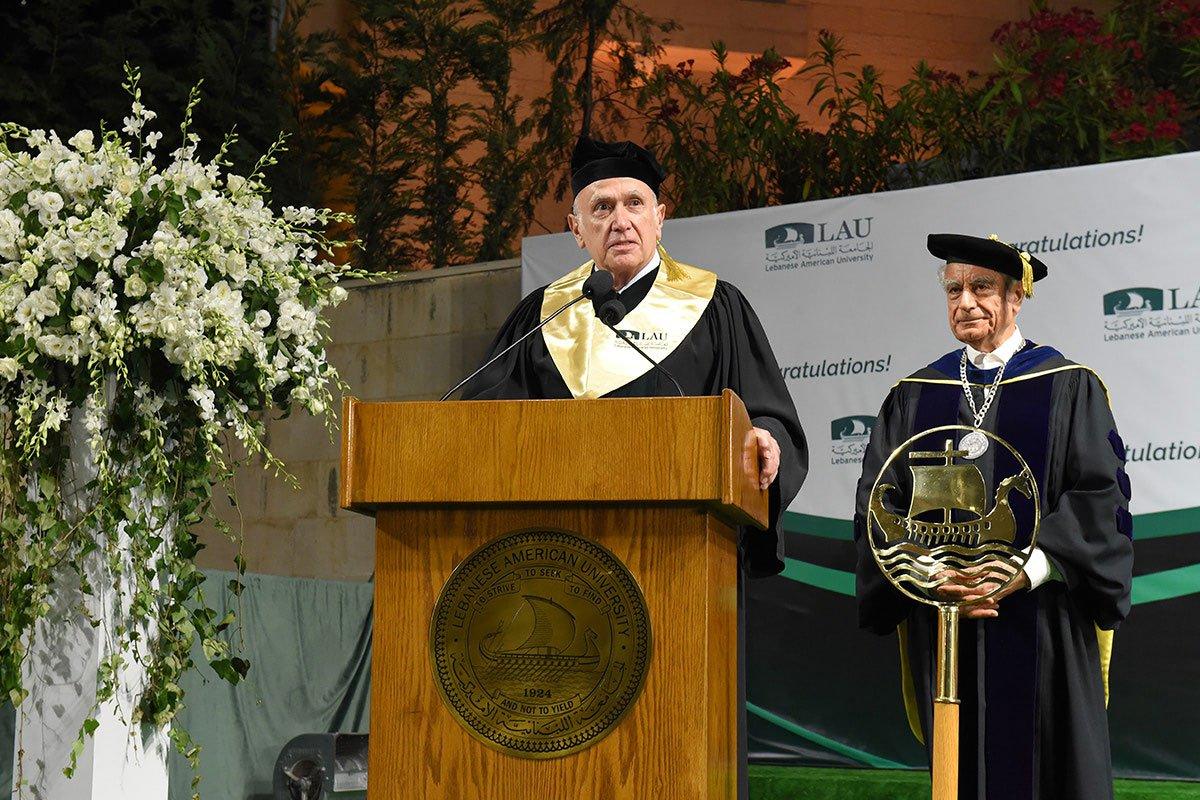 Eager to begin the ceremony that marks a defining moment in their academic career, more than 900 graduates filed onto Byblos campus on June 11 to receive their well-earned degrees.
The Honorary Doctorate in Humane Letters was bestowed upon former LAU Board Chairman Philip Stoltzfus, whose family legacy has been tightly intertwined with the history of the institution. His late grandfather, William Stoltzfus, was one of the founding fathers of LAU, having headed the American Junior College for Women – as LAU was known back then – for 21 years, some of the most active years in its history.
The ceremony was the first in a series of LAU's 94th commencement exercises, with two more events to take place in Beirut to celebrate the graduates of the School of Architecture and Design, and the School of Arts and Sciences on June 14 and those of the Adnan Kassar School of Business on June 15.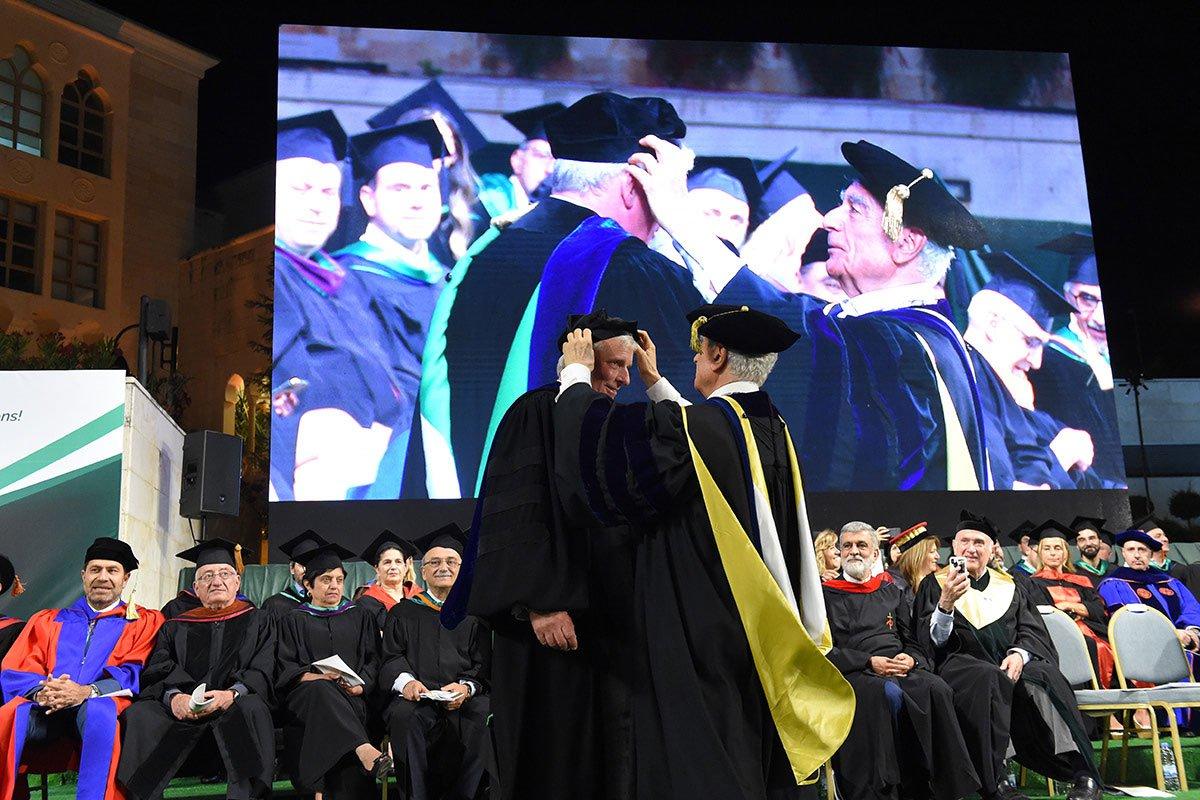 Former Chairman of LAU's Board of Trustees and CEO of Thayer Brook Partners Philip Stoltzfus dwelt on Lebanon's history in dealing with the challenges posed by co-existence, remarking that "though human knowledge may be doubling, human understanding is in perilous decline."
He urged the class of 2019, whom he referred to as "uniquely gifted by your Lebanese heritage, armed with your LAU degrees," to ensure that "the blessing of the technological miracle is not hijacked by social discord." This can be achieved, he said, by serving others, "as service is its own reward, and because just as we must exercise the brain and the body, we must exercise human empathy."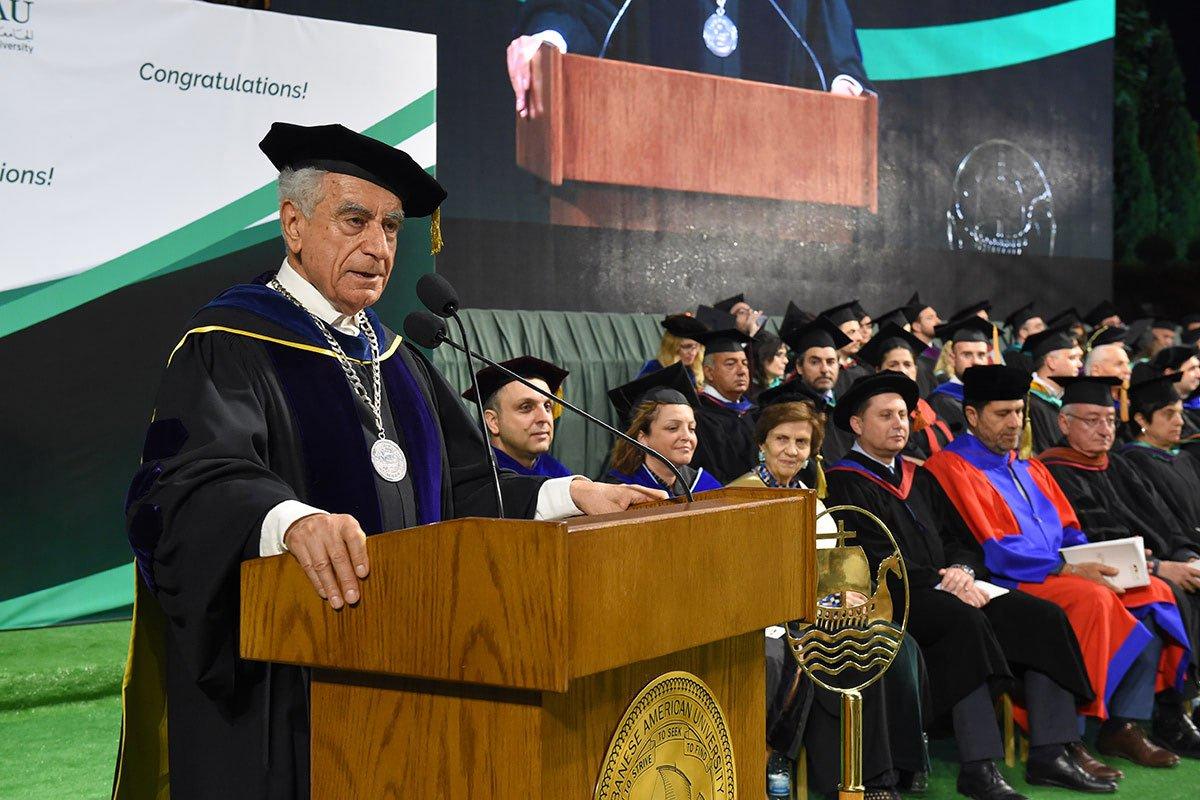 Declaring LAU an "academic powerhouse," LAU President Joseph G. Jabbra spoke about further enhancing the curriculum to include a liberal arts stamp, a research stamp and a digital stamp – to promote digital literacy with courses on Artificial Intelligence (AI) and coding, an innovation and a data analytics center, and a graduate degree in AI.
Dr. Jabbra characterized LAU as "the university of innovation par excellence," laying out its Strategic Plan to strengthen intellectual capital, encourage pedagogical innovation and promote the university as an institution without borders.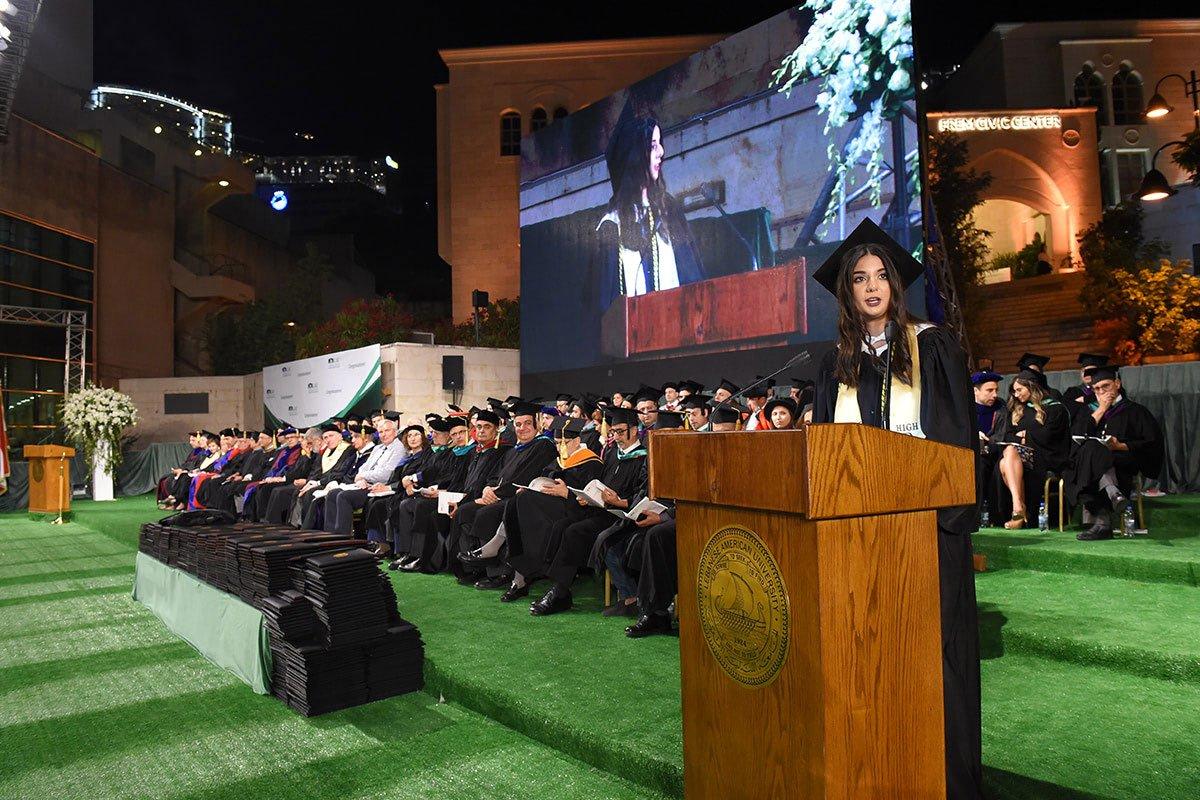 For biology graduate and class valedictorian Zahia Eid, graduation was "an opportunity to grow in wisdom, strength and resolve to do good."
Contemplating the time she and her classmates had spent at LAU which had "inspired, challenged and molded" them into what they are today, she exhorted her fellow graduates to aspire "to do more, to redefine our fields in ways that we could never imagine," and "to be the flames of change, and the tools of righteousness."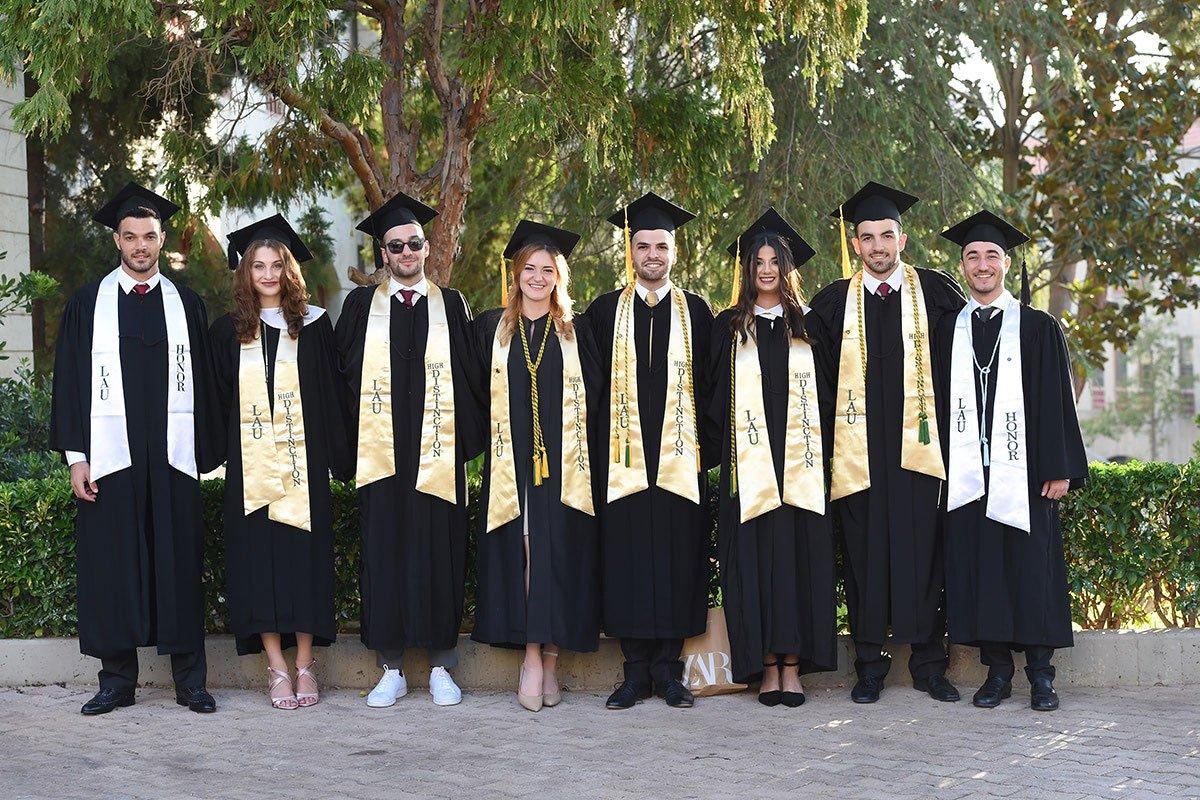 Some of the outstanding graduates who received awards at the ceremony. (From left) Torch Award recipients Guy Mrad and Stephanie Farah, Enzo El Adm who received both the Torch and President's Awards, Rawan Deeb who received the President's Award, Fady El Tom who received the Sarah Huntington Smith Achievement Award, class valedictorian Zahia Eid, Yves Mrad who received the President's Award, and Hadi Mroue who received the Torch Award.