Engineering the Future Today
LAU pioneers with National Artificial Intelligence Day.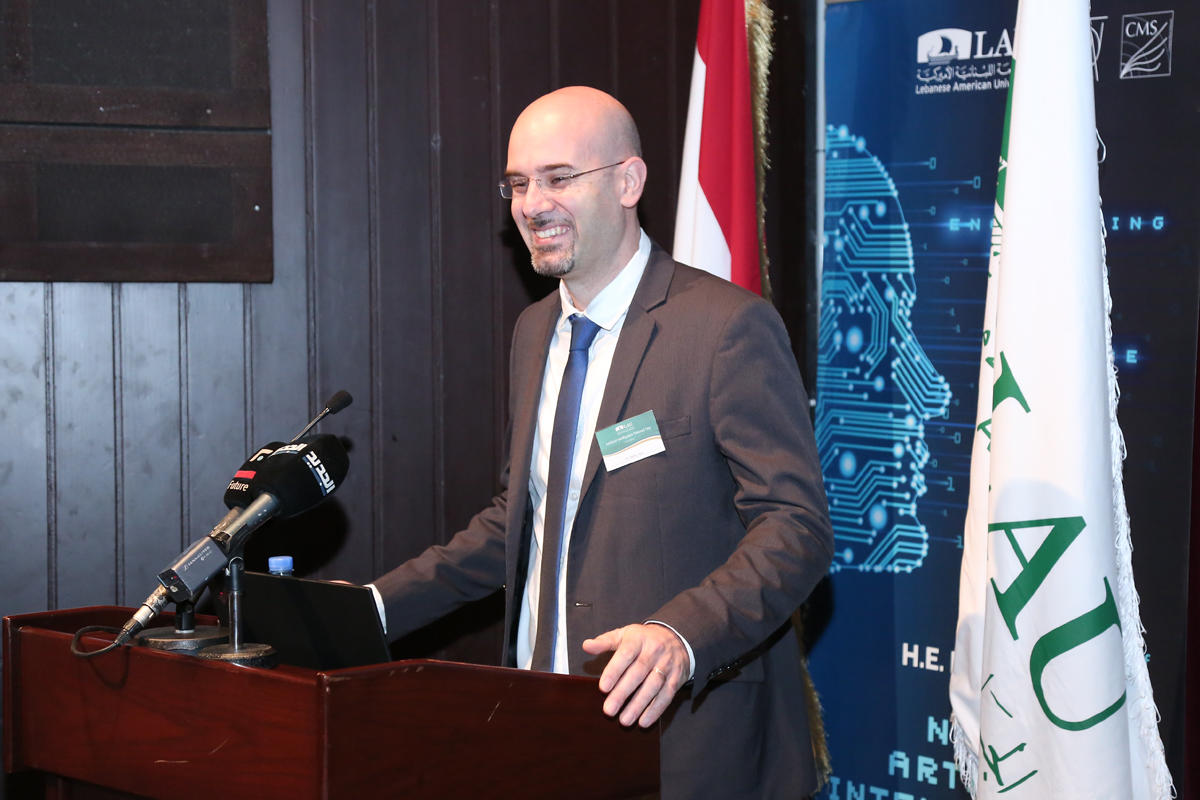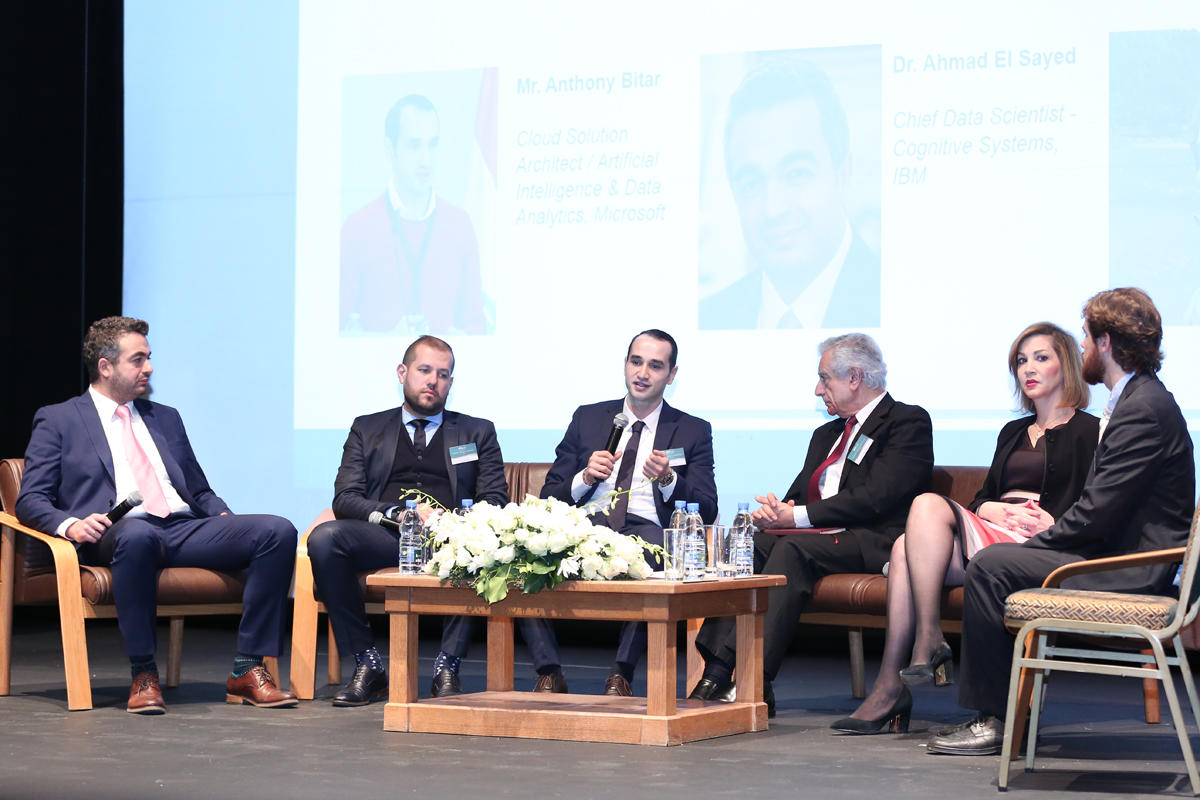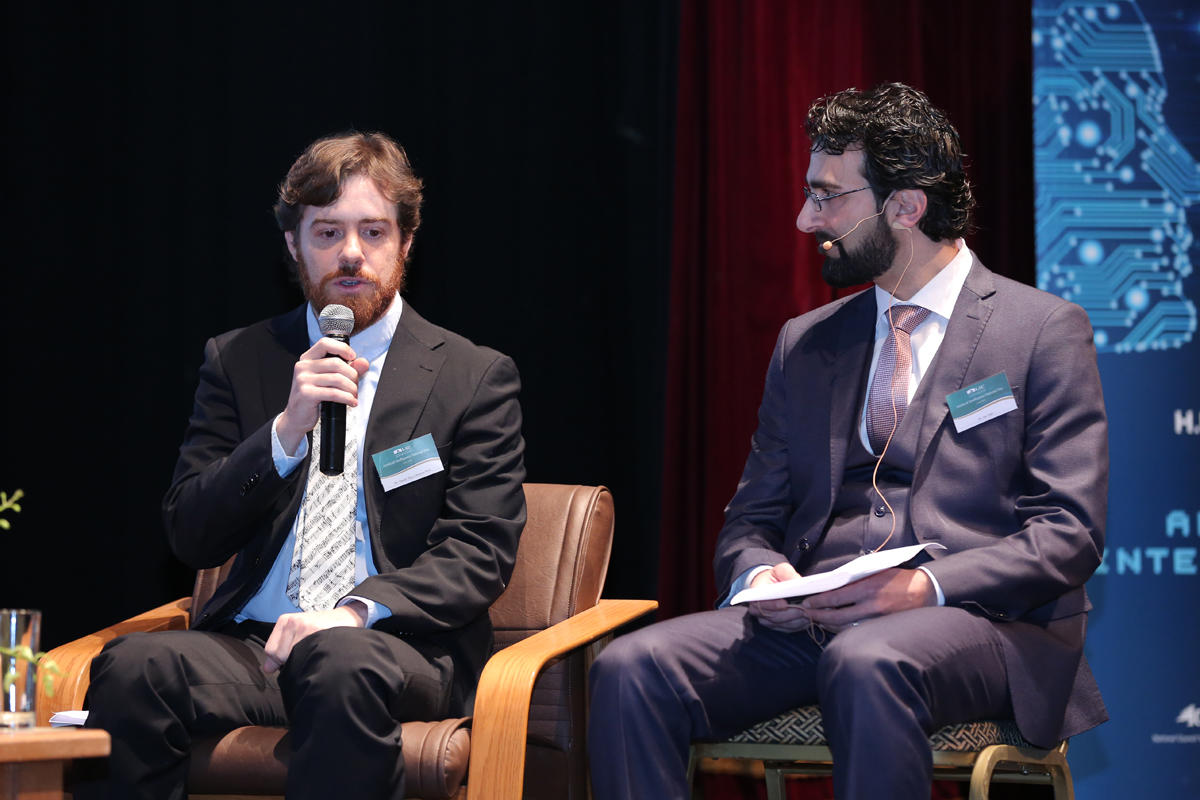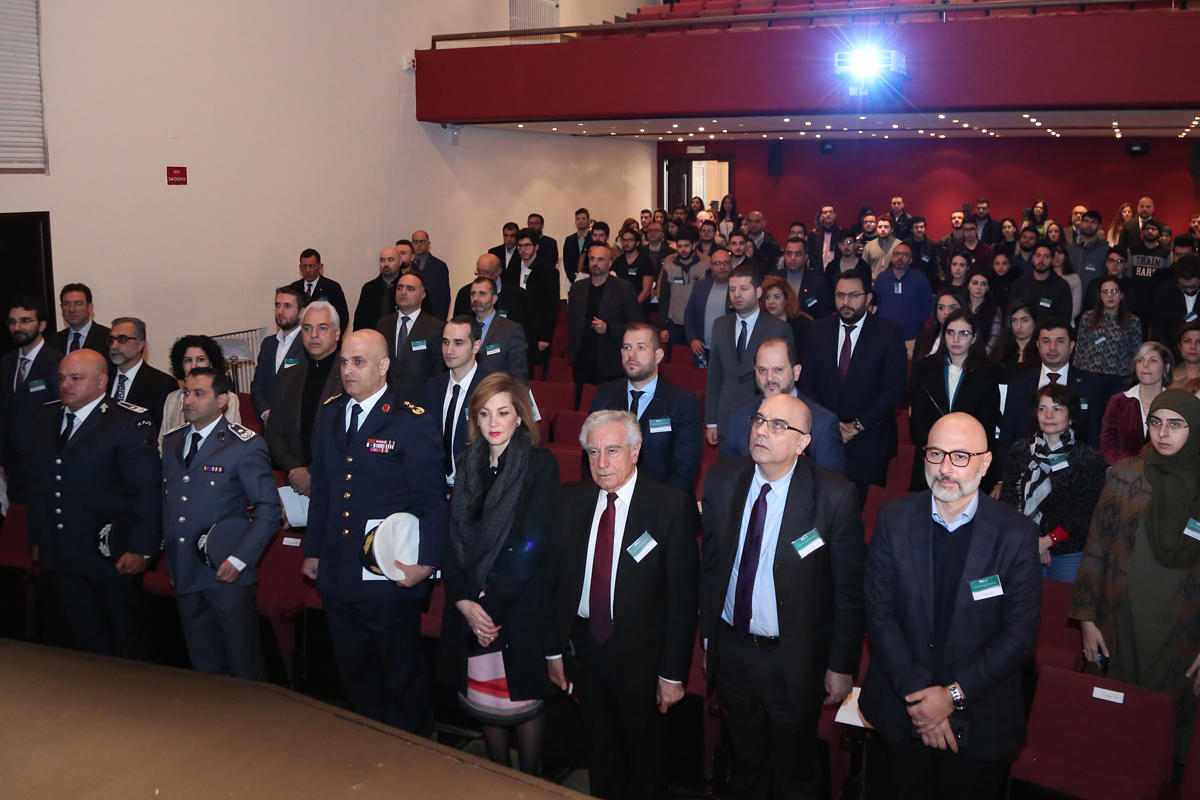 LAU's School of Engineering (SOE) has been a national pioneer in Artificial Intelligence (AI) research, offering students the opportunity to experiment with the technology in their classrooms and beyond. But, as Assistant Provost Barbar Akle puts it, "AI is no longer limited to the SOE – in fact, it affects all disciplines from the arts to business majors and the health sciences."
That is why the Provost's Office joined forces with a university affiliate, the European Center for Nuclear Research (CERN), to co-organize the National AI Day on January 12. The event took place on Beirut campus under the patronage of Prime Minister Saad Hariri, and was sponsored by Microsoft and the National Council for Scientific Research (CNRS).
Irwin Hall was abuzz with over 300 attendees, including executives from the private and public sectors, as well as entrepreneurs, scholars and students from different fields and universities. They flocked to LAU to grow their knowledge of AI – defined by Microsoft as "the ability of a computer program or machine to think, understand, sense and make decisions on data that it is being fed."
In his opening remarks, LAU President Joseph G. Jabbra welcomed everyone to "the university of innovation." He voiced the need to come together and "know where we are heading with respect to AI as a driver of the fifth industrial revolution, and learn how to be able to control it for the benefit of society."
In a comment, Provost George E. Nasr offered some background on the drivers behind the event. In line with the university's Third Strategic Plan (SPIII) and with the directive of the university Board of Trustees and President, LAU reached out to friends and partners from prominent corporations, ministries and universities to start a conversation on AI, as it is a national need. "This coming together of academia, corporate and government agencies as we've seen today has paved the way for ideas to be tossed around and for collaboration plans to be drawn up," said Dr. Nasr.
On that point, Dr. Akle added that in preparing for the conference, the university reached out to varied speakers "so we can paint a 360-degree picture of the different aspects of AI, to strike the perfect balance between the technical and the applied."
Representing Prime Minister Hariri, MP Dima Jamali agreed that Lebanon "needs to be aptly prepared for the fifth industrial revolution," and said that she hopes the "Lebanese ecosystem prepares itself to embrace AI through universities, its youth, its private sector and the government."
Indeed, LAU is in full gear for this embrace. As Dr. Akle noted, "AI is guaranteed to hit most disciplines in the near future, so the discourse on how we get our students prepared has now shifted." Dr. Akle, who is also an associate professor at the SOE, added that this shift will mean changing both the curricula and the methods of teaching.
Members of the opening panel fielded varied questions, from ethical concerns about AI to how governments are gearing up to adopt it. The panelists were Drs. Jabbra and Jamali, Cloud Solution Architect and AI and Data Analytic at Microsoft Anthony Bitar, Head of AI and VR at BMW Logistics Dr. Jimmy Nassif, Chief Data Scientist at IBM Dr. Ahmad El Sayed, and CERN Doctoral Student Daniel Cámpora. It was moderated by LAU's own Dr. Joe Tekli, Interim Assistant Dean of the SOE and Assistant Professor of Computer Engineering, whose research has focused on teaching human knowledge and emotions to AI programs.
Bitar emphasized how Microsoft has used AI for decades, with its technology very much embedded in our everyday lives, from email to Excel spreadsheets. He touched on how his company plans to focus on three areas in the upcoming 10 years: building a more people-focused experience, infusing AI into every single product on offer, and powering up the platform to enable AI use regardless of location.
The discussion then moved to where Lebanon stands with respect to the technology. "AI is very much still dependent on human intelligence," said Dr. Nassif, adding that there is strong potential for the country to ride the artificial intelligence wave – "We just need to have faith in AI as an enabler and not an inhibitor of generating jobs in the future." But, as the "first generation of AI and connectivity," he spoke about the inherent role of "writing the constitution and ethics of the digital world for the next generations," as whatever is established now will last for many generations.
Dr. Jamali shared the optimism, revealing that despite "the lack of our political cohesion," a plan is already in place to create a large data center to connect all the ministries – "an important first step to prepare the groundwork for future AI integration." To her, the way forward is in "continuing to invest in the youth and their education, while the government should continue to provide the infrastructure and facilitate innovation."
In turn, Dr. El Sayed spoke about how IBM has focused its efforts on helping governments adopt AI. He noted that his company is developing a multitude of AI solutions that are currently in use by governmental bodies in the UAE, such as customs and the police in their day-to-day work, and across larger operations spanning several industries. "In fact, the UAE became the first nation to have a minister for AI in their quest to be prepared for the future."
Cámpora, who recently gave an AI course at the SOE, titled Introduction to Supervised Learning Techniques, described how CERN is using AI to answer fundamental questions of physics. Having witnessed his students' enthusiasm and having met with AI researchers during his time here, he encouraged people to learn more about the technology any way they can. "In fact, you can join a very engaging research community wherever you are."
The panel and corporate presentations were followed by a series of scholarly lectures by some members of the research community: Dr. Mariette Awad from the American University of Beirut, Dr. Sara Najem from the Lebanese University and the CNRS, Batoul Haidar from Saint Joseph University, as well as LAU's Dr. Tekli.
At the end of the day, Dr. Akle offered a couple of takeaways: "AI is something being explored, and we have no strong predictions on where it is headed." Therefore, he said, perhaps the strongest tool LAU can disseminate to its students is "growing their ability to adapt in the face of a changing future."