Filmmaking: A Lifetime Passion
Alumna Farah Shaer wins Excellence in Arab Filmmaking Award for Faces in the Sun.
By Hanan Nasser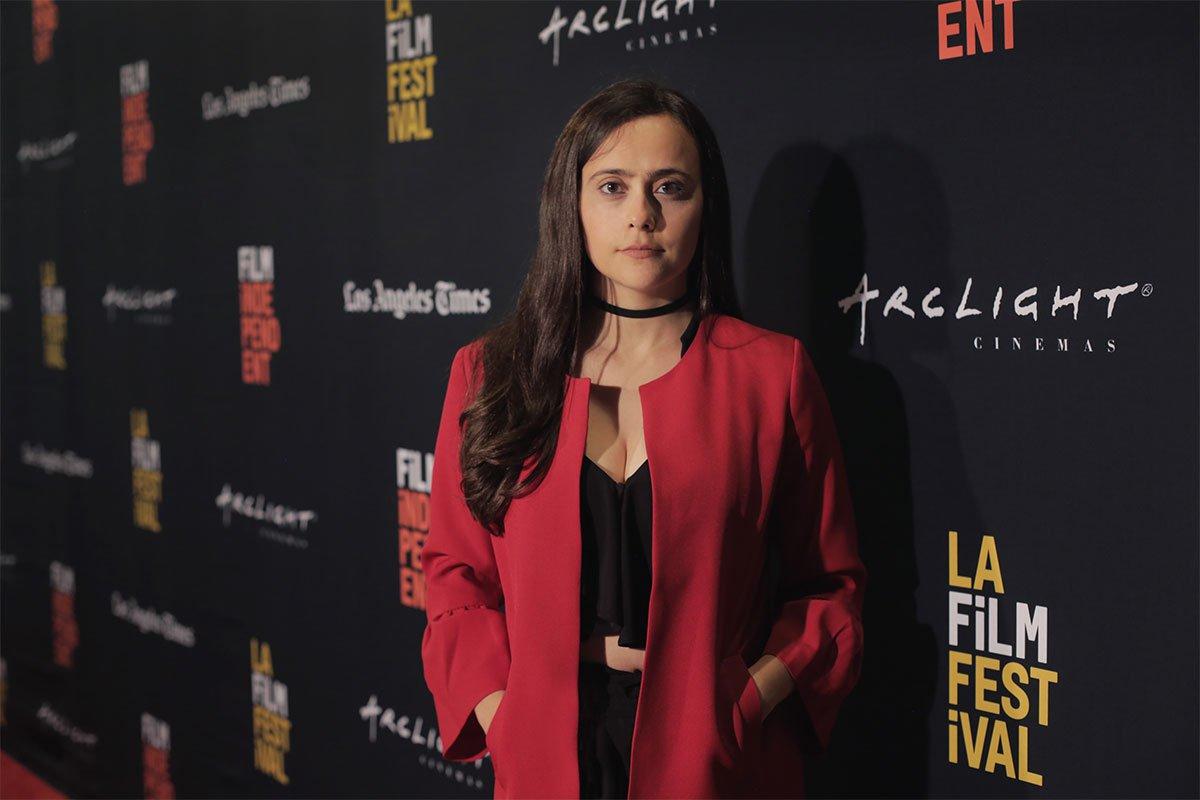 Throughout her career, award-winning Alumna Farah Shaer (BA '11) has zoomed in on stories impacting women in Lebanon, and highlighting timely and controversial topics at the heart of the country's sociopolitical discourse.
Recently, her short feature film Faces in the Sun won the European Independent Film Festival's Excellence in Arab Filmmaking Award. The film is about two women – an apprentice prayer surrogate and her mentor – who are driven by deep inner suffering, dreams and sins. The concept of a prayer surrogate refers to a devout individual who is paid by families to pray, fast or complete a pilgrimage on behalf of a deceased loved one who has not fulfilled these religious duties.
Faces in the Sun also won UCLA's prestigious Delia Salvi Memorial Award for directing the actor.
Shaer graduated with a BA in Communication Arts with an emphasis in TV/Film from LAU. In 2014, she received a full scholarship for a Master of Fine Arts (MFA) at UCLA where she is currently working on her final thesis film.
Stratcom interviewed Shaer about her work, career choices and the challenges in tackling difficult subjects.
Are religion-related and female-led films a conscious choice in your work?
I am interested in telling stories about women of my country who are still oppressed and living under a patriarchal system rooted in religious authority.
Being a Lebanese filmmaker, it is hard for me to distance myself from the sociopolitical discourse; and, in Lebanon, religion rules that discourse.
In the absence of civil laws, personal affairs such as marriage, custody, heritage, abortion, etc. are governed by religious laws. It's these crucial and urgent questions that led me to explore this theme frequently.
Your LAU thesis film Wahabtoka Al Muta'h tackled a controversial issue in Lebanese society. How did you approach such a topic?
The film tells the story of a woman who practices pleasure marriage. It toured international film festivals such as Clermont-Ferrand in France, and the Busan Film International Festival in South Korea, but was banned in Lebanon.
I just wanted to relate this true-to-life story, which proved to be controversial for the General Security Censorship Bureau, even though it's not far removed from what actually happens.
Students are interested to learn about the process of getting a film from an idea to the final stages of production: The research, funding, the obstacles, and how to overcome them.
Filmmaking is not a regular job, but a life journey that demands persistence and passion.
Funding is definitely the toughest part, but there are many funds that filmmakers can apply to (the Doha Film Institute, the Arab Fund for Arts and Culture, among others) and script labs where they can work on developing their ideas/scripts (the Torino script lab and Sundance film lab, for example). Even without funding, great ideas can be produced with much less than expected if the filmmaker uses his/her personal connections to minimize the cost of production.
Keep in mind, also, that a good film is a mixture of human labor and talent – a good script and good actors – which are not necessarily costly.
One last thing filmmakers might come up against, when treating a sensitive topic, is censorship. At the same time, cinema is a weapon against a corrupt and unjust system, and should be used to break that cycle.
Why did you decide to continue your studies in film instead of theater?
I worked in both cinema and theater and share a passion for both, but I always felt more inclined toward film, because it allows the director more flexibility.
I got lucky when, in 2014, LAU announced a collaboration with UCLA's film school, which was planning to offer a four-year scholarship for Arab women filmmakers to pursue an MFA in film directing. They reached out to several Arab universities and chose LAU from Lebanon. This UCLA scholarship is fully funded by Saudi film producer Hani Farsi.
Whether in film or theater, I would definitely advise graduates looking to pursue a master's degree abroad to explore scholarships of this kind.
What are you working on right now?
I'm working on the post-production final stages of my thesis short film, which is about an alienated woman searching for a way to regain control of her life. The film also shows the antiquated laws related to women in Lebanon.
I'm also writing and directing a new short film that is part of The Royal Film Commission–Jordan newly launched program called Anthology Film: Women in the Maghreb-Mashreq Region in cooperation with UNESCO and with the support of the European Union. My film is one of five short films selected to be part of this anthology feature, under the theme of gender equality and women's empowerment in the Arab region.