How to Build a Brand in the Food Industry
Founder and president of California Garden, Fouad El-Abd, inspires students with an account of his company's rise to success.
By Hanan Nasser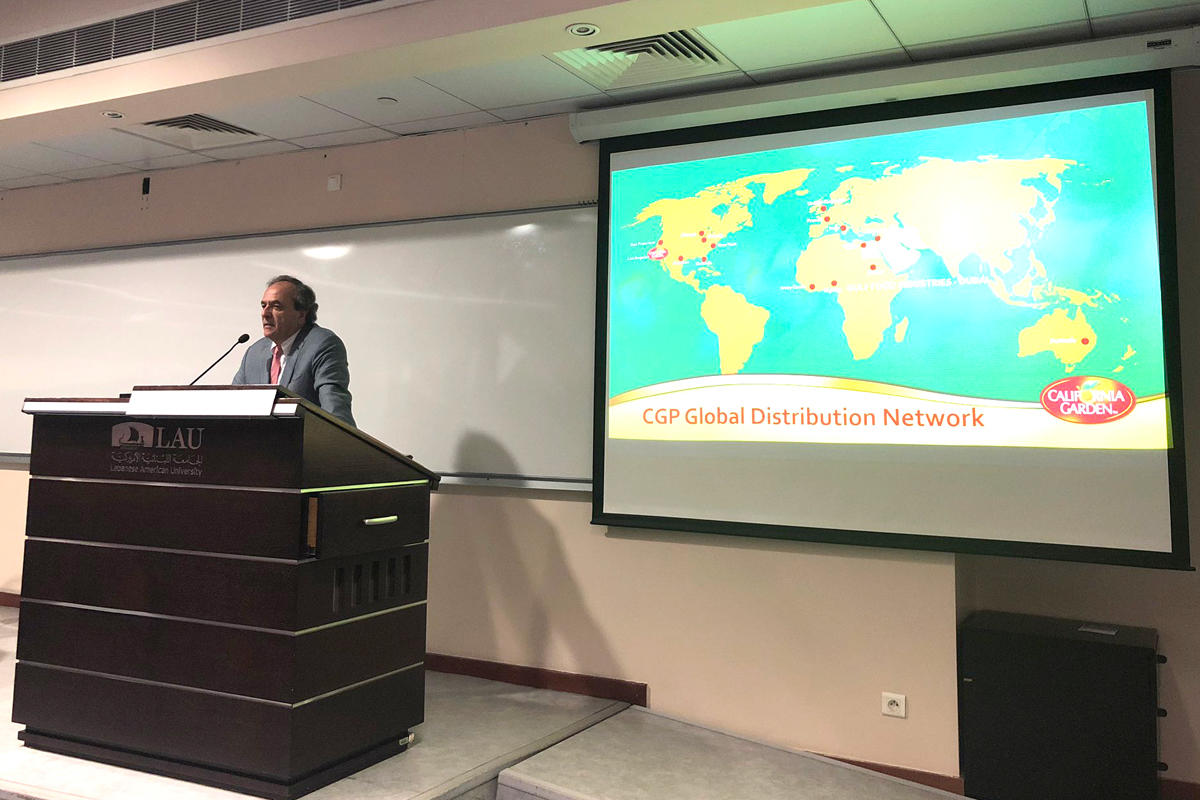 The vast Lebanese diaspora counts on food as one of the ways to stay connected to the homeland. Brands like California Garden provide Lebanese food lovers with a fix across continents – and even in outer space.
LAUers were let in on the secrets to California Garden's success when its founder and president, Fouad El-Abd, gave a lecture on Beirut Campus called How to Build a Brand in the Food Industry. The event was organized by the Nutrition Program in collaboration with the Department of Hospitality Management and Marketing.
The talk is an example of how the Nutrition Program gives students the opportunity to interact with and benefit from the experiences of successful figures in the food industry.
"Historically, around one third of our nutrition alumni ended up working in the food service industry," said Associate Professor of Food Science and Technology Hussein Hassan.
In order to meet the demands of a fiercely competitive job market, the program launched a Minor in Food Science and Management three years ago.
"The aim is to prepare students to successfully embark on a career in this field. The minor encompasses courses related to marketing, concept development, management and food production," said Dr. Hassan, who is also the associate chair of the Department of Natural Sciences.
Recalling his first job, El-Abd told the crowd he worked for a company that sold machinery and built factories for the food industry.
"It was a fantastic learning experience because it gave me the opportunity to learn where everything is being processed," he said, encouraging students to grab any job or internship opportunity they can.
When El-Abd's contract ended with that company, he set out on his own. "I couldn't find a job. I sent 500 letters to 500 companies in the United States and got 500 rejections. I said to myself that I had to do something. I had three kids to feed and educate," he recalled.
He decided to buy a small franchise similar to Subway in California, and it was at the back of that restaurant that California Garden was born.
El-Abd was able to build on his relationships in the industry to sell raw materials. "After that we increased the line and started selling institutional cans to all the hotels and catering companies," he said.
The company had its breakthrough in 1983 with the introduction of "American foul mudammas," a popular dish based on fava beans. After that, the company signed a joint venture to start a factory in Dubai.
"That was a great hit, because our main competition was from China and Egypt, and bringing in American foul was kind of crazy, but it succeeded, and people accepted it," he said.
One major partnership involved none other than NASA, leading California Garden to supply cans of hummus to the International Space Station.
"We were able to produce a very small can of hummus, a three-ounce can, 90 grams. And it went to space, and they bought four flavors: regular, chili, cumin and cilantro. I would get messages from NASA saying 'Our astronauts love your hummus.'"
One of the points of strength in terms of branding he said, was that the company's cans were not traditional. "They are lacquered cans, because we wanted a clean look. We then introduced different flavors" to cater to various consumer tastes in the region.
Here, he noted that in building a brand, entrepreneurs have to do a lot of impressive merchandising and take part in food shows to introduce their products.
Developing a brand and keeping it alive is also about being up-to-date with the latest consumer trends. This is why, he said, California Garden is now moving toward ready-to-eat and frozen products and will eventually move into organics too.
Concluding his talk, El-Abd told attendees, "It might take some time but if you keep your goal and hopes, and your dreams alive, you will get there eventually."
Two years ago, El-Abd made a substantial donation to LAU, which went toward establishing a food innovation lab, inaugurated in October 2018.