How to Survive in the Age of Automation
LAU's Graduate Studies and Research Office in collaboration with AKSOB hosts a workshop on bridging the academic, research and industry gaps through Data Analytics.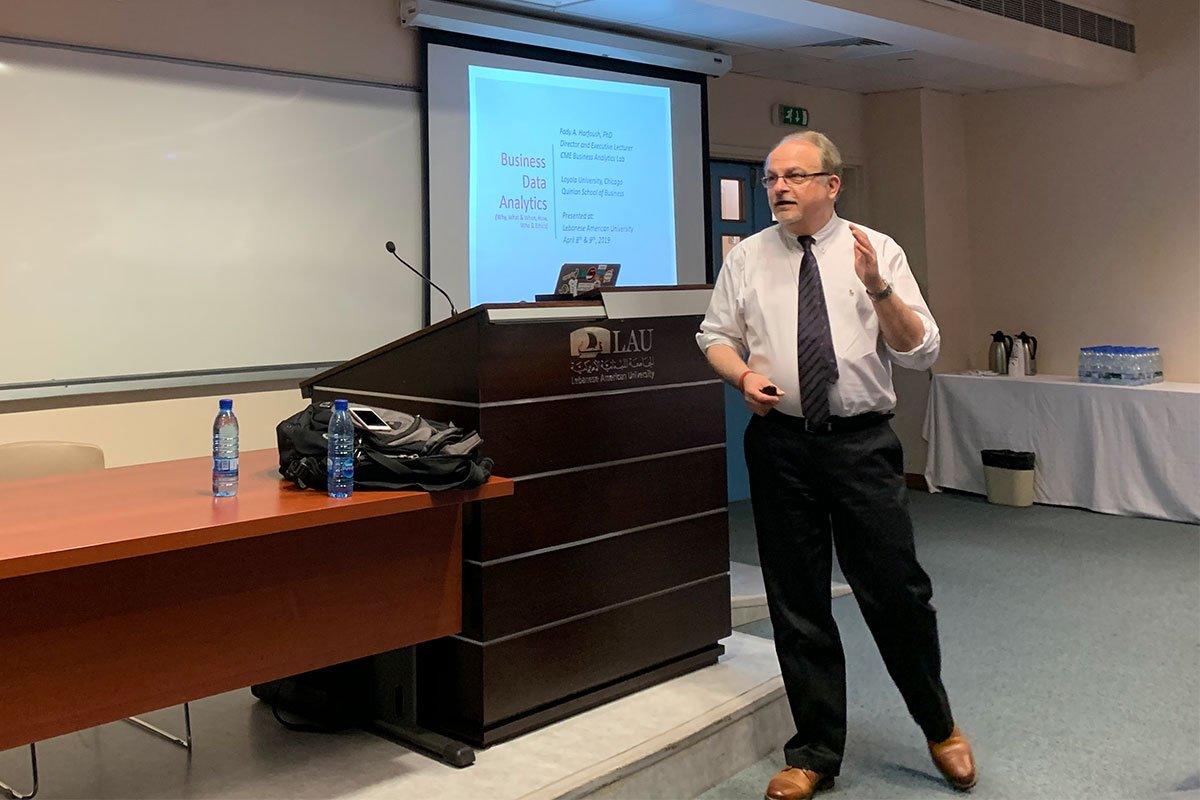 In recent years, Artificial Intelligence has become part of our daily lives, and in 2022, it is likely to account for half of the global business value. Although digital technologies and automation have increased fears about workers' futures, the end result is not necessarily negative.
The key is education.
This topic was tackled in a workshop on data analytics organized earlier this month by LAU's Graduate Studies and Research Office in collaboration with the Adnan Kassar School of Business which featured Dr. Fady Harfoush, director and executive lecturer, CME Business Analytics Lab at Loyola University, Chicago.
Initially, Dr. Harfoush shed light on the fast-track growth of Artificial Intelligence, which is expected to triple in the next few years.
"Due to this technological wave, everyone is seeking to become a data scientist nowadays," he explained. "Universities have therefore embedded several programs in their curriculum while students are also being bombarded with online certificates. Data analytics is exactly what the market needs right now."
In this specific case, Loyola University sets an example. Last year, the institution introduced a master's in Business Data Analytics while it had already ensured certificate programs in the same field. In addition, it organizes student competitions – such as DataFest – to bring use cases to life.
"The most important and difficult part is so-called applied learning," Dr. Harfoush said. "When you learn these theories in class without applying them to real life scenarios, your knowledge is incomplete."
In the same context, Dr. Harfoush stressed the importance of working with artificial intelligence to optimize tasks. "The new AI is not your competition but your friend," he explained. "You don't have to worry about machines taking over or being wiped out by terminators. All you have to do is learn how to live with AI through creativity and emotional intelligence."
Although this is going to mean the end of many jobs, AI is set to create a spectrum of new ones. "Statistics say 50 percent of the jobs can be automated. Should I be worried?" Dr. Harfoush asked. "No, because it is not a man versus machine concern, but the exact opposite."
Here, education plays the biggest role. "Education is your best ticket to survive automation. The more you enhance your education, the higher the chances of surviving this technological wave," he said.
Looking into the near future, Dr. Harfoush highlighted one major change: Quantum Computing, or the use of quantum mechanics to help advance science, medicine and so on. "This is probably not on your radar currently, but you will hear about it in five years from now," he said. "This is what big companies are investing in, and this is what IBM and other universities are establishing labs for. They call them Quantum labs."