Inside the Pharmacy Residency
The program promises enriching prospects for PharmD Graduates.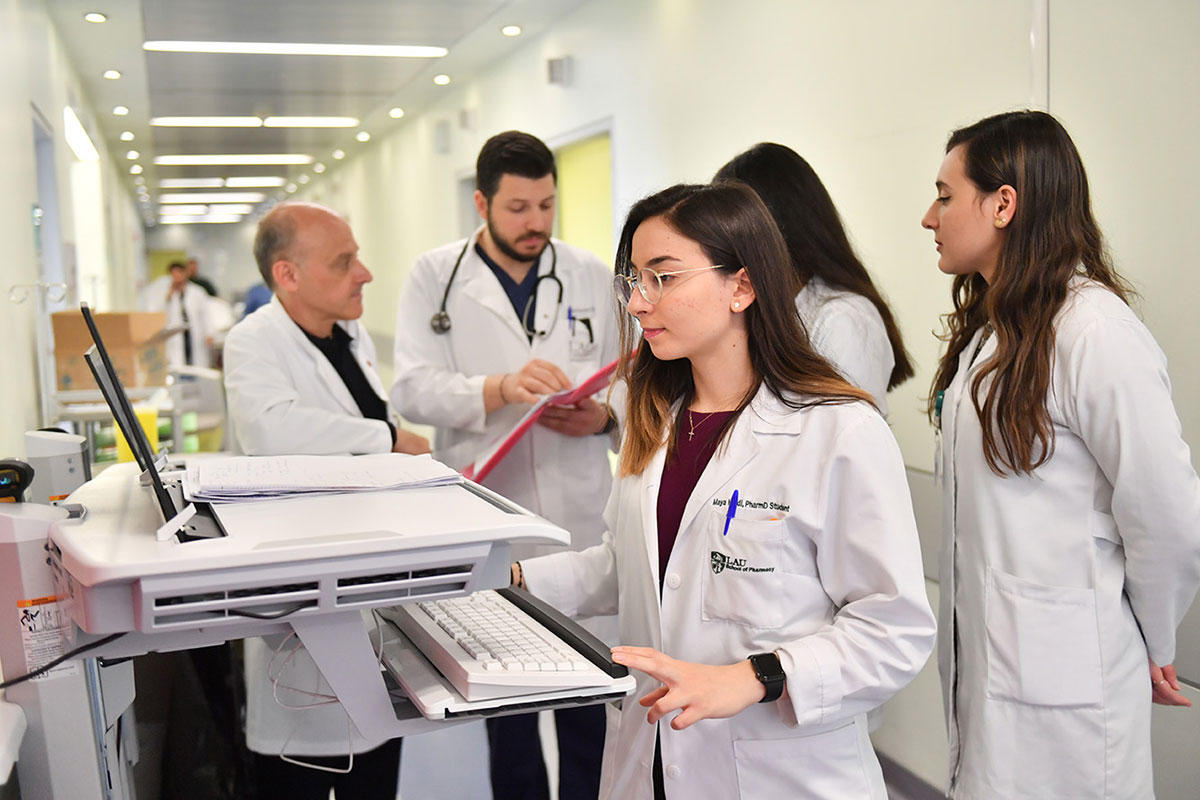 The School of Pharmacy (SOP) and the LAU Medical Center-Rizk Hospital have joined forces to develop the Postgraduate Year One (PGY1) Pharmacy Residency – a program that provides residents with advanced, hands-on experience in clinical practice, education and research.
Referring to the program as "an essential build-up from the Doctor of Pharmacy (PharmD) degree," SOP Clinical Assistant Professor and Residency Program Director Nibal Chamoun pointed to how the residency "accelerates the personal and professional growth of pharmacists beyond entry-level experience."
SOP Dean Imad Btaiche provided background on establishing the program. "This has been a strategic directive of the school," he said, expressing his delight in seeing it materialize at LAU. In the context of having previously directed a similar program during his tenure in the US, Dr. Btaiche confirmed that "the scope and structure of the LAU PGY1 measure up to the level of high-quality residency programs."
LAU's PharmD program – the only one accredited by the Accreditation Council for Pharmacy Education (ACPE) outside the US – is a sponsor of the residency program, which offers residents numerous opportunities to grow as pharmacy educators in practice, experiential and didactic settings, notes Dr. Chamoun.
Another distinctive feature of the program is that it takes place at the teaching site for LAU's health sciences schools, which has adopted an interprofessional collaborative practice model – an approach that puts patients at the center and fosters collaboration among their healthcare providers for optimal results.
"This, combined with the faculty-based clinical pharmacy practice model, ensures that our residents gain distinct collaborative practice training, and are mentored by clinical specialists in their respective fields," adds Dr. Chamoun.
Aside from its emphasis on competencies in pharmacy practice, academic teaching and research, added Dr. Btaiche, the program also hones in on developing the resident's professionalism, communication and leadership skills.
All this contributes to providing prospects outside the traditional pharmacy career tracks. SOP Clinical Associate Professor and Chair of Pharmacy Practice Soumana Nasser points out that residents are coached by SOP's clinical pharmacy faculty who "wear multiple hats, including those of academicians, practitioners and researchers." Accordingly, they get inspired to explore clinical research interests and leverage that learning in delivering better patient-care services, as they rotate through different settings.
Apart from research, residents could pursue clinical pharmacist positions in Lebanon and abroad. The postgraduate training, especially following two years, makes residents highly desirable candidates for clinical academic positions in Lebanon, according to Dr. Nasser.
That is precisely what is on resident Ahmed El Ouweini's career plan; he hopes to pursue a PGY2 in either cardiology or infectious diseases. At the end of the year, he is also aiming for board certification.
Similarly, his colleague, Resident Rosa Abilmona plans to become a board-certified pharmacotherapy specialist and practice as a clinical pharmacist. Dr. Abilmona cites "diversity in clinical rotations, enriching faculty mentorship and longitudinal teaching opportunities" as the drivers behind her choice of the program at LAU.
For Dr. El Ouweini, "being surrounded with strongly prepared clinical preceptors, combined with involvement in novel projects and clinical initiatives at the hospital" stood out as the program's key features. He spoke of the residency as a "gateway to exponential personal and professional growth," thanks to his building of a professional network.
For more information about PGY1, click here. The application deadline for year 2020-2021 is January 15, 2020.