LAU Signs MOU with UNESCO's International Center for Human Sciences
LAU and CISH enter into an agreement to promote educational and cultural collaboration.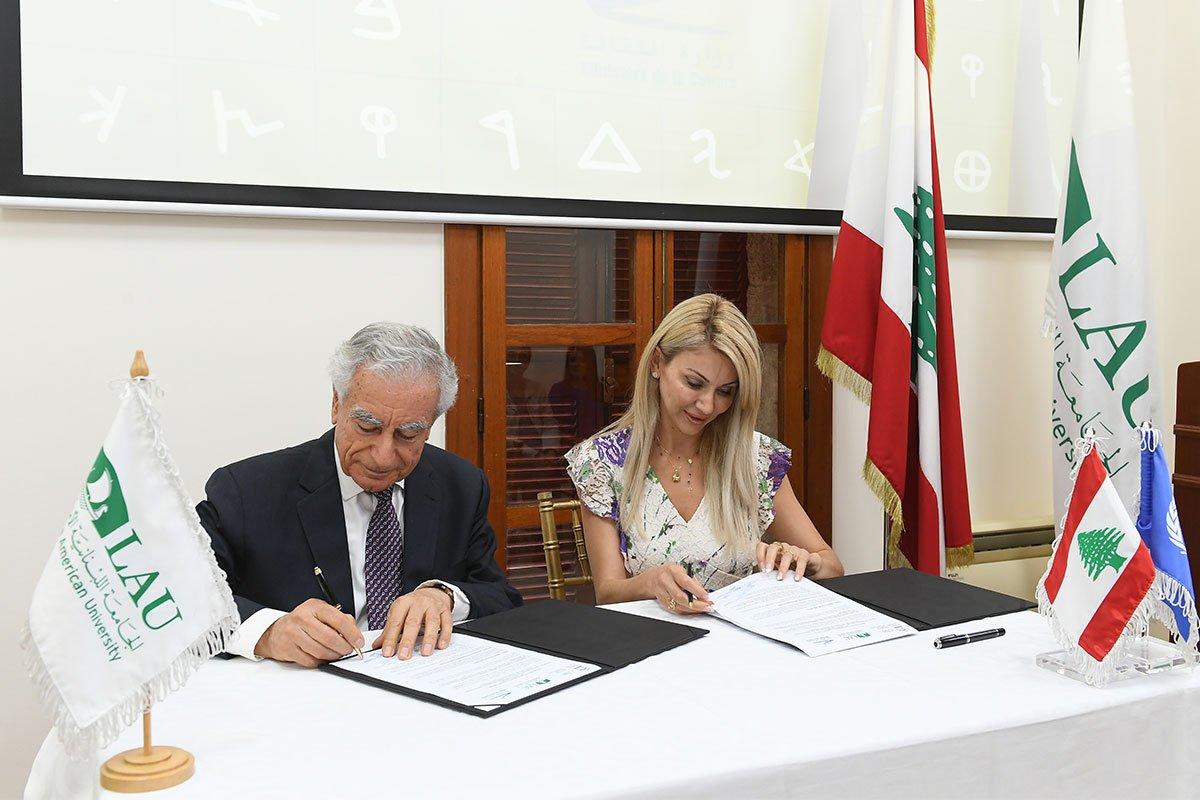 LAU has signed a memorandum of understanding (MOU) with the International Center for Human Sciences (CISH-Byblos) – placed under the auspices of UNESCO and the tutelage of the Ministry of Culture – to help cultivate educational and cultural collaboration.
Among other mutually beneficial forms of cooperation, the agreement includes the exchange of faculty, and joint academic programs and research projects.
CISH-Byblos was established in 1999 with the purpose of providing a regional and international hub for intercultural exchange, dialogue and research in the humanities and social sciences. Since, it has served as a platform for academics, scholars, activists and the general public, garnering influence through cultural and educational activities, workshops, and conferences, and research publications.
LAU President Joseph G. Jabbra and CISH Director Darina Saliba Abi Chedid signed the MOU on June 19 at a ceremony held at the center's headquarters in Byblos. The event was attended by members of CISH's Board, LAU Provost George E. Nasr, VP of Student Development and Enrollment Management Elise Salem and deans, among others.
Abi Chedid expressed her pride in the new collaboration with LAU, "one of the most important research and academic institutions in Lebanon and the region."
For Dr. Jabbra, the signing represented a "historic day." "This agreement means a great deal to the university," he said, "as it allows our students to advance their knowledge in the humanities through the center."
With the common goal of fostering tolerance and social integration, LAU and CISH-Byblos will be collaborating on the academic, scientific and cultural levels, through an exchange of faculty, researchers, publications and academic information. Studies completed under this partnership may be published in CISH's online journal and on both CISH and UNESCO websites, thereby ensuring wider dissemination.
Other cooperative activities will span round tables, conferences, workshops and colloquiums on various themes – mainly in the humanities and social sciences – and LAU students and graduates from different majors will have the added advantage of interning at CISH-UNESCO, where they can expand and strengthen their skillset.
The agreement speaks to one of the objectives set out in LAU's Third Strategic Plan to bolster its research standing and leverage its intellectual resources through internal and external interfaces.