LAU's 2019 Honorary Degree Recipients Announced
The achievements of LAU's honorees reflect its mission and ethos.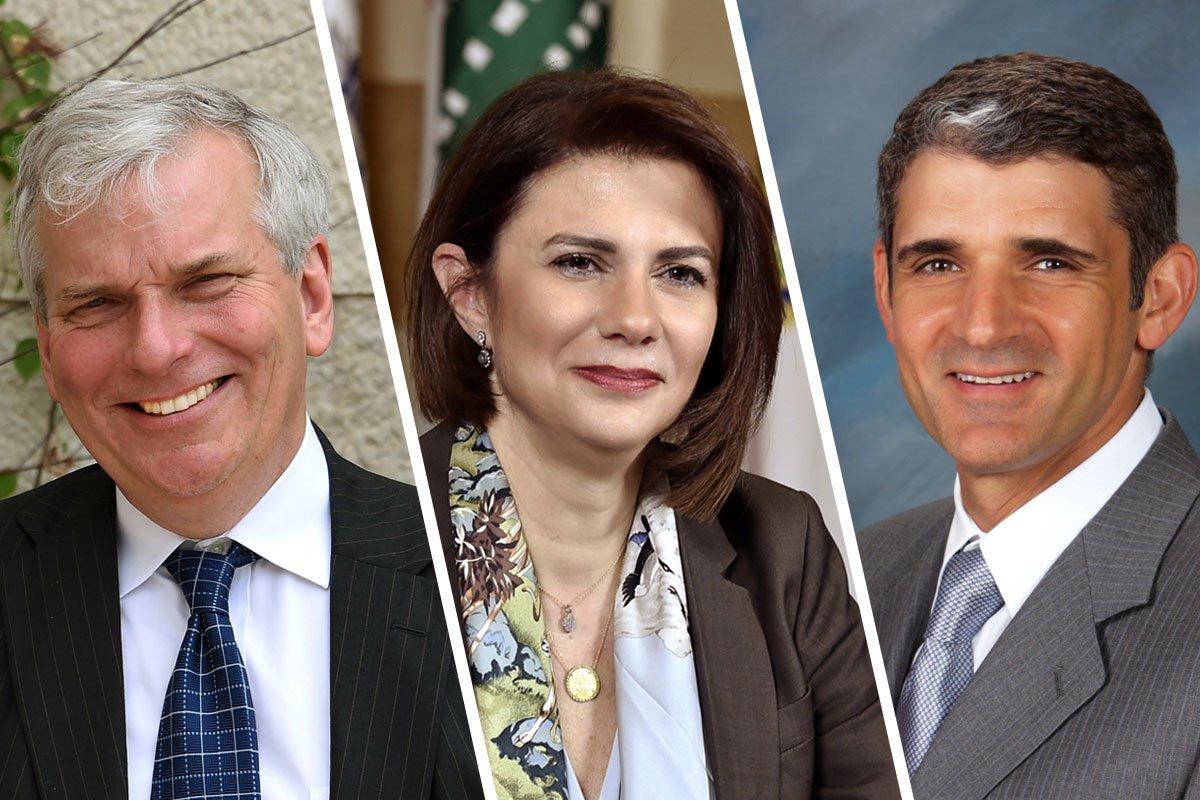 In its June commencement ceremonies, LAU will present honorary doctorates in humane letters to three outstanding individuals who embody the university's drive to empower women and the principle of giving back: Minister of Interior Raya Haffar El-Hassan, LAU's own former Chairman of the Board of Trustees Philip Stoltzfus, and former Member of LAU's Board of International Advisors and Board of Trustees Mike Ahmar.
"It gives me great pleasure to be honoring these recipients, who exemplify LAU's mission of advancing leadership and gender equality, and celebrating the accomplishments and contributions of members of its community," said LAU President Joseph G. Jabbra. "As an institution promoting women's education and gender rights, we applaud Raya Haffar El-Hassan's great achievements and her service to her country, as we do Philip Stoltzfus's and Mike Ahmar's unwavering dedication to our university and its advancement."
Raya Haffar El-Hassan
El-Hassan's career has been a series of remarkable achievements distinguished by notable "firsts" as a woman in key ministerial positions. She was the first female in the Arab world to assume the post of Minister of Finance (2009-2011), during which she contributed to mitigating the impact of the 2008 financial crisis on Lebanon and strove, in conjunction with the monetary authorities, to adopt a prudent macroeconomic policy.
In January this year, she became once again the "first" female Minister of Interior to be appointed in the Arab World and has already made great strides in implementing laws related to domestic violence, traffic safety, unlawful gunfire and the protection of the environment.
El-Hassan has a track record of continued service to her country. Since 2013, she has served as member of the board of directors of Bank Med, Méditerranée Investment Bank, and Saudi Lebanese Bank. She also serves on the advisory committees of the Rafik Hariri University-Business School and the Beirut Arab University-Northern Branch.
Previously, as a senior member of the Prime Minister's Cabinet at the Presidency of the Council of Ministers, she oversaw several UN, World Bank and EU public-sector reform projects related to Lebanon.
El-Hassan holds an MBA in Finance and Investments from George Washington University and a BA in Business Administration from the American University of Beirut.
Philip Stoltzfus
Building on his grandfather's – the late William Stoltzfus's – legacy and devotion to the university, Philip Stoltzfus has served 13 years, from 2004 to 2018, on LAU's Board of International Advisors (BIA) and later the Board of Trustees (BOT), chairing both boards for one and two years respectively.
Speaking for the BOT, Stoltzfus once said: "Everything we do on the board is oriented toward the students, to make their experiences here and opportunities later as great as possible. We believe that LAU is a university for life," – which certainly proved true for the Stoltzfus family.
His grandfather's 21-year tenure from 1937 to 1958 as president of the American Junior College for Women (AJCW) – as LAU was known back then – saw some of the most active years of the institution's history, during which it underwent major expansion.
Stoltzfus is CEO of Thayer Brook, a London-based investment management and research company operating and developing systematic trading strategies, which he founded in October 2005. From 1993 to 2005, he headed up Mizuho Bank's London-based proprietary trading group. He has developed innovative quantitative portfolio methodologies which have been applied to equity, commodity, foreign exchange and energy markets, and include the creation of the Standard and Poor Systematic Global Macro Index.
He graduated from Princeton University in 1979.
Mohamed (Mike) Ahmar
As a member of LAU's BIA (2008- 2011), and of the BOT from 2012 until 2018 when he assumed the post of vice chairman for one year, Ahmar worked toward increasing contributions to the university by highlighting its reputable academic programs, and has been instrumental in building LAU's endowment.
A great believer in giving back, Ahmar established the Ahmar Family Foundation with his wife Hania in 1999, a nonprofit organization that supports educational and charitable projects.
Ahmar sits on several boards, locally and in the US. He is Treasurer and member of the Executive committee of the American Task Force for Lebanon in Washington DC, Co-Chairman of the Lebanese American Foundation (House of Lebanon), and a member of Friends of the Lebanese Academy of Science, among others.
Ahmar is president of Ahmar Investment Inc., a real estate development company in California, as well as founder and executive chairman of the board at Partners Bank of California.
He founded ICG in 1985, a leading specialty distributor of desktop displays, and spent 21 years building the company from the ground up. As a result of his leadership, ICG has twice been listed as one of Inc. Magazine's 500 fastest growing companies in the US.
Ahmar holds a BS in Electronics Engineering from Northrop University and an MS in Electrical Engineering from San Jose State University.
The honorary doctorates will be conferred on Philip Stoltzfus, Raya Haffar El-Hassan, and Mike Ahmar during the commencement ceremonies on June 11 (Byblos campus), June 14 (Beirut campus) and June 15 (Beirut campus), respectively.