Lebanon's Economy – What's Wrong and How Do We Fix It?
Institute for Social Justice and Conflict Resolution hosts roundtable on the country's socioeconomic challenges.
By Hanan Nasser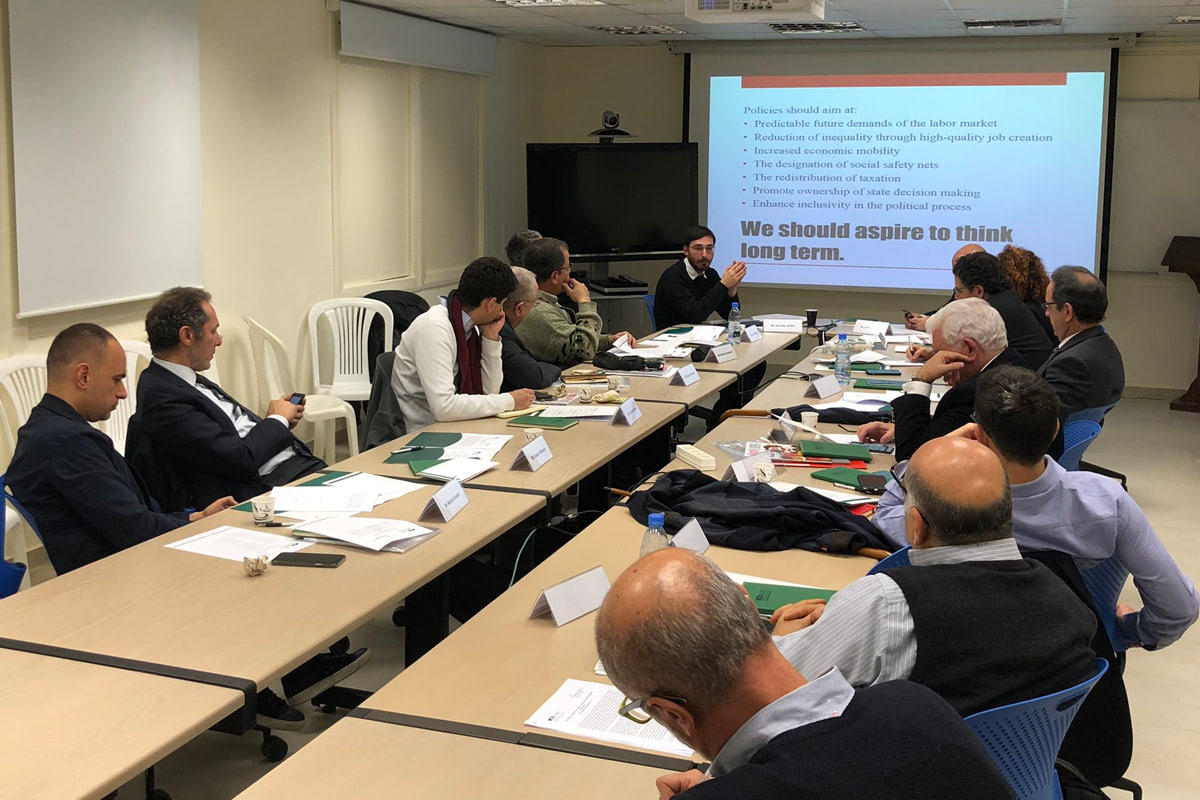 Carving a presence for itself as a hub for scholarship and policy-making, LAU's Institute for Social Justice and Conflict Resolution (ISJCR) organized a roundtable discussion on Lebanon's socio-economic challenges as part of its Transnational Movements and Inclusionary State project, which was launched in 2017 with a generous grant from the Carnegie Corporation of New York.
The roundtable, moderated by the project's Lebanon Lead Researcher Dr. Khalil Gebara, is part of a series of similar events held to review researchers' findings on the countries covered by the project, namely Lebanon, Egypt, and Iraq.
The Lebanon project covers three themes: economic challenges, elections and electoral laws, and the role of non-state actors. At the project's conclusion, the lead researchers will present their findings to activists, politicians and academics, and will submit a report incorporating recommendations and feedback from the meetings.
Tackling Lebanon's economic challenges, Jeremy Arbid, former economics and policy editor at Executive Magazine, presented his paper "Lebanon in the Digital Era" to a gathering of experts including Wissam Harake of the World Bank, Executive Magazine Editor-in-Chief Yasser Akkaoui, Roy Badaro, economic advisor to the president of the Lebanese Forces Party, Byblos Bank's Chief Economist Nassib Ghobril, Director of the Arab NGO Network for Development Ziad Abdel Samad, Bankmed Chief Economist Mazen Soueid, and Sami Nader, director of the Levant Institute for Strategic Affairs (LISA).
Also present at the meeting were LAU Associate Professor of Political Science Bassel Salloukh, who is the project's current principal investigator, Assistant Professor of Political Science and International Affairs Jeffrey G. Karam, and Associate Professor at the Department of Economics Walid Marrouch.
Welcoming the participants, ISJCR Director and Associate Professor of Political Science and International Affairs Tamirace Fakhoury noted that the roundtable provides the ideal setting for such conversations, "where multiple stakeholders are invited to deliberate on governance processes and conceptions of social justice at the heart of the Arab region."
Kicking off the session, Arbid, who is the co-founder of the non-profit Lebanese Oil and Gas Initiative, offered a compelling perspective on Lebanon's challenges and provided straightforward recommendations on how to address them.
In his presentation, he said that now that there is a new government in place in Lebanon, the country has to "to develop a more peaceful and prosperous society," the starting point of which would be to adopt "the measures promised at CEDRE, advised by management consulting firm McKinsey & Company, and recommended by international organizations to correct for nearly two decades of inactivity or non-decision making by the state."
During the CEDRE conference, which took place in 2018 in Paris, international donors had pledged more than $11 billion in aid, in return for Lebanon's commitment to reforms. That same year, the McKinsey consultancy firm was hired to come up with a plan to boost productive sectors in the country.
However, Arbid added, "beyond correcting the omissions of the last 20 to 25 years, Lebanon must also pursue solutions aligned with the emerging digital future [that is] sure to arrive within the next decades."
Dr. Fakhoury interjected to remark that while technical advice to address Lebanon's problems is important, "it is impossible to ignore the nexus between Lebanon's economic challenges and its geopolitical realities, as well as how its political economy is tightly linked to the politics of sectarianism."
For his part, Dr. Salloukh noted that the roundtable clearly showed the level of divisions in Lebanese society. "In Lebanon there is no agreement on what caused the economic mess we are in and what is the best way forward," he said, adding, "We have failed to separate between our political and ideological affiliations and a rational diagnosis of what has led us to where we are and what is the best way forward."
However, this schism, he pointed out, is precisely where educational institutions such as LAU have a role to play through policy outreach.
"Universities don't exist on an island. We are a reflection of the society that we are in, and what the roundtable tried to do is to create a space for a polite conversation about otherwise deeply divisive issues," he said.
"This is what a university like LAU should do: It should present itself as a space where people can debate issues in a very civil but critical manner."