Powerful Scholarship Program Expands at LAU
The Higher Education Scholarship Program is admitting more bright young scholars.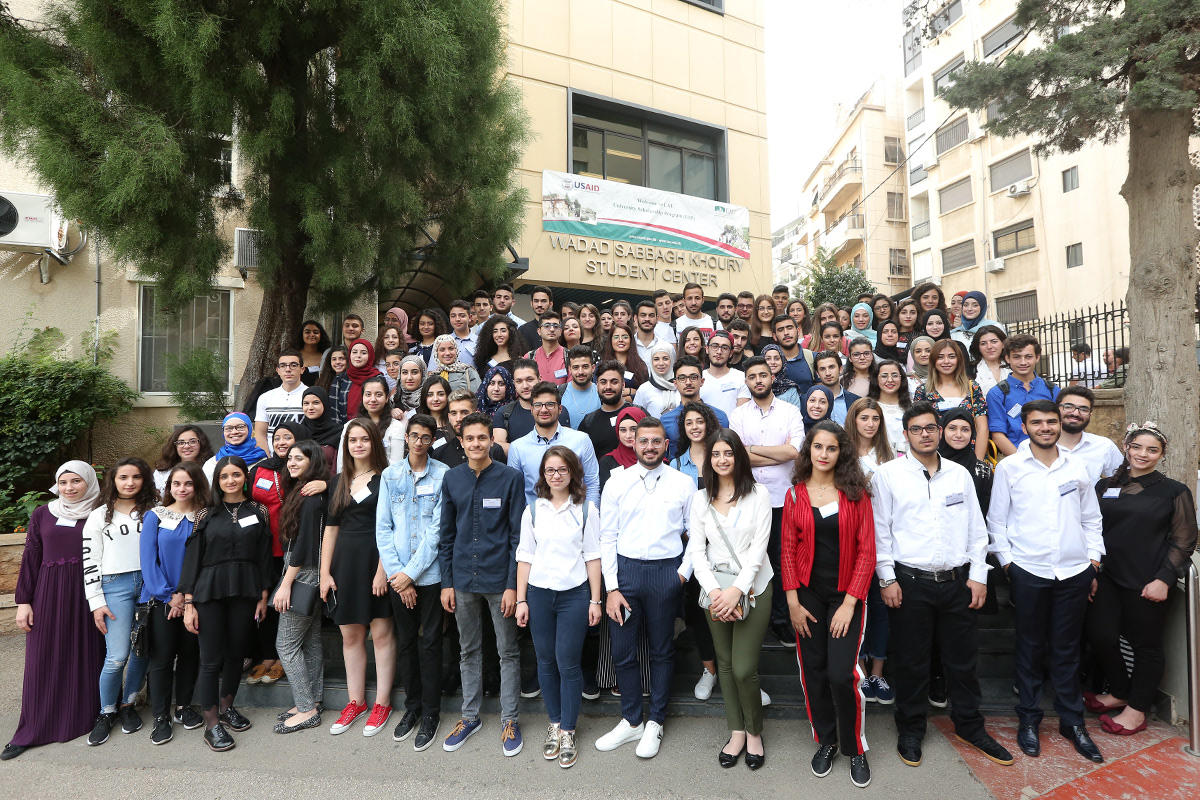 For the past eight years, LAU has been offering promising young scholars who might otherwise not be able to pay tuition the opportunity to obtain a high-quality education.
This year, the university has once again launched another such program, the Higher Education Scholarship Program (HES), made possible with the support of the American people through the United States Agency for International Development (USAID), an independent branch of the American federal government that works toward international development.
"We are very grateful to the American people for their commitment to providing quality higher education for deserving students from all backgrounds and empowering them to give back to their communities and create positive change across different regions of Lebanon," said LAU's Vice President for Student Development and Enrollment Management Elise Salem.
HES encompasses the University Scholarship Program (this year's cohort is USP VIII) and Refugee/Displaced Scholarship Support (RSS), both of which finance an undergraduate education for promising public and private high-school students and technical-school graduates from all governorates of Lebanon. Since the program's introduction at LAU, more than 500 students have benefited from it.
This year, for the first time, HES scholarships will also be offered to refugees and displaced persons as part of LAU's mission to provide education for everyone, regardless of background and means.
In addition, LAU – through its Continuing Education office – is offering a one-year certificate program for non-Lebanese displaced people in public and private high schools in Lebanon.
The programs cover students' full tuition and expenses, such as support services, workshops, books, a laptop, housing, an allowance and insurance. They also require students to engage in volunteer work, attend leadership and career workshops, and complete internships to complement their academic studies.
The aim is to graduate well-rounded individuals who are able to become leaders in their fields and agents of change in their communities, said Elie Samia, assistant vice president for Outreach and Civic Engagement (OCE) at LAU.
"The uniqueness of the USP program lies in its holistic approach, whereby students are nurtured in a culture of leadership that encompasses rigorous academics, mentoring and counseling, and they must undertake community service and enrichment activities," said Samia. "As a result of this all-encompassing approach, students can guarantee productive post-graduation employment," he added.
Due to the program's success, it is highly competitive, and more than 800 applications are received each year.
"The high-school students are selected based on both academic merit and financial need, since the aim of the program is to cater for the needs of Lebanese and non-Lebanese students who are academically strong but economically underprivileged," said Assistant Vice President for Enrollment Management Abdo Ghié.
According to current USP students, the program has lived up to its promises and has made a huge difference in their lives.
"USP is an eye-opening program," said USP VII student Tarek Mohammad, who is majoring in economics. "It exposes its students to numerous academic and professional activities, which boost their critical thinking and professional development."
As for USP VII student Aya Barakat, who is studying mechanical engineering at LAU Byblos campus, she can already foresee a successful future for herself thanks to the continuous motivation and follow-up that she's receiving.
"USP has put me on the right track to fulfilling my vision," she said.
Interested candidates should apply before March 29 on www.lau.edu.lb/usp