SArD Student Wins Award for Marketing Campaign
Nathalie Trantic took home the MBC Youth Award at Dubai Lynx.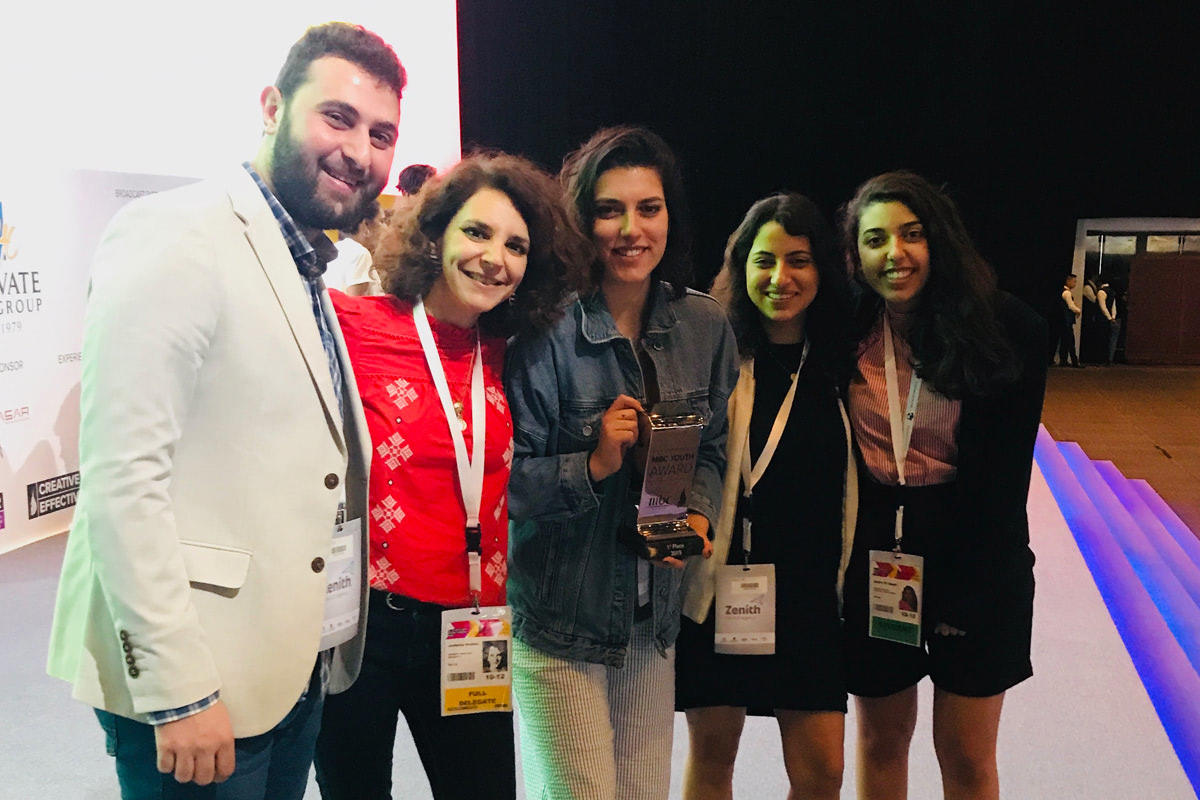 Every year, thousands of students and young professionals from across the Middle East gather in Dubai for the Lynx competition, which celebrates the region's creatives by giving awards to emerging talents from different backgrounds, including design, advertising, marketing and more.
This year – as in previous years – LAU had a lot to celebrate. Two students from the School of Architecture and Design (SArD) were shortlisted in the Student Integrated Competition, one in the Student Print Competition, and one in the MBC Youth Award Competition. But the biggest win of the day was Nathalie Trantic taking home the MBC Youth Award, landing her a one-month internship at the region's leading media company.
For her winning project, Trantic, who graduated in fall 2018 with a bachelor's in interior architecture and a minor in advertising, developed a new brand identity for the MBC e-sports team, as well as an integrated campaign for an e-Sports championship. In preparation, Trantic conducted extensive research on the e-gaming community and developed a strong concept for her project. The result was a campaign that expertly weaves traditional media such as print ads and posters with a strong digital input through customized phone applications and social media channels.
Despite all her preparations, Trantic was surprised when her name was called during the award ceremony. "Honestly, I didn't believe it at first because it was the first time such a thing happened to me," she said. "I was anxious but also felt very happy and proud of having won and very thankful to LAU for encouraging me to join the competition, work hard for it and gain the experience."
Trantic was in fact well prepared for this through her educational curriculum. That is because, in design studios, students work on projects in much the same way contestants do at major international competitions, by investing time in research, brainstorming ideas, developing plans and submitting multiple iterations to panel reviews.
"The class that helped me enter and win this competition is Advertising Design, since we worked on projects from start to finish following the same routine," she said. This interest in advertising led her to choose it as a minor, which supports the school's drive toward interdisciplinary studies.
"This is a big deal for Nathalie and for the whole school," said Melissa Plourde Khoury, associate professor and associate chair of the Department of Art and Design. "Nathalie's win opens tremendous opportunities for her."
Joumana Ibrahim, adjunct faculty in the Department of Art and Design, agrees. "Participating in awards at both the regional and international levels is very beneficial and constructive for students, professionals and educators," she said. Ibrahim was Trantic's instructor in Advertising Design and herself has a background in the ad industry. She helped prepare her students and flew with them to Dubai for the festival. "Before I started teaching design, I worked in advertising with Leo Burnett. My experience taught me a lot about how to approach award shows and the level of work expected to enter such competitive environments," she said.
"When students are shortlisted and win in international competitions, it allows them to network with professionals from the industry, sometimes securing jobs with important agencies. They are exposed to a standard of work that they wouldn't otherwise have access to."
That is one of the reasons Trantic chose LAU for her studies. "I have met so many graduates, from friends to family friends, who told me that their four years at LAU were the best of their lives, and that it was a challenge for them because of the great workload. I wanted to challenge myself by going through the same journey, so I decided to study at LAU."
Trantic will soon begin her internship at MBC. After that, "I want to specialize in lighting and art direction from interiors to movie settings … And then who knows, hopefully one day I will start my own business in interior architecture."
As for her advice to other students hoping to follow along the same path: "Even when times are tough, you shouldn't give up, because there is always a solution to every problem on a project – and in life in general," she said, adding, "An essential aspect of creativity is not being afraid to fail."