SOP Student Exchanges Bring Growth on Both Sides
The first cohort of students doing an exchange between LAU and Wayne State University reflect on the experience.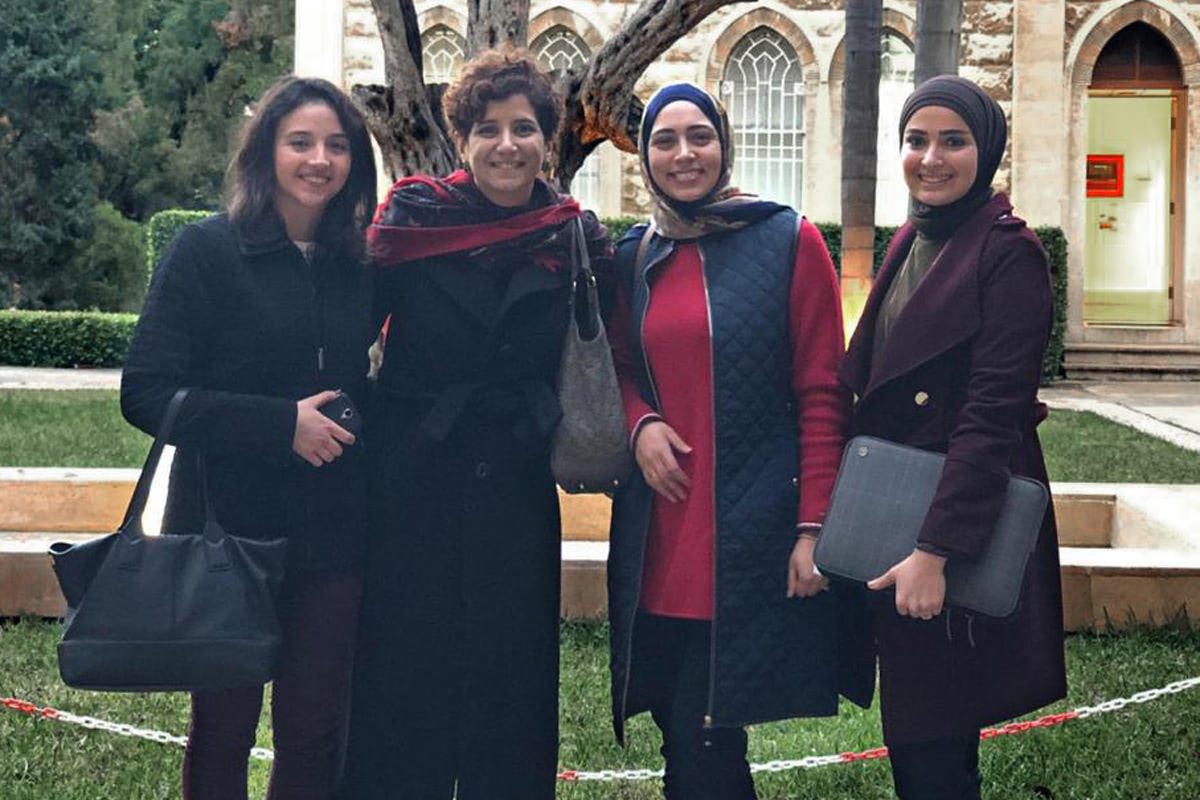 A little more than a year following a Memorandum of Understanding signed between LAU's School of Pharmacy and the Wayne State University (WSU) Eugene Applebaum College of Pharmacy and Health Sciences, the first exchange of students between the two faculties is wrapping up.
This winter, Maria Zmeter and Sarah Kanj, both professional year four (P4) students in LAU's Doctor of Pharmacy (PharmD) program, traveled to WSU in Detroit, Michigan, to complete their elective Advanced Pharmacy Practice Experiences (APPEs) in internal medicine and ambulatory care, respectively.
Meanwhile, LAU hosted Fatme Chehab, a P4 student from WSU, in the cardiology APPE at the LAU Medical Center-Rizk Hospital.
"The goal of the exchange program is to expose students to as many learning environments as possible," says Clinical Associate Professor and Director of Experiential Education Lamis Karaoui. "It helps the students sharpen their skillsets and build real-world experience in different pharmacy practice and cultural settings."
PharmD students at LAU already benefit from the university's partnership with Houston Methodist Hospital and Walgreens pharmacies in Houston, Texas, where they each complete four required APPEs in addition to five other elective rotations. Now they can also opt for rotations at WSU. "As such, our students are offered the unique opportunity to learn and train in US partner institutions," notes Dr. Karaoui.
Zmeter and Kanj say they benefitted greatly from the exchange. "We were given a lot of independence interacting with patients and doing medication consults," says Zmeter, who did her rotation at Beaumont Hospital in Dearborn, Michigan, which has a partnership with WSU. "There was a lot of guided self-learning, and I had to rely on my own clinical judgement. It made me a lot more confident."
Kanj, who was stationed at the Beaumont Internal Medicine Clinic, agrees that the immediate immersion into hands-on patient care helped her grow as a pharmacist. "I was working on medication therapy management (MTM) of patients with chronic diseases such as hypertension and diabetes," she says. While many of her US patients' conditions were similar to those encountered in Lebanon, she also learned and applied protocols to minimize the impact of the opioid epidemic, which is becoming a major public health issue in many parts of the United States. "That is something we have not been exposed to here in Lebanon, but it is important to understand the pharmacist's role in such situations."
Back in Beirut, Chehab describes her six weeks at LAU: "It was an excellent and diverse experience. Even though the setting was different, and the patients were different, the work of helping people recover is the same, and I was eager to contribute to improve their health."
Her preceptor, Clinical Assistant Professor Nibal Chamoun, had her working closely with an interprofessional cardiology team to individualize patient care plans. "I had to relay my therapeutic recommendations to experienced cardiologists," says Chehab. "Dr. Chamoun showed me how crucial it is for pharmacists to be active members of medical teams and to share their opinions with other healthcare professionals."
Faculty exchanges between LAU and WSU are forthcoming, something School of Pharmacy Dean Imad Btaiche says will promote professional development in research and education at both institutions. Faculty and student exchanges also fall in line with the SOP's plan to strengthen partnerships and affiliations with premier pharmacy faculties such as WSU's, which is one of the top in America, according to US News and World Report.
Another perk? "There is a large Lebanese community in Michigan," notes Zmeter, "and I felt right at home."