Student Nurses Round Off Their Education with Precepted Practice
Independent clinical training prepares ARCSON students to take on their role as practicing nurses.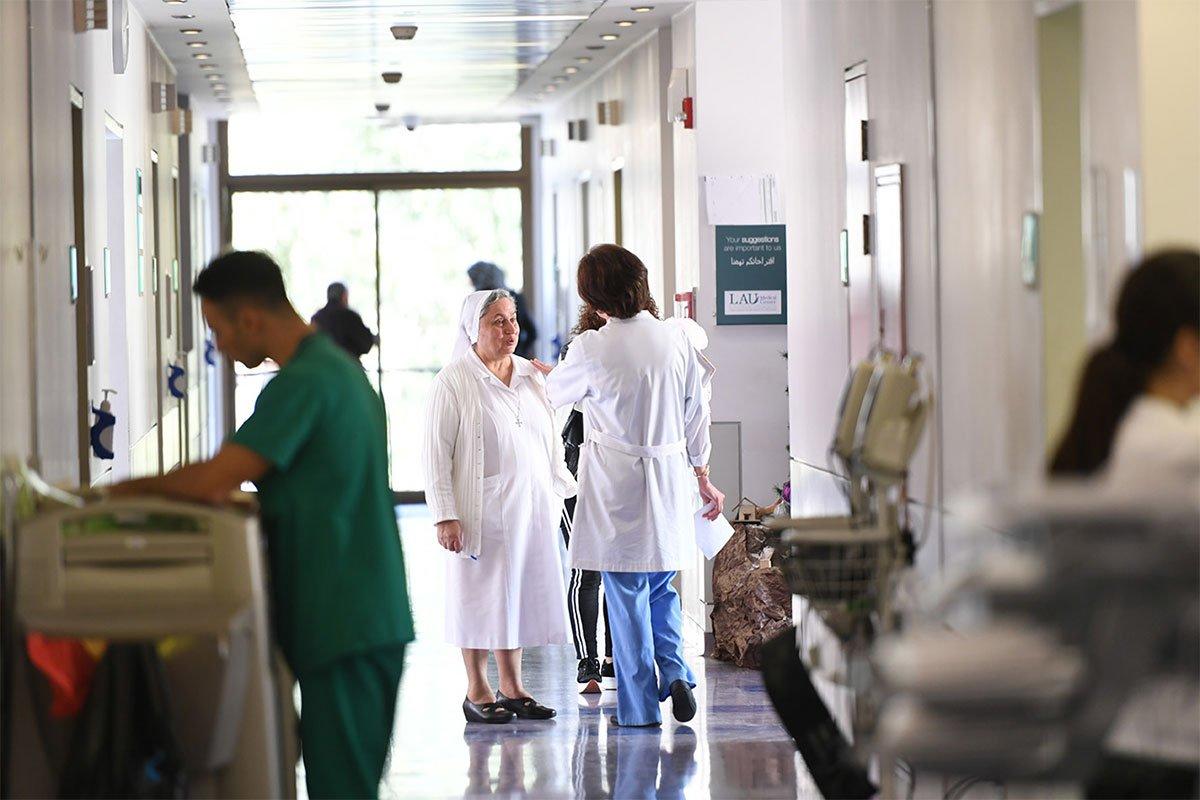 To better prepare its students for professional practice, the Alice Ramez Chagoury School of Nursing (ARCSON) offers them a final hands-on learning experience before they embark on their careers.
The clinical aspect of the curriculum allows senior nursing students to undergo precepted clinical practice in their first-ever independent and comprehensive clinical experience with distant supervision.
"The main purpose is to transition them to practice as nurses who are autonomous, competent, and good clinical decision-makers," said Clinical Assistant Professor of Nursing and course coordinator Maha Habre.
Through 21 clinical days spread over seven weeks, the learners get the chance to synthesize knowledge, skills, and research to provide therapeutic interventions to a select patient population, while demonstrating skills such as clinical reasoning, clinical judgment, leadership, and communication.
"They need to manage their time, prioritize, communicate, delegate, and collaborate professionally with team members such as pharmacists, nutritionists, and physicians," explained Dr. Habre. To do so, she said, they apply what they have learned about collaborative practice and interprofessional communication, through the Interprofessional Education (IPE) Program and their BS in Nursing at LAU.
The nursing students are placed in a unit of their choice in a hospital or medical center. This year, the 21 students completed their capstones at LAU Medical Center-Rizk Hospital and Keserwan Medical Center (KMC), under the supervision of Dr. Habre and Zeina El-Jordi, clinical instructor at ARCSON.
There, they are matched with preceptors – senior registered nurses with expertise in their areas of practice – who, having received training and course orientation from the Clinical Capstone faculty, are tasked with assisting the learners and providing weekly evaluations and feedback to the course instructors.
"Rather than an instructor-student approach, the students are learning from a future colleague on the ground, with the advantage of doing so before they graduate," commented Dr. Habre.
The learners are also expected to showcase their leadership and communication skills through projects on evidence-based practice presented to the patients and staff at each healthcare setting, and to evaluate their own clinical judgment, career goals, and strengths and weaknesses. "This is an opportunity for them to reflect on how they are thinking and not just how they are acting," said Dr. Habre.
Unlike other clinical courses that students complete, this experience is distinguished by the absence of faculty educators on the ground, which forces the learners to work independently, and sets them apart.
Indeed, the majority of LAU nursing students are offered employment opportunities before graduating, and "even as fresh graduates, they are impressing employers everywhere," said Dr. Habre.
Having finished her rotation at a neonatal intensive care unit, nursing student Marie Abi Khalil found that the course helped her hone her skills in her field of interest.
"I learned to use my critical thinking, clinical judgment, and previously acquired knowledge in order to provide efficient and fast care for critically ill babies," she said.
As for alumnus Ahmad Al Jammal, who is currently working as a registered nurse at LAU Medical Center-RH, the course tested his knowledge and helped him improve his practical performance.
"This course provides nursing students with top quality education and offers the best opportunities in terms of practice and theory, empowering future nurses with resources to refine their skills and excel in providing adequate care," he said.