USAID and LAU Celebrate Graduating Ambassador Merit Scholars
Another USP cohort affirms the program's inspiring success.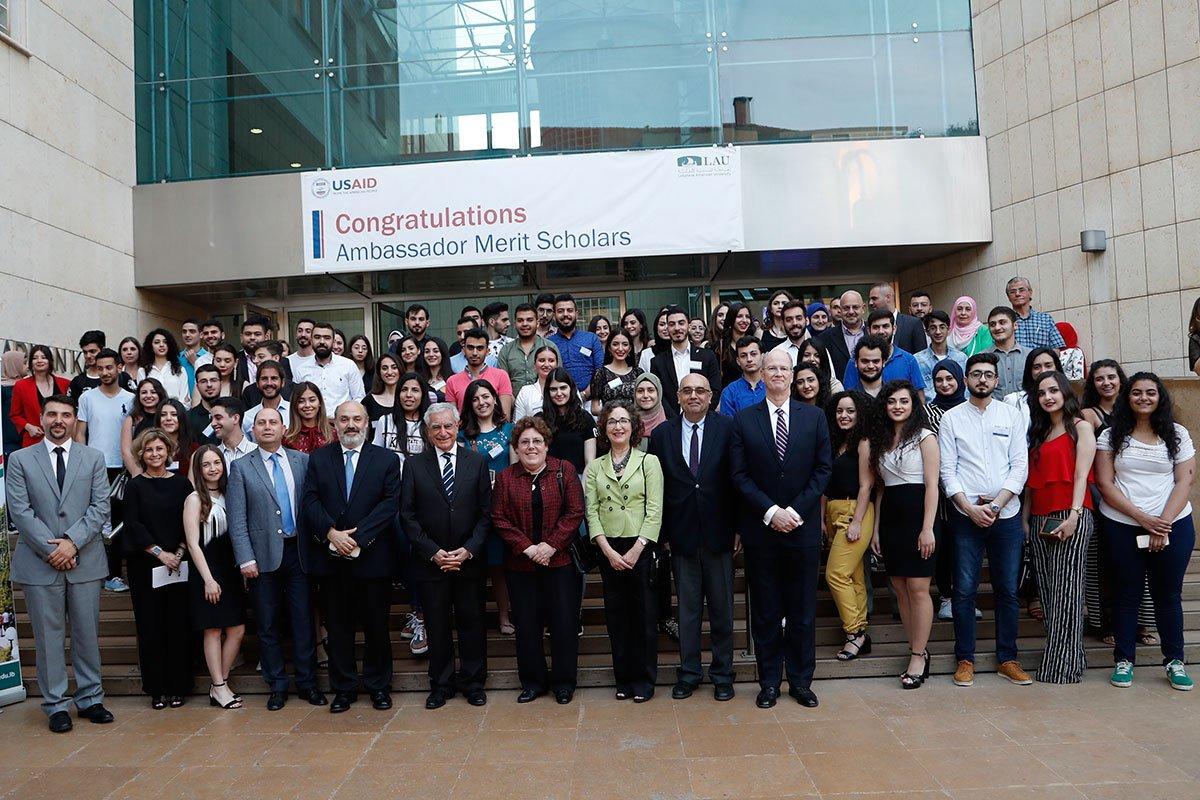 Along with the United States Agency for International Development (USAID), LAU celebrated the graduation of 59 University Scholarship Program (USP) scholars, thanks to the full support of the US Agency.
The event took place on Thursday, May 30, at LAU Beirut campus where the graduates shared their stories, and USAID and university leaders attested to their hard work in a room full of proud families and friends.
The program, which was launched back in 2010, has thus far provided 542 outstanding, yet disadvantaged, students from all over Lebanon with the opportunity to receive a world-class university education. USP is made possible with the generous support of the American people and the US government through USAID.
LAU President Joseph G. Jabbra welcomed guests, faculty, staff and students at the event. Addressing graduates, he said: "You worked very hard in high school, you were selected not because of luck but because of a coincidence of the university coming together with USAID and putting together a program in order to respond to the needs of bright, intelligent people in high school."
USAID Mission Director Anne Patterson said: "USP is a reflection of the United States Government's deep partnership with Lebanon and long-standing commitment to education and youth." Dr. Patterson also congratulated the graduates, calling on them to pursue their vision, hopes and passion for the betterment of Lebanon. "The will and determination that each of you demonstrated to succeed here at LAU is the same will and determination you must draw upon to face the challenges of your country, your communities, and your families."
Assistant Vice President for Outreach & Civic Engagement and USP Program Director Elie Samia gave a thorough presentation on the program's successes, backed by facts and figures. "This is a program that flies with two wings: one is the academic, and the other – intrinsically related to the academic – consists of the civic engagement and leadership activities that the students undertake."
Indeed, USP nursing graduate Helana Hazimi from Hasbaya spoke about how she was inspired to serve others through her choice of career. She concluded her speech by inviting her fellow USP graduates to "take risks, grab opportunities, serve others and follow their hearts."
Another USP Graduate Ali Tourba, a business marketing major from Tripoli, talked about his own journey at LAU, highlighting the many milestones where he felt rewarded through giving back to communities. "I learned that some of the happiest people are not the ones who are getting more, but those who give more," he declared, galvanizing his peers to "never quit trying and to seek help, but also to help back."
A video of USP graduate Rawan Mrad was shown, and a group photo of the cohort was taken in front of the Adnan Kassar School of Business. Following the ceremony, attendees were invited for Iftar on campus.