USP Scholars Top Off a Busy Semester
Students power up with the help of OCE's soft skills workshops and co-curricular visits.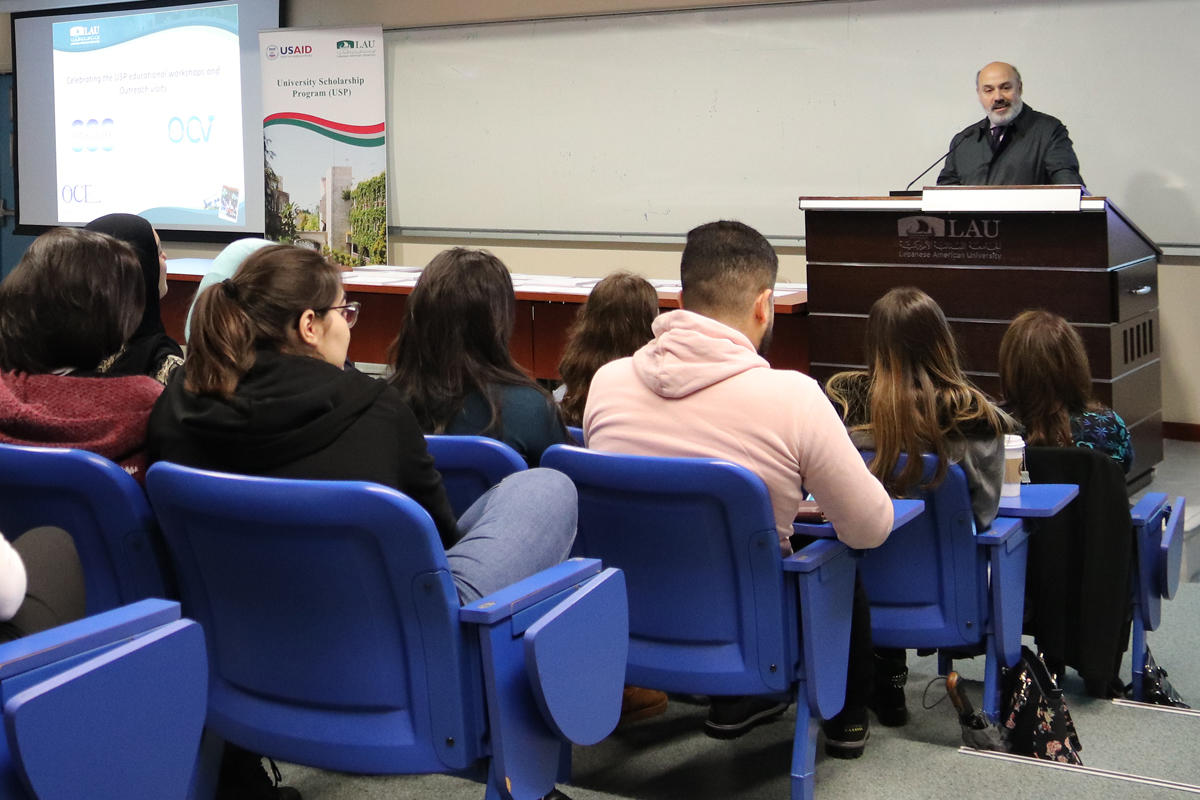 During the last few days of the Fall semester, University Scholarship Program (USP) students received their certificates for attending the Soft Skills Series (SSS) and taking part in Outreach and Corporate Visits (OCV) to nonprofits and prominent local businesses, at a ceremony held at the Adnan Kassar School of Business (AKSOB).
Vice President for Student Development and Enrollment Management (SDEM) Elise Salem and Assistant Vice President for Outreach and Civic Engagement (OCE) Elie Samia presented speakers and trainers with certificates of appreciation and weighed in on the significance of both programs.
"Whatever we do together as a team at SDEM has changed the university for the better," declared Dr. Salem in reference to both the SSS and OCV programs. "Over 90 percent of our USP graduates have already found jobs, so we are proud of our employment data despite the economic situation," she added, thanking the speakers and trainers for having played an important role.
The USP, generously supported by the United States Agency for International Development (USAID), enables qualified and deserving students from Lebanese public schools to study at LAU, covering their full tuition and board. To date, the program has benefitted 541 scholars who are either alumni or students currently enrolled at LAU.
Samia, in turn, spoke about the objectives of the USP: achieving academic excellence, spreading a culture of civic mindedness and preparing scholars "to hit the job market running," as he put it. "This program has required constant adjustment and discovery of talents," he revealed, inviting one such talent to share his experience.
USP graduate and current LAU staff member Jad Saheb, spoke fondly of his ongoing experience at LAU, especially about being able to give back to fellow USP students through his job as the academic and co-curricular activities facilitator at OCE, while he was enrolled in AKSOB's MBA program.
Referring to the two OCE initiatives being celebrated, he gave a detailed overview of how SSS and OCV have "helped scholars bridge the gap between their studies and the needs of the job market, while encouraging a spirit of civic mindedness."