Book Review: Reading Marie al-Khazen's Photographs by Dr. Yasmine Nachabe Taan
After a decade of ongoing research, SArD Associate Professor and alumna Yasmine Nachabe Taan publishes book on women photographers in the region with Bloomsbury.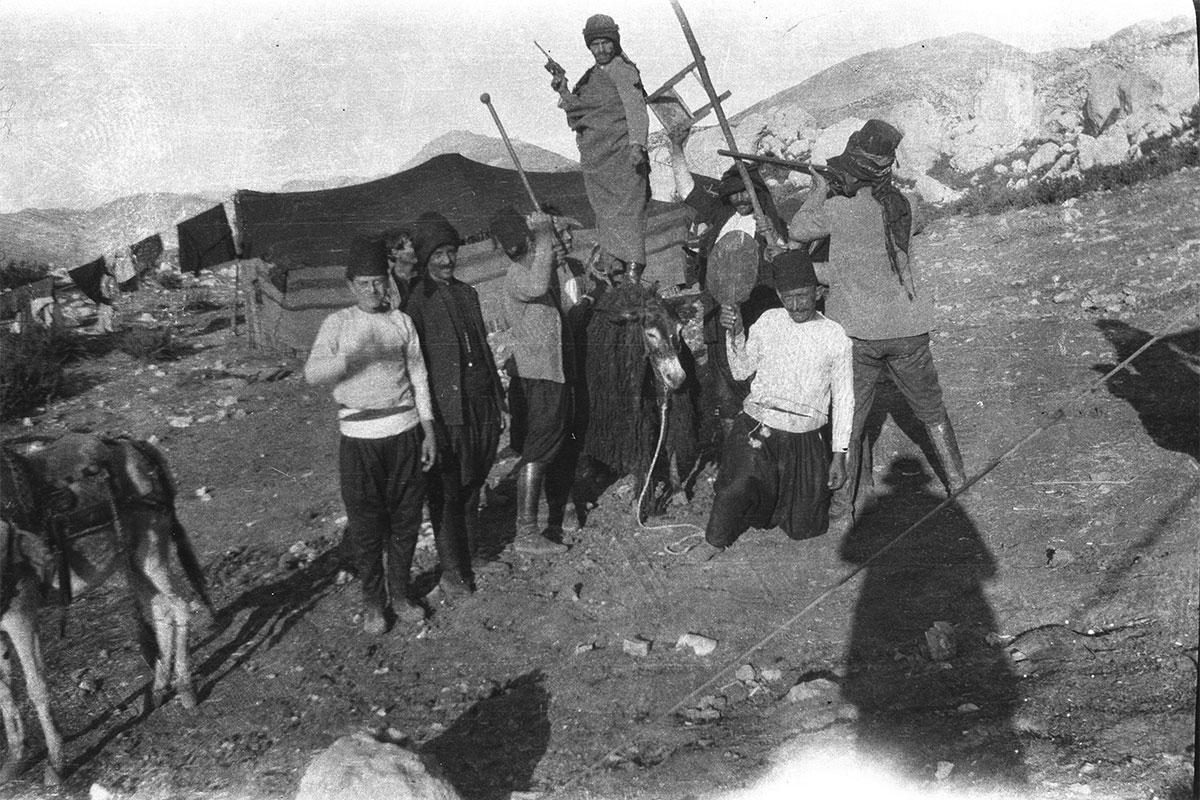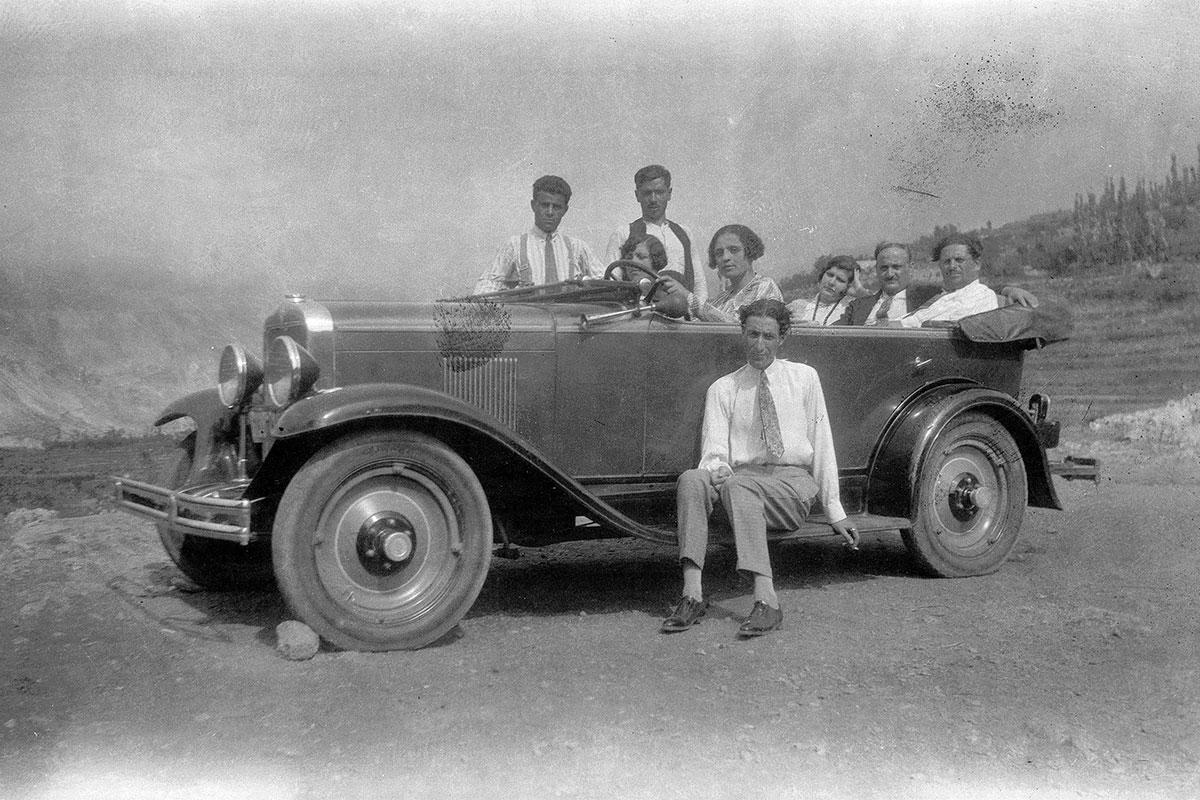 In 1920s Zgharta, during the French Mandate, Lebanese amateur photographer Marie al-Khazen holds her camera at waist height and presses the button. The subject: a group of eight men, a batal (hero) towering over abadays (tough guys), all clad in sirwals and some brandishing rifles.
Intercepting this macho scene is al-Khazen's shadow, sporting a bowler hat – a sure sign of an amateur who has not mastered her art, one might think. But, is it?
Reading Marie al-Khazen's Photographs: Gender, Photography and Mandate Lebanon (Bloomsbury) by Associate Professor in the School of Architecture and Design Yasmine Nachabe Taan (BA '92) reveals that there is far more to the young bourgeoise's photographs than meets the eye. Capturing her shadow in the masculine setting is in fact one of several experimental techniques al-Khazen used to contest the discourse of power and disavow the feminine/masculine binary.
In this fascinating book, which entailed a decade of ongoing research, Dr. Nachabe Taan offers an interdisciplinary reading of al-Khazen's photographs "that draws from scholarly writings on photography in the Middle East, post-colonial representation, and gender studies," as well as material gathered from a series of interviews she conducted with members of al-Khazen's family between 2011 and 2013.
The central theme of the book, says Dr. Nachabe Taan, is "the relationship between photography and history, especially the way in which the latter is articulated through the former, and through amateur photography in particular" – 'history,' here, to be understood as the anthropological aspects conveyed through the social dynamics captured in the images. What Marie al-Khazen's photographs constitute is in essence a social narrative within the politics of gender as it was articulated in Mandate Lebanon.
Al-Khazen (1899-1983) was an unconventional woman who rejected the gender social construct and marriage in favor of living independently surrounded by her cats and dogs. Raised among powerful women, she started managing the family's household and the affairs of sharecroppers in rural Lebanon at age 20. The leisurely bourgeois lifestyle, and lack of domestic duties, allowed her the time and freedom to photograph her surroundings and document her trips to tourist sites in Lebanon with friends and families, exhibiting a mobility that was inaccessible to Zghartawi villagers.
Al-Khazen's staged photographs, which ranged from emancipated women in suits to those that blurred the divide between the traditional and the modern, "were produced in a cross-cultural historical context, in a period of increased urbanization and visibility of gendered and class-based differentiation when social and political institutions were in a state of upheaval," says Dr. Nachabe Taan. What they depict are "new patterns of consumption, domestic life, dress, and sociability."
"Women and men in al-Khazen's photos appear secular but also religious, modern yet traditional, liberated yet restricted to conventional gender codes." These symbolic binaries, simultaneously present in al-Khazen's photos, "underline the complex, sometimes contradictory state of the first two decades of twentieth-century Lebanon, and the coexistence of the traditional and the modern of the Mandate."
Exhaustive research into fin-de-siècle women photographers of the region, and in particular that of Orientalist Marie Lydie Bonfils in Beirut and Karimeh Abbud in Jerusalem, provide a comparative context for al-Khazen's work against the backdrop of emergent feminism in Egypt and Lebanon.
Working through 53 illustrations by or of the three women, Dr. Nachabe Taan painstakingly unravels the differences between them, and the multidimensional representation of a period in Lebanon's history in al-Khazen's works.
Dr. Elie Haddad, dean of the School of Architecture and Design, commended Dr. Nachabe Taan for her perceptive approach at examining archival material. "Reading Marie al-Khazen's Photographs," he added, "brings an invaluable contribution to the study of photography in the Middle East, and especially from the gender perspective, casting light on the contributions of women to the artistic and cultural fields."
A captivating read for those interested in photography, history, gender and anthropological studies, or anyone looking to embark on a journey of discovery into bygone days.
An online conversation about the book with the author, moderated by the Director of the Arab Image Foundation Heba Hage-Felder will be held on Friday December 11, 2020 at 11:30 a.m. (Beirut time).