Faculty Spotlight: Seba Ali
Assistant professor of music wins prestigious award and grants as she prepares for another major IMAGINE residency.
By Hanan Nasser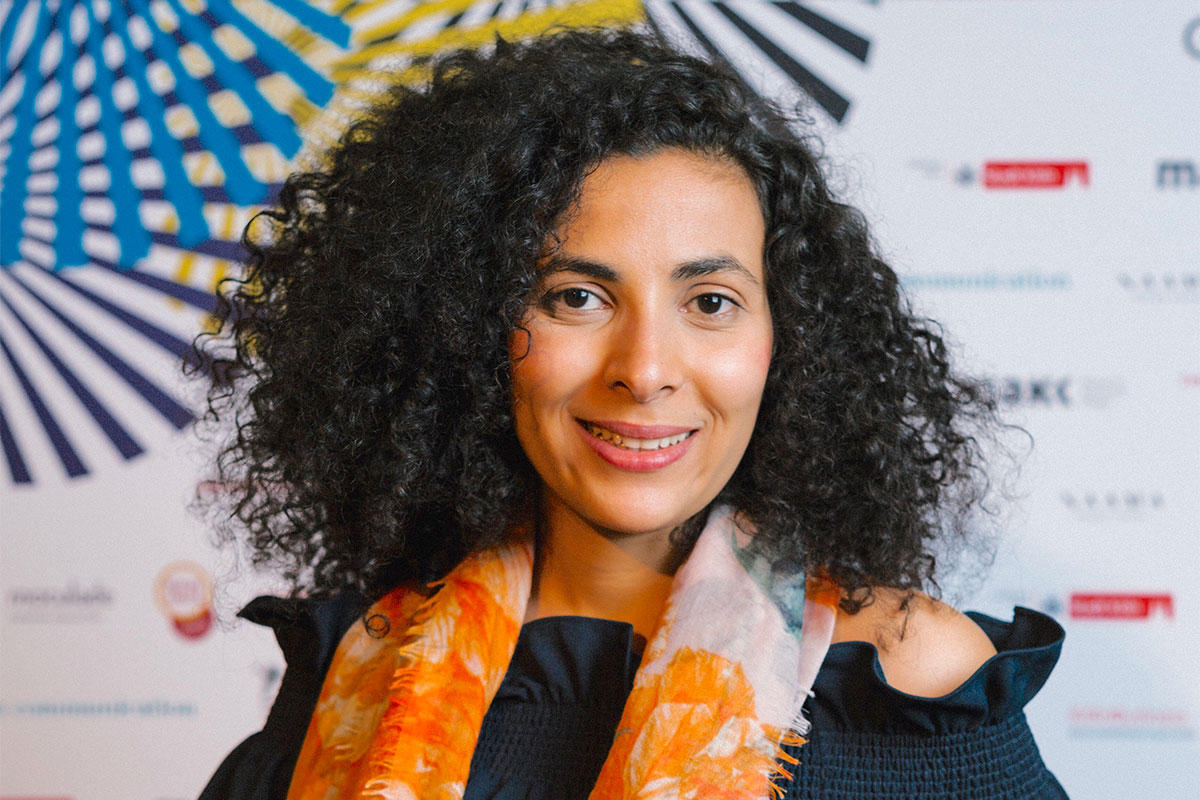 From securing more than $100,000 in grants to winning the prestigious iphiGenia Gender Design Award, Assistant Professor of Music Seba Ali has established herself as one of the Communication Arts Department's trailblazers.
The award, "Revolution," was presented at the Cologne Museum of Applied Art in recognition of Dr. Ali's outstanding gender-sensitive design work through the IMAGINE Workshop and Concert Series (IWCS).
Dr. Ali founded IMAGINE three years ago and has since organized dozens of performing arts events from workshops, concerts, outreach programs to panel discussions to raise awareness of gender equality, social justice, LGBTQ rights and human rights. IMAGINE's outreach initiatives are designed to contribute to the integration of the displaced communities.
For Dr. Ali, IMAGINE was the end result of a deep-seated urge to be an active member of her community. "It is my job through the performing arts: Breaking social taboos and raising the public's awareness of the injustice, inequality, and senseless traditions that do more harm than good," she said.
The award went for the Fall 2017 residency Reflections, which she described as "reflections on women oppressing other women, reflections on the LGBTQ struggles, reflections on human rights violations."
The message, which she reaffirms with each IMAGINE event, is "to empower each other and to never doubt or stop empowering ourselves."
IMAGINE this year will be receiving more than $100,000 in several external grants. The major collaborations with Tunisia88, Taipei Civic Symphony Orchestra, and Oberlin Conservatory are funded by the Institut für Auslandsbeziehungen (IFA) – a German organization that promotes international cultural Relations – the German Ministry of Foreign Affairs, Kairos Arts, Oberlin, the Tunisian Ministry of Education, the European Investment Bank, 88 International, and Action et développement solidaire.
"Fifty members of the Taipei Civic Symphony Orchestra and 40 members of Tunisia88 will be working exclusively with the IMAGINE initiative toward its spring residency for the major opening concert on February 2," she said.
"The concert, which will include songs from Palestine, Syria, Lebanon, Tunisia, Egypt and Taiwan, enhances our friendships with communities from the region and the world," Dr. Ali said of the initiative.
The four-week residency – From Far Away – which is funded by the Department of Communication Arts and open to the public, offers a full schedule of workshops and lectures on music, politics, integration, and togetherness, run by local and international artists from Lebanon, the United States, France, and Taiwan. The selected topics, said Dr. Ali, were based on the requests and needs of the students.
On a separate note, a grant of $75,000 obtained by Dr. Ali from the Global Challenges Research Fund (GCRF) for the Baseline Research and Development Project, and divided between eight universities in the UK, will fund a research about refugee integration in Lebanon.
The 12-month project will identify, increase and promote opportunities that cultural and creative industries (CCIs) and spaces (CCSs) can afford to help refugee youth aged 16-32 develop their talents and aspirations, access vocational education and training, and to facilitate their integration in host communities.
Apart from LAU, the project will be conducted in collaboration with the Universities of Bournemouth, Glasgow and Birmingham City in the UK, along with Addis Ababa University, Mbarara University of Science and Technology, Istanbul Bilgi University, the University of Haripur and University of Chittagong, as well as internationally based non-government organizations such as the UNHCR.
Together, the entities will work toward supporting refugees in Turkey, Uganda, Pakistan, Bangladesh, Lebanon and Ethiopia.
As protests continue across Lebanon, Dr. Ali believes in a greater need for cultural initiatives, as a way of resistance and hope. "What is dangerous is putting our students in a state of distress. Fighting does not conflict with progression and that is why institutions should keep all classes, lectures, workshops and concerts fully running and exquisitely executed," she said.
"The current revolution is to be integrated in their growth and not against it," she concluded, "and our job is to keep protecting and supporting them."
The concert will be held on Sunday, February 2 on Beirut Campus. Additional information on the residency can be accessed here.