LAU Dietetics Program Receives Candidacy for Accreditation
The BS in Nutrition and Dietetics Coordinated Program is a competitive degree with a unique focus on interprofessional education.
By Hanan Nasser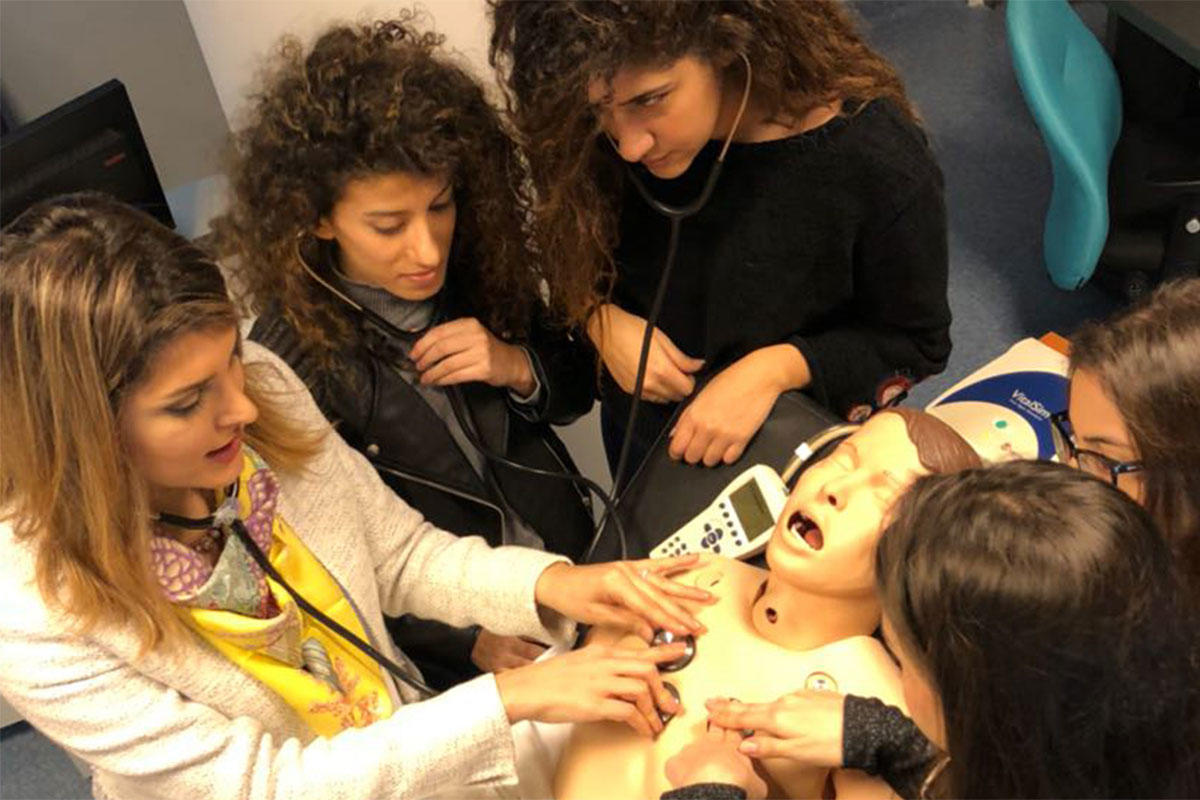 The BS in Nutrition and Dietetics Coordinated Program (CP) at the School of Arts and Sciences was granted candidacy for accreditation by the accrediting agency for the Academy of Nutrition and Dietetics in the US.
As the first step in the four-year accrediting process, the candidacy by the Accreditation Council for Education in Nutrition and Dietetics (ACEND) grants current and future students the same rights of a fully accredited program.
CP graduates can now be matched to any ACEND-accredited dietetic practicum in the US. Upon completion of their practicum, they become eligible to sit for the Commission on Dietetic Registration's credentialing examination for Dietitian Nutritionists and then practice in the US.
Out of only six international programs with ACEND accreditation, the CP in the Department of Natural Sciences is the only dietetics education program with a concentration in Interprofessional Education (IPE). It is also the only one in Lebanon to have an IPE approach.
IPE allows students from different disciplines to learn from each other's experiences and has been a mandatory component of LAU's curricula in nutrition, medicine, pharmacy, and nursing.
"It is a strength at LAU, the pioneer of IPE in Lebanon," said Associate Professor of Nutrition and CP Coordinator Maya Bassil. "The university was the first to launch an LAU-IPE workgroup and framework that aims to raise awareness and an understanding of IPE among students, faculty, and staff members."
Dr. Bassil believes that the IPE emphasis is needed in Lebanon's health sector. "Students in the health or social care fields are taught separately in the university setting, yet they end up working together in the practice setting, but in silos," she said, which is why, according to several research studies, "IPE is vital to enhance collaborative practice in healthcare to improve patient outcomes, hospital stay, and healthcare costs."
ACEND has also selected the CP program as one of the 2020 Noteworthy Practice Honorees among the ACEND-accredited programs for its IPE concentration. The CP's practice was highlighted on ACEND's website.
As this competitive program gives priority to high-performers, CP students have more opportunities for financial aid and scholarships at LAU.
The program has already proven to be a solid springboard for employability; all newly hired dietitians at LAU Medical Center-Rizk Hospital are graduates of the CP. At least 80 percent of CP graduates are accepted in more than one graduate studies program, such as the MS in Clinical and Public Health at UCL-London and the Master of Public Health in New York University.
Alumna Dayana El Chaar (BS '18) said the CP gave her a competitive edge when seeking employment. Chaar is currently working as a research assistant in the Hariri School of Nursing at the American University of Beirut on several research projects involving heart failure patients.
"What I have grasped during the nine months of the CP practicum have shaped my interest in research and clinical nutrition. It only took me three months to secure my first job, and after that I moved into the field of research at AUB," she said.
For senior CP student Omar Makki, the IPE emphasis was the main reason he chose the program, as it offers training in collaborative practice, a "prominent facilitator" in the health sector that is often overlooked by health and social workers.
Makki is currently undergoing his dietetic supervised practice experience, or practicum, at LAU Medical Center-RH, a requirement for CP students as part of the practicum courses.
During their practicum year, students cover three areas of dietetics: Medical Nutrition Therapy, which is the main component, Community Nutrition, and Foodservice Management. In addition to the LAU Medical Center-RH, students rotate at Hammoud Hospital University Medical Center, the Makhzoumi Foundation Primary Healthcare Center, the Lebanese Consumer Protection Directorate (CPD) of the Ministry of Economy and Trade (MOET) and Ain Wazein Medical Village.
An added benefit, said Makki, is the exchange of expertise CP facilitates through interactions with healthcare students at the Gilbert and Rose-Marie Chagoury School of Medicine, Alice Ramez Chagoury School of Nursing, and the School of Pharmacy.
Last year – and as part of a series of physical exam modules tailored for clinical dietitians – the CP implemented the Nutrition-Focused Physical Examinations (NFPEs), in which they examine a patient for signs of malnutrition, vitamin deficiencies, and loss of muscle and fat mass.
Upon completion of the modules, students are required to take the Objective Structured Clinical Examination (OSCE). This practical exam, which simulates real-life settings at the LAU Clinical Simulation Center, is a novelty for dietetic programs worldwide.
Clinical dietitians routinely began conducting NFPEs to detect malnutrition or its risks early on "because it is less costly and faster than lab tests in identifying certain nutritional deficiencies for patients in acute care," Makki said.
Practicum student rotations include real-life cases, simulated case studies, assignment work, and hospital rounds with other healthcare students in medicine and pharmacy.