Online Hooding and Graduation Ceremony for the School of Medicine
The Gilbert and Rose-Marie Chagoury School of Medicine holds its hooding ceremony online and honors Resident graduates.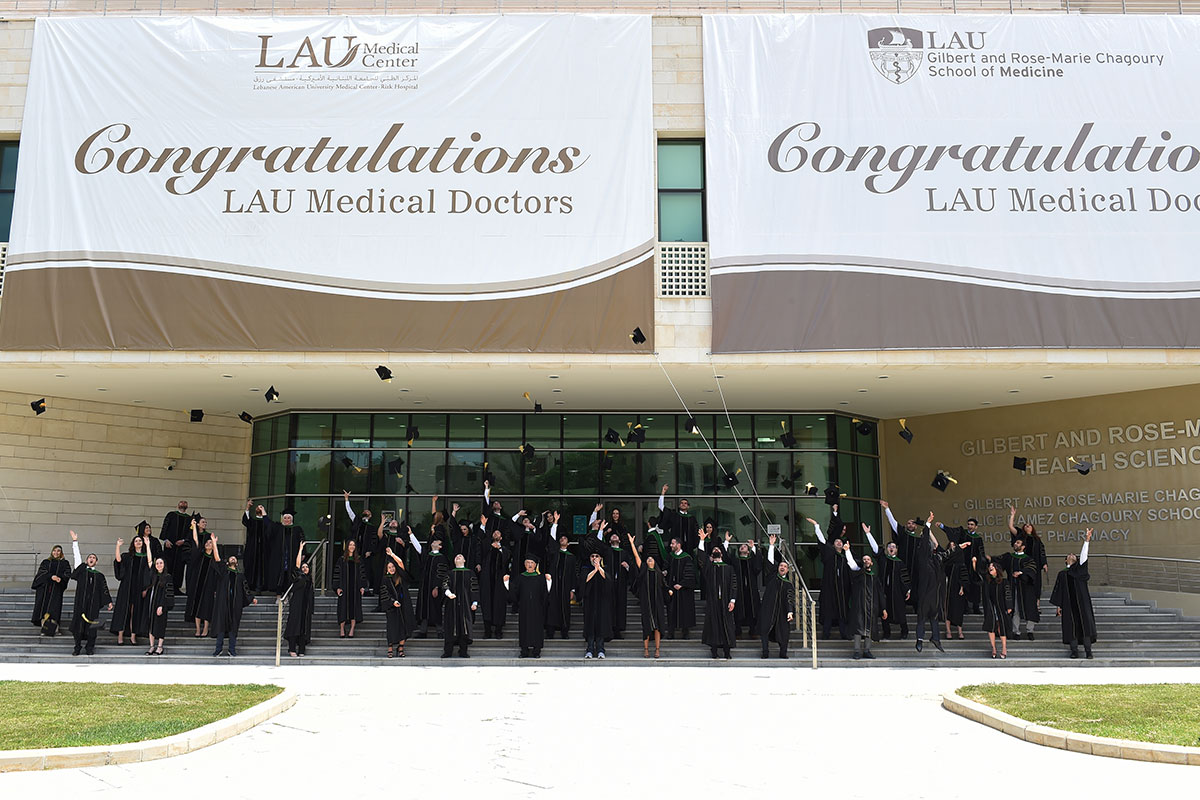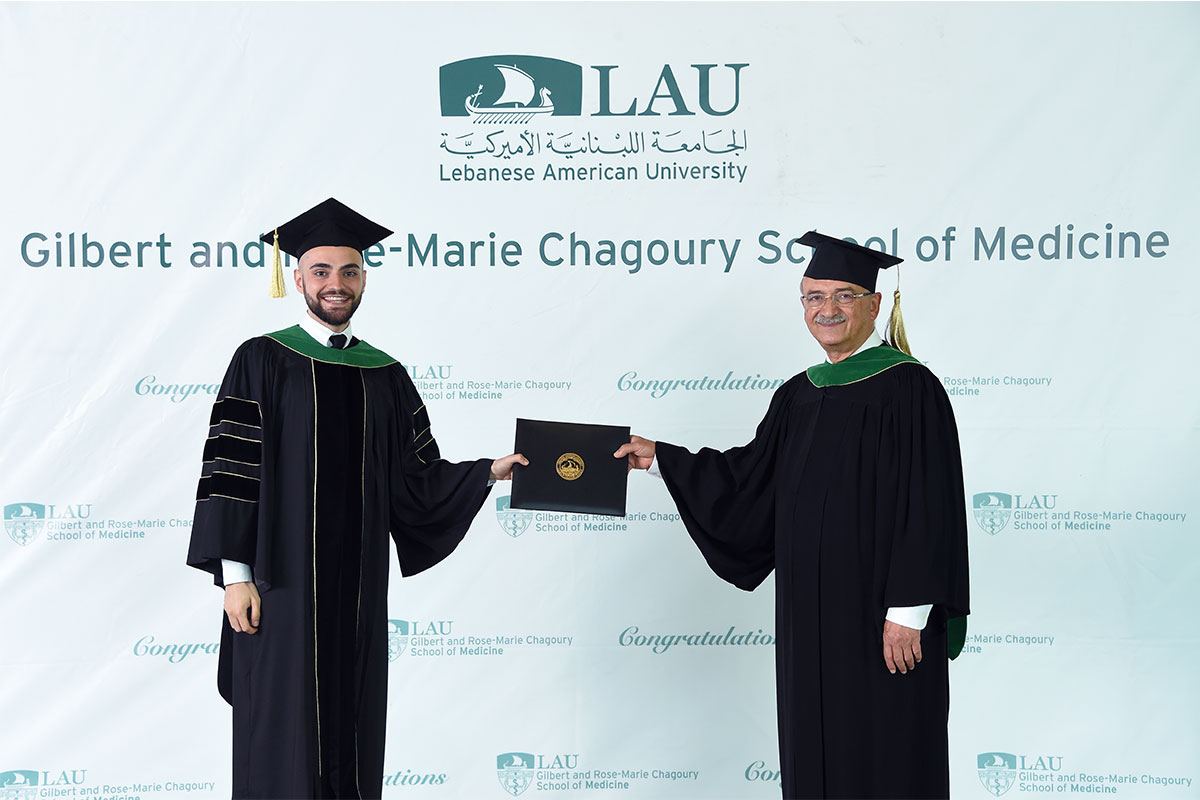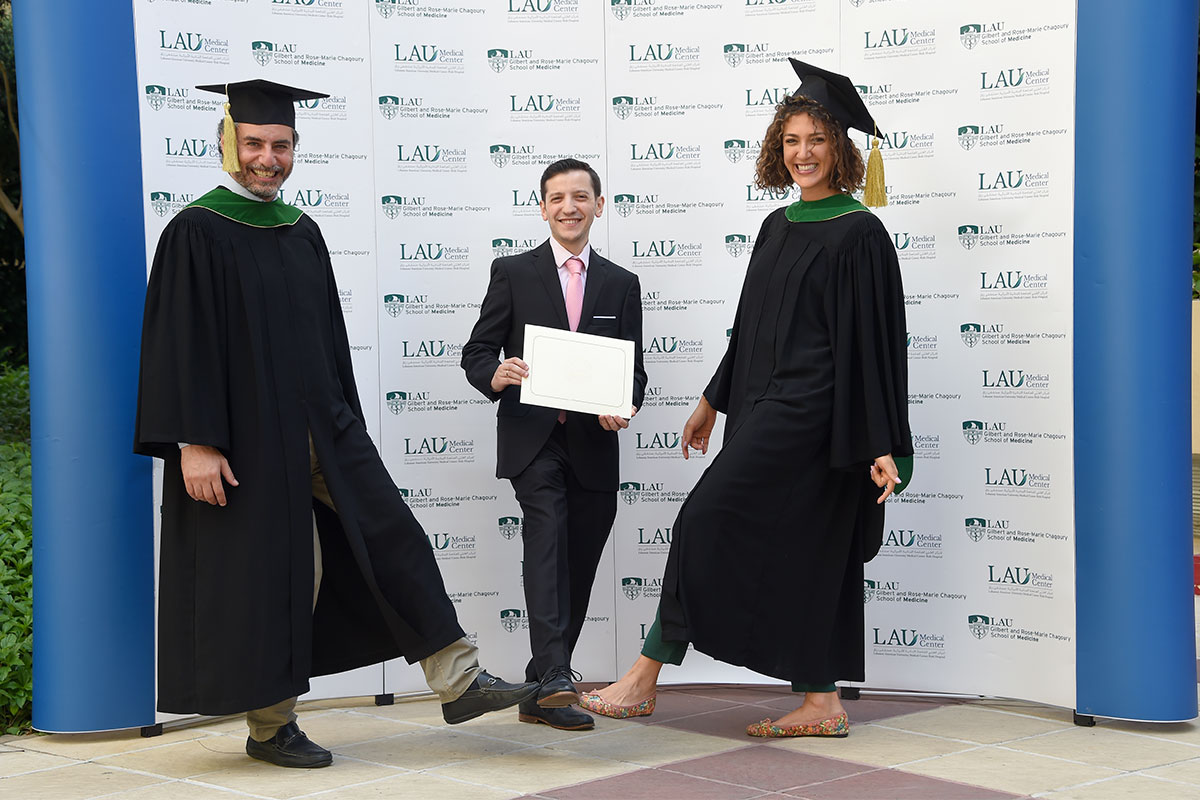 A break with tradition, and the absence of medical students, their parents, and faculty around the fountain area on Byblos campus, made the ceremony no less memorable for the graduates and residents of the Gilbert and Rose-Marie Chagoury School of Medicine (SOM). Memorable for being the first ever online ceremony for SOM, and memorable too for the way it was seamlessly orchestrated.
Custom, however, prevailed in marking the students' transition to becoming physicians, and residents taking their next steps in the medical field, on June 6.
Master of Ceremonies Dr. Nancy Chedid welcomed the faculty, the 8th graduating class, the 5th group of graduating residents and first cohort of graduating fellows to SOM's first online ceremony. Although the rising young doctors had arrived on the frontlines of medicine during a turbulent period, noted Dr. Chedid, it was often as a result of such crises that the greatest advancements in medical care are made.
In a heartfelt message to the graduates, LAU President Joseph G. Jabbra reassured them that in spite of physical distancing, they "were still together like never before" and will emerge stronger after the crises "to carry out our mission to learn, to heal, and to serve."
Expressing his admiration for the "awesome responsibility that physicians assume to serve humanity so readily and so selflessly and contribute so generously and proudly to the continuing ascent of our civilization," Dr. Jabbra urged the graduates to be the patients' "guardian angels," and to use the moral power they possessed to change the world for the better.
SOM Dean Michel E. Mawad, in turn, highlighted the possibilities open to the new graduates in a digital age that has unleashed computing power to supplement human reasoning. "Artificial Intelligence," he added, "will out-compute you and will outsmart you but will never be able to replace good judgment, good experience or good old common sense."
Reiterating Dr. Jabbra's reminder to the graduates that they pay equal attention to their families, their health and not be carried away with financial gain, Dr. Mawad exhorted them never to lose their sense of compassion and to "look upon each and every patient as a normal person who has the same dignity and self-esteem as you but who happens to be sick."
Photos of each graduate receiving their diplomas from Dr. Mawad, and of graduate residents receiving theirs from various faculty members were screened as their names were announced. In a prerecorded video with the graduates, Professor of Nephrology and Associate Dean for Medical Education Sola Aoun Bahous led the recitation of the Hippocratic Oath.
Speaking on behalf of his classmates, valedictorian Victor Zibara recalled the sleepless nights and hard work that marked the four years of their studies. His thanks went to the administration, physicians, and faculty for the countless hours of guidance and mentoring, his classmates for their friendship, the patients "for sharing their vulnerabilities with us and helping us become who we are today," and his parents for placing their faith in him.
Resident Dr. Elie El Najjar was not there to give a speech, nor to dwell on change, he said. Instead "What I'm trying to do is tell you about our memories and dreams and beg you not to let the world or anyone change who we are." Recalling the empathy and the compassion that he and his fellow residents had experienced while caring for patients, he urged them to continue aspiring for a better world, where "instead of putting coins" in the palms of those in need, "we will put our own hands and pull them out to our new world."
This year alone, healthcare providers have been through exceptional challenges, said resident Dr. Michelle Estephan, their mettle tested by the October Uprising and the COVID-19 pandemic. Abiding by their oath, the physicians nevertheless stood in the face of the virus "that is shifting every country's structure of living, economy and healthcare system." Expressing her gratitude to all for their mentorship and guidance, Dr. Estephan praised LAU that taught her and her fellow graduates "professionalism, true patient care and respect."
During the ceremony, awards were presented to graduates who exemplified high achievement in the following areas: academic achievement, professionalism, leadership, communication skills, community service, and research. Dr. Evelyn Towair was elected Intern of the Year (Post-Graduate Year 1, or PGY1) and Dr. Nadia El Haddad Resident of the Year (PGY2 and PGY3).