Our Unsung Nurses Power Through
Fielding one crisis after the other, LAU nurses exemplify the nobility of their profession in Lebanon.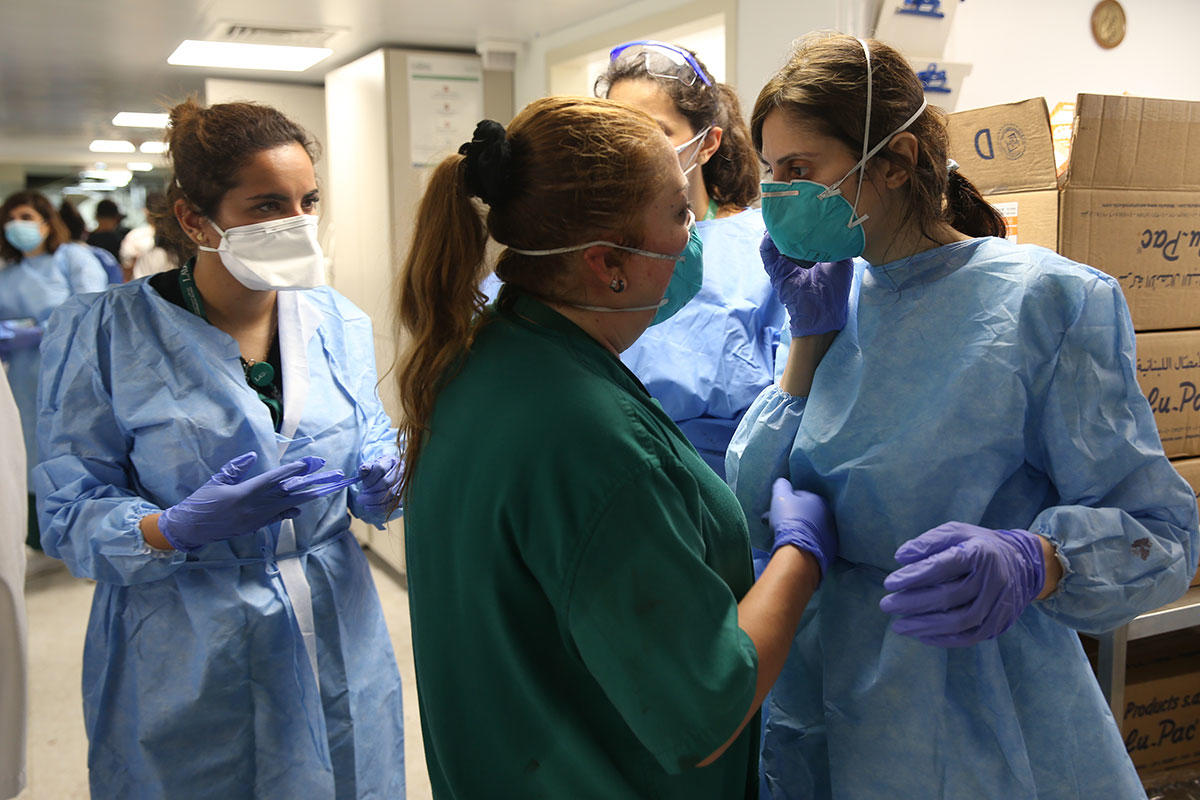 When the World Health Organization decided to name 2020 as the International Year of the Nurse and the Midwife, little was known about the hardships that the year would bring on for nurses around the world.
In Lebanon, the year took off with escalating economic, political and financial crises, and recognition for this noble profession grew in timeliness and importance as the year unfolded for Lebanese nurses. In fact, and as Assistant Dean of the Alice Ramez Chagoury School of Nursing (ARCSON) and President of the Order of Nurses Myrna Abi-Abdallah Doumit pointed out, nurses had been building up for a first-of-its-kind strike, which was planned for August 5.
But then disaster struck.
"Four hospitals were completely demolished, and six nurses were killed while on duty," reported Dr. Doumit, adding that more than 200 others were wounded or had lost their homes or cars.
Across the city, nurses continued to work while injured or left their homes in ruins and rushed to save lives. Others – who were no longer on the payroll at their hospitals – reported to work out of ethical duty.
At LAU Medical Center-Rizk Hospital, Chief Nursing Officer Lina Aoun noted one factor that had played to their advantage. "As ours is a university hospital, we had plenty of residents and medical students responding to our call," she said, remarking how, in retrospect, "our collective sense of responsibility and agility made for an excellent response."
"It was emotionally overwhelming for me to work alongside my students," declared ARCSON Clinical Instructor Abed Al Wahab Al Firikh. "I felt so proud of their professionalism and commitment as they worked day and night to help the medical center accommodate the huge influx of casualties within a very short period."
The number of casualties that flooded hospitals that night was never-before seen in Lebanon's tragic history of a civil war, explosions, air strikes and assassinations, reported multiple medical veterans.
As Clinical Assistant Professor Maha Habre drove to the hospital, she fielded calls from nursing graduates who felt restless and wanted to help in any way possible. A certified emergency nurse herself, Dr. Habre was initially worried that her former students may not have had enough experience in the ER, as it is a specialty on its own.
On arrival and finding that experienced nurses from other floors were reporting to the apocalyptic scene at the ER, she came up with a better plan: directing graduates to go to the units where they had each completed their capstone projects. "In the weeks that followed the explosion, I found out that many of them continued to work there on a volunteer basis, splitting shifts among themselves and supporting senior nurses in every way they could," said Dr. Habre proudly.
For current nursing students, the experience presented a rare opportunity to decide on a specialty, implement the values they had learned in class and take a spontaneous test in the ethical decisions that they might face.
From his position in the Neuro-ICU, senior nursing student Mohamad Ali Nasser made up his mind to specialize in Critical Care Nursing, after having witnessed "the enormous effect it has on the most vulnerable of patients." He put into practice what he had learned in a Professional Concepts course on the ethics of the nursing profession, citing confidentiality, veracity, utility, fidelity, justice, nonmaleficence, advocacy, accountability and integrity.
Those values came to life, as student Jana Mahmoud realized that the nurse "is the one patients look to for hope, the one who stands by their side alongside family members, the one who responds instantaneously for any deterioration or celebrates improvement."
When the explosion happened, senior nursing student Kareen Ajour was in the final days of her internship at the medical center's ICU. Though panels from the ceiling had collapsed on her, she immediately rushed to stabilize her patient who was having a panic attack. She went on to help other nurses and physicians sweep the debris in order to receive more patients.
"I lost count of how many tetanus shots I gave, or how many wounds I irrigated for suturing – but one patient I could not forget was one whose features were swollen beyond recognition, was intubated and had a single form of identification: a name written on her leg," recounted Ajour.
Since August 4, Ajour had contemplated the type of emergency plan that could have saved more lives, and now has her heart set on pursuing a graduate program with a focus on health policy, law and ethics.
As Dr. Habre noted, the repercussions of the explosion are still very much ongoing amid a "very unstable healthcare system." Damaged hospitals, the spike in cases of COVID-19 and ebbing medical supplies as a result of the economic crisis, have all culminated in a more dire situation for nurses, who are having to work for months on end with no or reduced pay.
"Nurses do not put themselves first. They just move on to save their patients," declared Dr. Doumit, referring to true acts of heroism that the nurses have demonstrated in the immediate aftermath of the explosion. She hoped that these examples would, at the very least, highlight the vital role that nurses play, and ultimately bring about sustainable, much-needed change.