Research Highlight: Derivatization and Combination Therapy of COVID-19 Therapeutic agents
Researchers in the schools of Arts and Sciences and Pharmacy review mechanisms of action of repurposed drugs and propose new synthetic designs with potentially enhanced activity against COVID-19.
By Hanan Nasser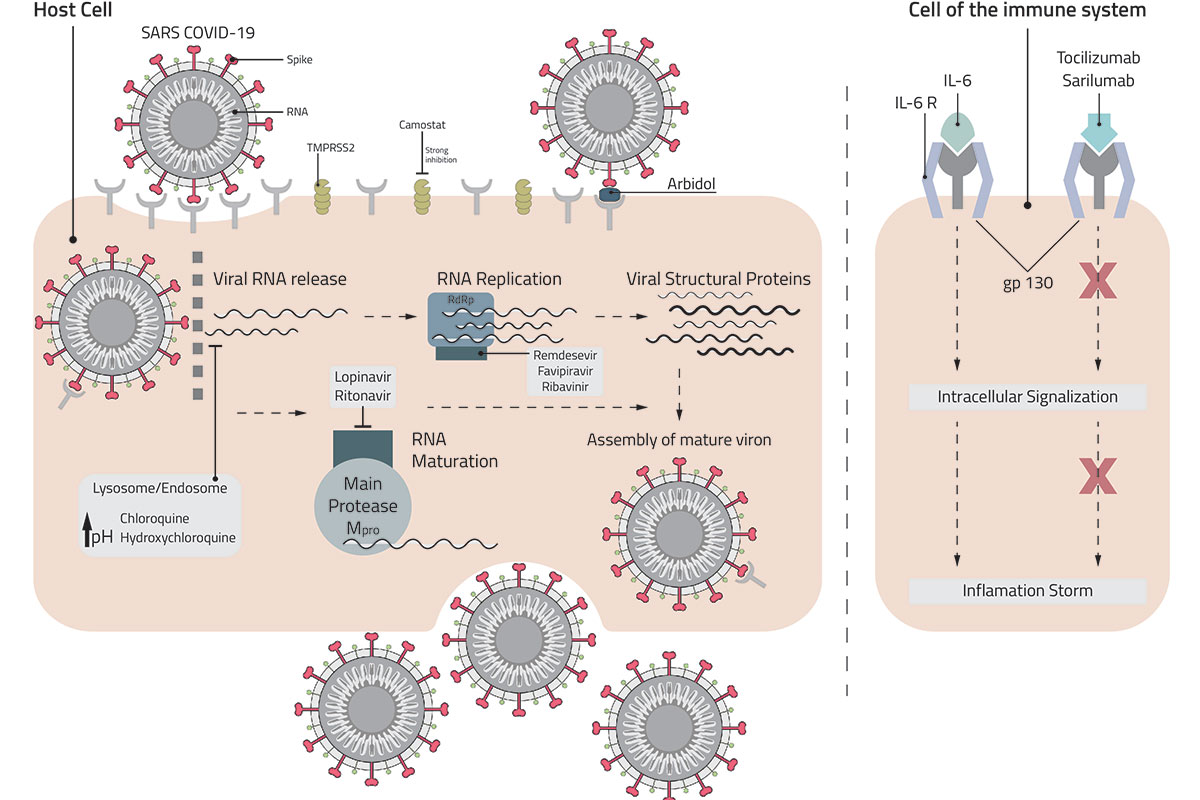 A study by a team of LAU faculty, students and postdocs has reviewed the top 10 promising drugs against the COVID-19 virus, SARS-CoV-2, proposing to change their structure into novel drugs that may display higher toxicity against the virus.
Published in the Q1 Journal Drug Discovery Today, the study reports on "the structural design of several analogues of current COVID-19 repurposed drugs." The analogues are designed to enhance the drug's affinity to either the protein-binding sites – where the drug interacts with the virus – or the viral protein spikes.
"With the help of our students and postdocs we carried out an extensive review of the most relevant and promising drugs against the COVID-19 virus while focusing on their therapeutic potential as well as their mechanism of action," said Dr. Robin Taleb, assistant dean at the School of Arts and Sciences (SoAS).
In addition to Dr. Taleb, the team included Dr. Mohammad Mroueh, chair of the Pharmaceutical Sciences Department in the School of Pharmacy, Dr. Elias Akoury, assistant professor of chemistry at SoAS, Dr. Sally El Kantar and Dr. Bilal Nehmeh, research faculty members at SoAS, and LAU chemistry students Philipe Saad, Gabie Mitri and Celine Estephan.
As the drugs have been repurposed to fight COVID-19, the researchers propose combination therapy and derivatization of the current drugs – i.e. changing their structure via in silico design – in the hope that the new proposed drugs would exhibit enhanced therapeutic outcomes. In silico design refers to the design of new molecules and drugs via Artificial Intelligence. It allows scientists to predict which structures would be most effective against the virus.
New treatment approaches
While there is no cure yet for COVID-19, the Food and Drug Administration (FDA) has approved only one drug, remdesivir, which was originally produced to treat Ebola and Hepatitis C, said Dr. Mroueh.
"It works by stopping the replication of SARS-CoV-2, the coronavirus that causes COVID-19. However, this drug turned controversial, as it was approved by the US but got rejected by the World Health Organization (WHO)," he explained.
Preliminary results of the WHO Solidarity multicenter clinical trial showed that remdesivir had little or no effect in hospitalized COVID-19 patients, he said.
Going forward, Dr. Taleb said, "the best mode of therapy may not involve one drug alone but rather a combination of multiple drugs in which the chosen agents would act on the virus via different mechanisms of action."
The variation of drugs along with differences in the mechanistic pathways would enable physicians to achieve "a desirable therapeutic outcome while using a smaller dose of the parent drugs and, in the process, helping minimize the side-effects."
Dr. Mroueh offered a quick review of new treatment approaches currently being adopted in the treatment of COVID-19.
Bamlanivimab, an experimental drug and the first monoclonal antibody indicated for COVID-19 treatment, was authorized by the FDA in November 2020 for emergency use authorization (EUA). It is used in patients aged 12 years and above who are experiencing mild or moderate COVID-19 symptoms and do not require hospitalization.
In another approach, Dr. Mroueh said that the European Medicines Agency (EMA) and the WHO endorsed "the use of dexamethasone in the treatment of critically ill COVID-19 patients who require supplemental oxygen and mechanical ventilation." Dexamethasone was found to reduce mortality in hospitalized COVID-19 patients with respiratory failure who required oxygen therapy.
Similarly, he said, "researchers at the University of Maryland School of Medicine reported that daily intake of the over-the-counter aspirin (81 mg) reduces risk of complications in hospitalized COVID-19 patients and death compared to those who were not taking aspirin."
He also cautioned against administering any of the aforementioned treatments, including aspirin, without prior medical consultation.
The team plans to submit a proposal for an international grant to proceed with synthesizing the agents proposed in the review.
"These agents were designed with an eye on increasing the affinity of the individual drugs toward the virus by enhancing the interaction of the drugs with glycoprotein spikes that are prominent on the exterior of the virus," Dr. Taleb said.
Dr. Akoury explained that current proposed treatments of COVID-19 patients are bound to fail due to the lack of knowledge of the system.
The interaction between a drug and its target protein will help guide drug discovery for devising safe and effective ways to treat COVID-19, he explained.
"This disease is different than what we have observed as it shows multiple faces of side-effects, and thus targeting it should involve an intricate network of targeted proteins and a high-throughput drug discovery scheme," he said.
The research involved extensive literature review, said Dr. El Kantar, for which "I summarized the mechanisms of action of each repurposed drug that could be used to treat COVID-19. In addition, I coordinated with other faculty and some students to write the manuscript."
A learning opportunity
The study presented an opportunity for undergraduate students to participate in advanced research that helped them broaden their knowledge on COVID-19 and hone their academic writing skills.
Philippe Saad (BS '20), who is now pursuing his medical studies at LAU's Gilbert and Rose-Marie Chagoury School of Medicine, was a senior chemistry student minoring in biology when he began work on the study.
"Along with my studies and courses, I was able to manage my time and dedicate a big portion of my days to reading literature concerning COVID-19 and the different therapeutic ways its symptoms are treated," he said.
Saad was assigned to write about several drugs, mainly chloroquine, hydroxychloroquine, favipiravir and sarilumab in addition to combination therapies and completed or ongoing clinical trials.
Chemistry major Gabie Mitri said that despite the stress brought on by the volume of the work, she has now gained more expertise on COVID-19 because of the research and further honed his skills by developing his academic writing.
For Celine Stephane – fourth-year student with a double major in biology and chemistry – the study expanded her knowledge about the biology and epidemiology of COVID-19, driving home "the responsibility we must all share to overcome this pandemic."
To learn more about all scholarly output by the LAU community, browse our open-access digital archive, the Lebanese American University Repository (LAUR).