Scholarships for Master's Programs Kick Off for 2021
Students from nine countries may apply to earn their master's in one of five programs at LAU under the life-changing Tomorrow's Leaders Graduate Program.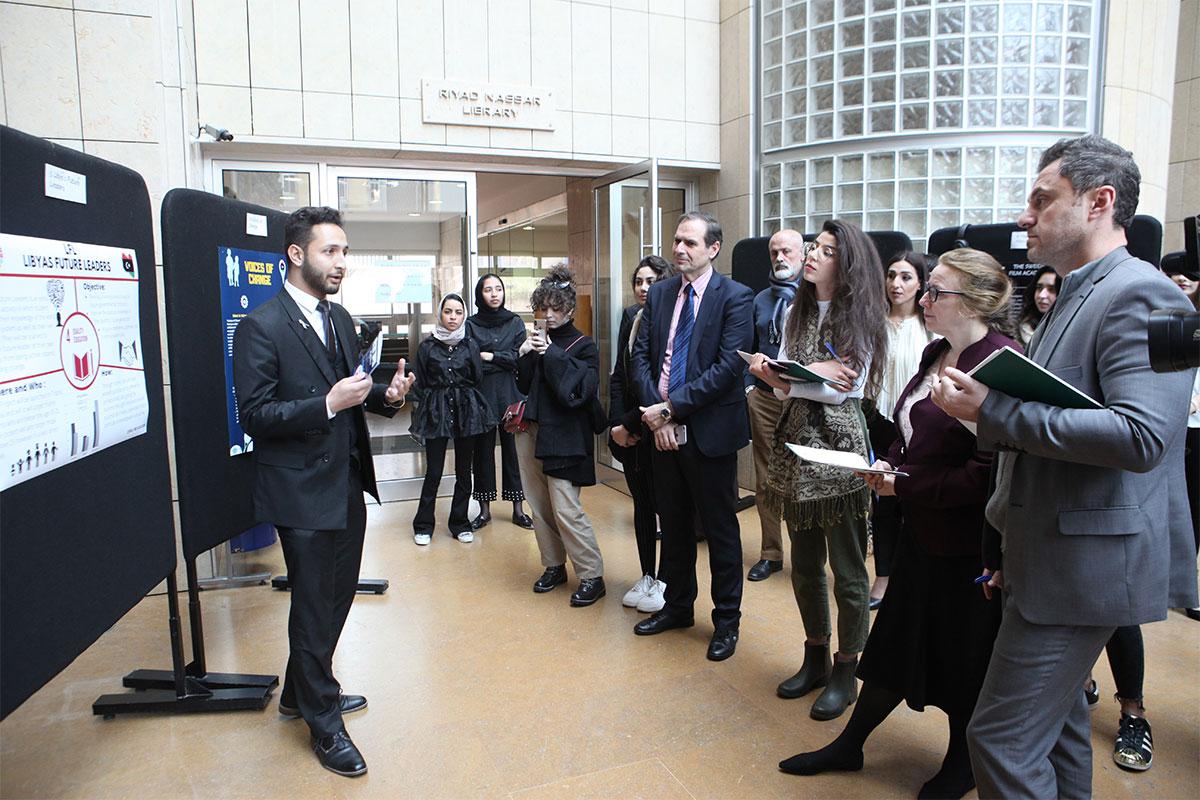 The Tomorrow's Leaders Graduate Program (TLG) for outstanding students from selected Middle East and North African countries has begun accepting applications for fall 2021.
Applications will close on March 2, 2021.
Scholarships will be granted for the following master's degrees: Applied Economics, Education, Interdisciplinary Gender Studies, International Affairs and Biological Sciences.
Students from Algeria, Egypt, Iraq, Jordan, Lebanon, Morocco, Syria (residing outside Syria), Tunisia and Yemen may apply. The program, which is funded by the Middle East Partnership Initiative (MEPI) at the US Department of State, equips graduate students with the professional experience needed to advance knowledge and contribute to the achievement of socially relevant outcomes.
Graduate Students work closely with leading faculty in their field on research agendas crafted in line with the MEPI-TLG goals. Starting as graduate research assistants while taking their graduate courses, students gain solid research skills that prepare them to conceptualize and conduct their own full-fledged research.
In addition to extensive financial coverage – including housing, a computer, health insurance, round-trip tickets, and more – the TLG program offers an exceptional student experience.
As Vice President for Student Development and Enrollment Management Elise Salem explains, the TLG program is designed for "exceptional students with bachelor's degrees committed to pursuing a master's in order to become impactful agents of change in their countries." Besides earning a graduate degree, notes Dr. Salem, TLG scholars are expected to be "innovative thinkers, active researchers and placed in meaningful internships in order to gain employment, lead by example, and transform their communities."
From an academic perspective, "cutting-edge interdisciplinary research is a characterizing asset of the TLG program," explains Associate Professor of Education and TLG Academic Director Iman Osta, adding that scholars will be engaged as research assistants to faculty, with a gender focus, in line with LAU's historical role in promoting gender equality and empowering women.
Current and former TLG scholars at LAU attested to the program's multiple benefits, encouraging those who are eligible to apply.
Yemeni student Hayl Al-Salehi's experience went beyond rigorous learning and professional preparation. During the two years he spent on the MA in International Affairs program, he took part in local and international conferences, workshops, and accelerator programs, despite challenging circumstances in Lebanon.
"TLG has provided me with the opportunity to study at one of the highest-ranking universities in Lebanon and the MENA region," said Al-Salehi, noting how his professors have an "impressive record of publications and research."
For alumna Ghina Abdul Baki from Lebanon (BS '18, MA '20), the TLG experience unlocked another scholarship for a PhD in Economics at the University of Ottawa, which she is currently pursuing.
Through the program, she was able to secure a full-time internship position at the United Nations Economic and Social Commission for Western Asia (ESCWA), where she worked simultaneously at the Social Development Division and the Economic Development and Integration Division. "I was thus able to benefit from exposure to in-depth research, and even contributed to two ESCWA publications," she said.
Apart from the internship, she added, her graduate research assistantship which extended to hands-on teaching was another vital experience that helped her earn her PhD scholarship.
"The TLG program boosted both my understanding of economics and self-confidence, positively shaped my personality, and put me on track to succeed," said Abdul Baki. Her senior research project is being reviewed by one of the top journals in environmental economics.
Following in Abdul Baki's footsteps is current Applied Economics graduate student Zahraa Arkadan, who was also able to land an internship at ESCWA, as well as a research assistantship at LAU's Department of Economics.
"Being a TLG scholar is enriching on the academic and personal levels; we are given the tools to advance our skills, grow our research abilities and gain exposure to a multitude of career prospects," said Arkadan.
Indeed, this exposure to leadership activities builds "authentic and experiential learning, while developing higher-order thinking and 21st century skills, which will eventually prepare them for the job market of the future," remarked Dr. Osta.
The three TLGers agreed that the soft skills they gained along the way and the immense support received by faculty, staff and fellow MEPI-TLers had been life-changing. "The sense of belonging to LAU and the MEPI family has always been motivating and a trigger for success," remarked Abdul Baki. "I was positively influenced by the contagious spirit that defines MEPI students and staff."
For MEPI-TL Executive Director Dina Abdul Rahman, the experience offers "brilliant, high-achieving learners a once-in-a-lifetime opportunity to dive into their research interests, alongside top-notch faculty, while developing their interpersonal, leadership and professional skills," she said, adding: "an opportunity not to be missed!"
Looking to the future, Al-Salehi hopes to work in research, within the realm of international affairs, while both Abdul Baki and Arkadan are aiming for an academic career in teaching economics. "I'm thrilled at the very idea of being able to inspire future generations and help them unleash the leaders within," said Abdul Baki, who also hopes to be able to contribute to advance the economic theory and social development.
To learn more about this scholarship and the application process, go to:
https://mepitl.lau.edu.lb/programs/graduate/