Sprints to Success
On the journey of the fastest woman in Lebanese history, record- breaking alumna Aziza Sbaity.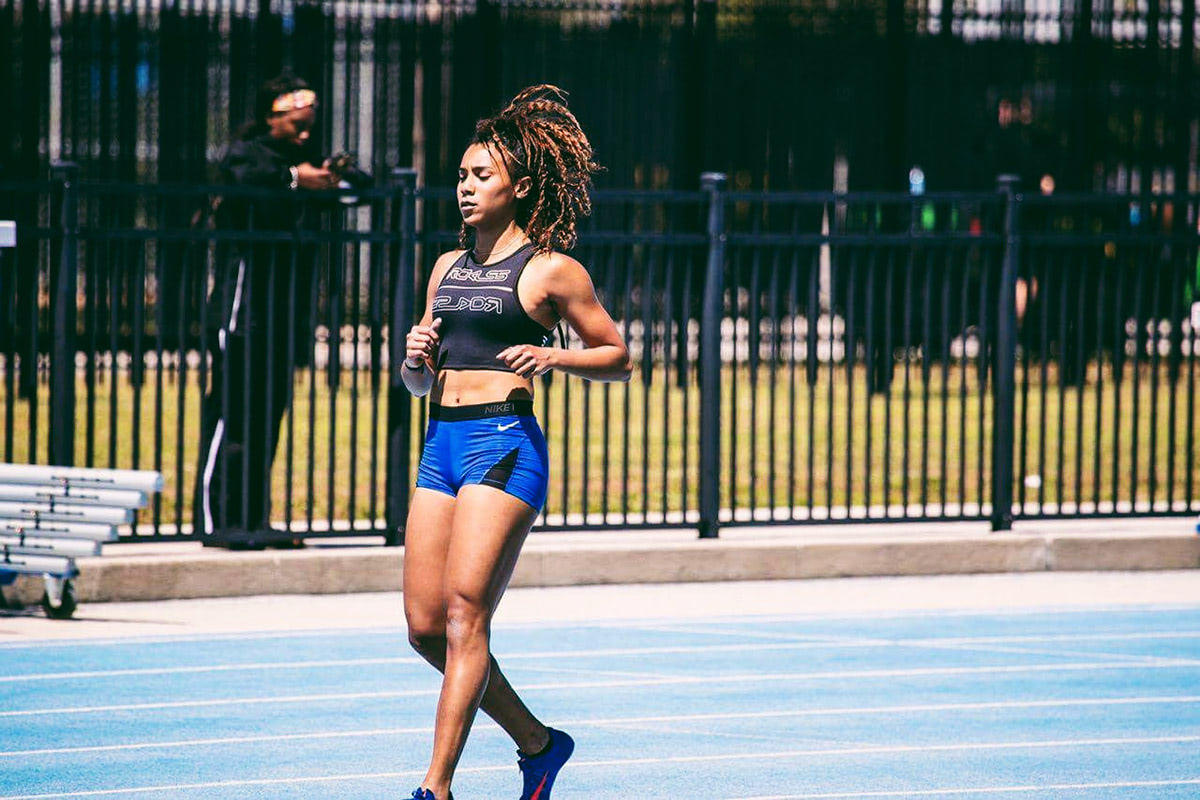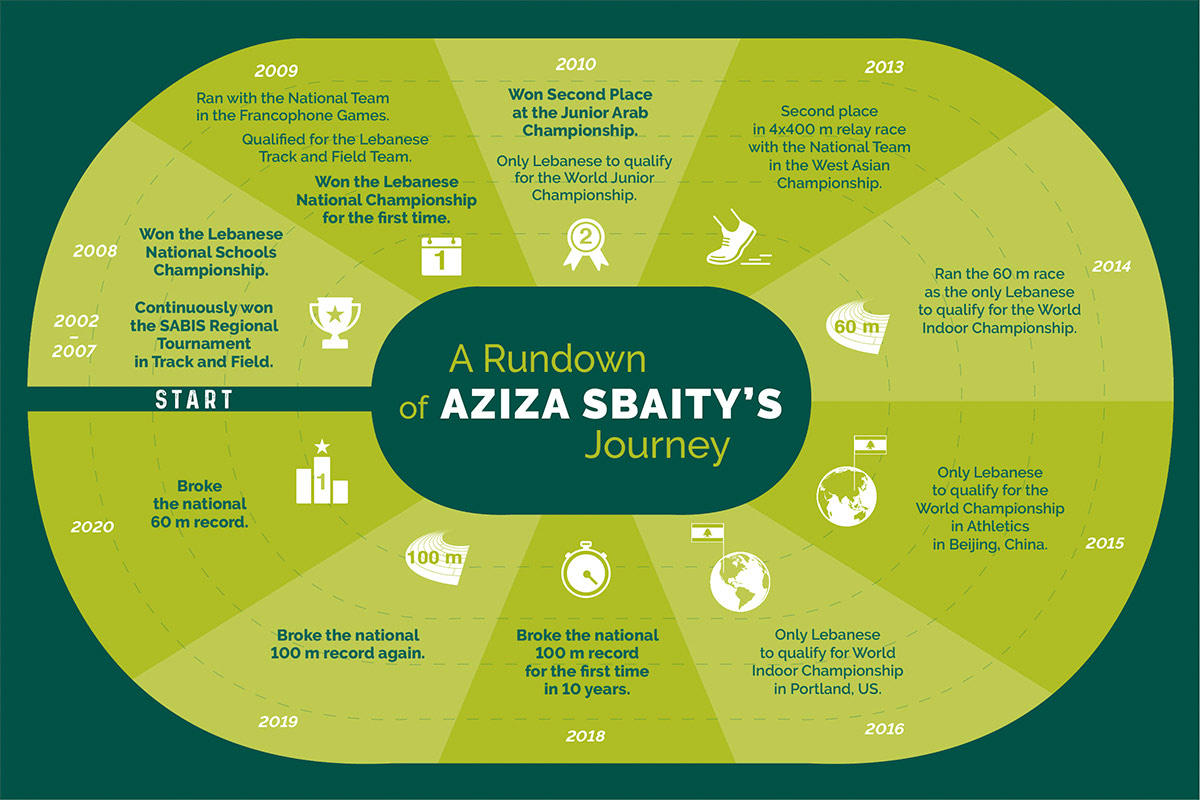 Just a few weeks ago, alumna Aziza Sbaity (BS '12) broke the national 100m record for the second time in a row, after having been the first in 10 years to break it last year. She has also seized the top spot for the 60m, and has her sights set on the 200m record.
The fastest woman in Lebanese history, Sbaity's journey has been marked by a series of hurdles and sprints.
In 2001, her family fled the war in Liberia, where she was born and raised, and arrived in Lebanon. With the move, and at the early age of 10, Aziza had to field questions on religion and ethnicity – topics she had never been exposed to before within the cosmopolitan expat community in Liberia. "Coming from a mixed background, I was taught that I get to define who I am," she said.
She started to carve out that definition of herself through sports. Soon enough, she became known as "the star of the basketball team" at school, and the questions started to dwindle. As she was a student at the International School of Choueifat, she participated in a regional tournament to compete with peers from across the regional SABIS school network. For six years in a row, she seized the top title in track and field.
At the school, the coaches were the first to notice her potential, encouraging her to train, and recommending that she join a professional track and field team. She landed with Club Sportif de Jamhour during her final year at school, and in her first year of training, made the Lebanese National team, and competed in two official championships: Jeux de la Francophonie and the Arab Games. In fact, she had missed the first week of classes at LAU as she had been competing with the national team at the time. "My conviction is that every person has a point of strength and that your strength will find you, one way or another," declared Sbaity, adding that she feels lucky to have found her calling early on, and was able to focus on growing it.
In 2011, Sbaity was off to represent LAU in the World University Games (Summer Universiade) in China, when an injury during training forced her to quit the tournament on the eve of her race. As it turned out, she had suffered from the Hamstring Syndrome, a chronic condition which forced her to stay off the track for two years.
"My coach and I had to figure out ways around the pain, trying to strengthen the weaknesses where possible," explained Sbaity. "Eventually, I learned how to overcome it mentally, beyond just the physical pain that was weighing me down."
Always one who looks at the cup half full, Sbaity also admitted that the injury helped her focus on her academic career as a business administration student, and credits those years for learning to manage time properly and graduating with distinction.
Sbaity is largely grateful for having "an invincible support system – her family, coach, club and friends." The recent economic and political unrest in Lebanon has undeniably presented new challenges, but this only gave her a broader perspective and intensified her will to do better.
"When I break a record or raise the bar, it's always for Lebanon, and my part of the revolution now is a revolution in motion," Sbaity pointed out. She is adamant to paint a positive picture of the country – particularly in sports, where athletes' perseverance "has the power to create a persona that younger people look up to and feel proud of."
Especially so for women in sports, who "are seldom challenged to push beyond our limits," according to Sbaity. "That is why I am proud to be focusing on something I love doing, while also getting to pass on my passion and set an example for others."
In the coming months, Sbaity will continue to keep up with a busy training schedule. She has her sights set on several titles, as well as a bid for the upcoming Olympic Games in Tokyo. Apart from the track, she has a wealth of ideas for building athletic momentum in the country, which might as well develop into her next sprint.