Two New Books Chronicle LAU's Extraordinary History
Sarah and Her Sisters and The Meteoric Rise of LAU recount the university's growth from humble beginnings to a world-class institution of higher learning in the Arab World.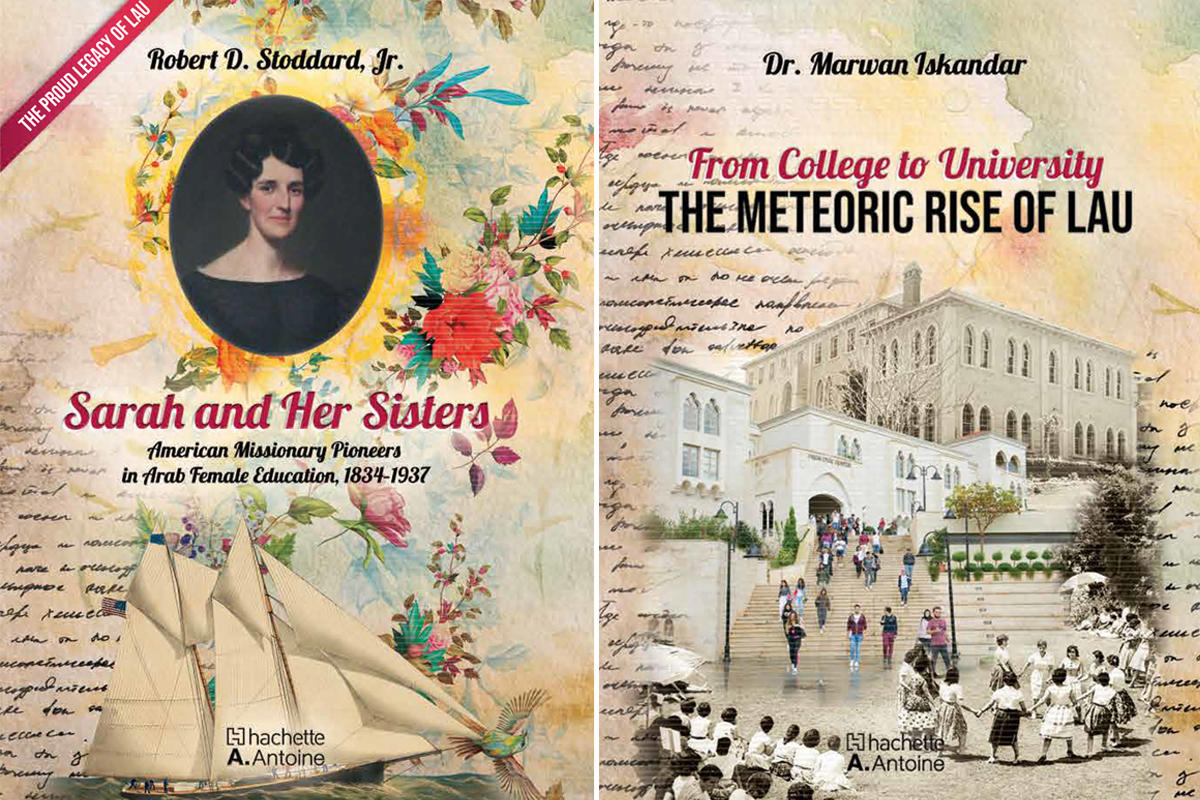 Two books on LAU have just been published by Hachette A. Antoine which, put together, trace the university's rise from its roots as a girls' school in the Ottoman Empire to the powerhouse in higher education that it has become today.
A third book, titled The University on the Hill, is also in the final stages of development with plans for release by the end of September.
Sarah and Her Sisters: American Missionary Pioneers in Arab Female Education, 1834-1937 by LAU's former Vice President for Development Robert D. Stoddard (1999-2005), and From College to University: The Meteoric Rise of LAU by renowned economist Marwan Iskandar, attest to LAU's enduring attachment to the pillars of education in the most inclusive sense, for the best and brightest as well as all deserving students regardless of their financial means.
Starting with Sarah Huntington Smith, the founder of the first regular girls' school in Syria – that would evolve through several iterations into LAU – Sarah and Her Sisters chronicles the lives and hardships of female missionaries, "sisters in Christ," who sacrificed the security of their homes, braving perilous journeys and challenging a foreign culture, in order to educate Arab girls and women.
Drawing on correspondences, memoirs, and official records, Stoddard, who was supported and encouraged by the university, paints a vivid picture of the pioneering women's contributions to LAU's history up to the establishment of the American Junior College for Women (AJCW) in 1933.
Sarah and Her Sisters had its origins in 1999 during LAU's celebration of its 75th year as a college where "few were aware of its Protestant missionary roots," says Stoddard. After retiring in 2005, and on finding her memoir online, he gave a lecture on Smith at LAU in 2009. "When I was challenged to 'connect the dots' from Sarah to the present university, I then started identifying the teachers and school principals who carried Sarah's vision onward through higher education for Arab women and began discovering their equally fascinating stories."
While researching and writing the book, Stoddard "was astonished to learn of the sacrifices these women made to come and teach in Ottoman Syria and later, Lebanon." Sailing off to a foreign land, having to learn a new language and teach girls and young women, "they spent years, decades and even lifetimes working amidst social and political unrest, war, famine, plagues and a pandemic, some forgoing any chance to marry and have children of their own. Many fell seriously ill while others paid the ultimate price and never returned home."
Stoddard's objective was to bring these "faded historical figures out of the shadows to tell their own stories in their own words," in the hope that "LAU's coeds, as well as women faculty members and graduates, will proudly reclaim their university's rich feminine legacy."
Picking up where Sarah and Her Sisters ends, and touching briefly on the period before 1927, The Meteoric Rise of LAU segues into the university's contemporary history from AJCW under the tenure of President William A. Stoltzfus to present-day LAU under the stewardship of President Joseph G. Jabbra.
Iskandar traces the university's upward rise against the backdrop of political instability in the region remarking that not only did it survive 15 years of civil war and subsequent strife but grew into a "multi-campus university with schools of medicine, pharmacy, engineering, and nursing, architecture and design, arts and sciences, business, and a Graduate Studies and Research Unit."
AJCW successfully achieved the dual objective of growing into a four-year university under the name of Beirut College for Women (BCW), and graduating women qualified to take up "jobs with the increasing Western companies in the region and who could teach future students." BCW, says Iskandar, "opened social and intellectual possibilities for young women of the region, and not only Lebanon." Such women, who eventually became the driving force behind the Beirut University College (BUC) as presidents and prominent alumnae, are celebrated in two full chapters.
Following Dr. Riyad Nassar's term as president amidst very challenging local and regional turmoil, Dr. Joseph G. Jabbra took the helm in a baptism of fire. The Meteoric Rise of LAU is the first book to detail Dr. Jabbra's presidency and vision for the university, as well as his roadmap for its future in the next 10 years.
Sharing LAU's history with the wider audience, said Dr. Jabbra, goes to show that "we have not forgotten our roots and that we continue to be faithful to our beginnings. At its core, LAU's mission is the same as that of Sarah Huntington Smith's decades ago. While she and her successors risked everything to empower Arab girls and women through education, LAU today – as one of the best universities in the Arab world – continues to serve society by educating the whole person and empowering our students to be effective citizens in our communities, countries, and region. We continue to be true to our heritage by daring to provide the transformative, in many cases disruptive, gift of education to ensure the sustainability and growth of our communities."
The books will appeal to the wider audience interested in gender studies, and the evolution of higher education in the Arab world.
Hard copies of the books are available at Librairie Antoine and the Kindle versions on Amazon.com as follows: Sarah and Her Sisters, The Meteoric Rise of LAU.