Webinar Series: Knowledge Unlocked
The Lebanese American University launches a series of free interactive webinars by faculty covering COVID-19-related topics.
By Hanan Nasser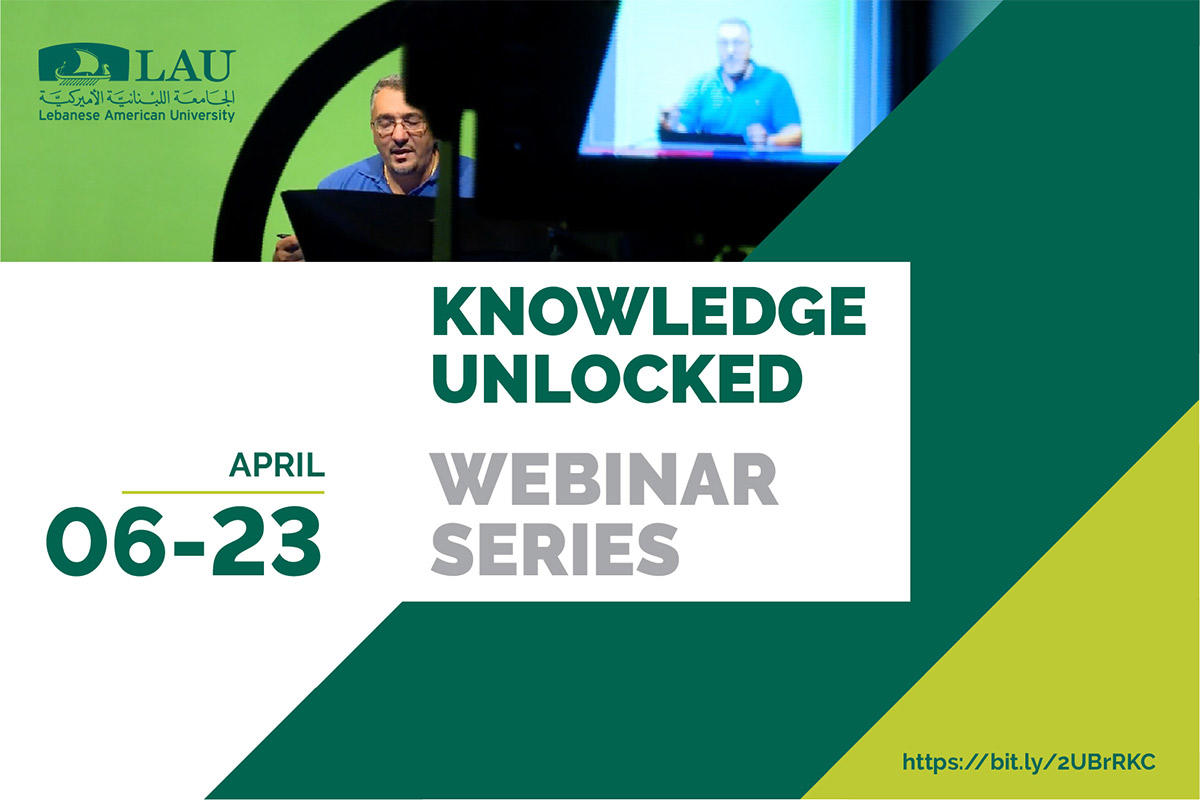 LAU's School of Arts and Sciences (SoAS), in collaboration with the Institute of Continuing Education (LAU CE), will kick-start a free webinar series starting April 6 to address some of the most pressing and common questions brought forth by the current pandemic.
The webinars – Knowledge Unlocked – will not only communicate expert advice by LAU faculty but will also serve as a platform for live interaction with the wider Lebanese community as it grapples with a new reality. Participants can register for the webinar of their choice.
"The main objective of this initiative is to connect enthusiastic and passionate academics and pioneers in their fields with society to exchange data about the latest developments pertaining to this exceptional global pandemic," said SoAS Dean Cathia Jenainati.
Livestreaming until April 23, from Monday to Thursday at 4:00 p.m., the webinars will cover 12 topics as varied as decision-making in times of crisis, healthy eating, parenting during confinement, stress and anxiety management, emotional intelligence, resilience and coping in times of global distress, the environment, renewable energy, and interpreting graphical data pertaining to COVID-19.
The webinar series, Dr. Jenainati said, will consolidate LAU's role as an institution committed to community outreach and engaged in many aspects of public life.
"We look forward to interacting with the public, in the hope that we will continue our educational mission to enlighten members of the community despite the challenges facing us," she said.
For his part, LAU CE Director Charbel Azar said that "the core of our mission is to assist people in both their professional and personal developments. This is exactly the right time to do this and if they cannot come to us we will go to them."
The webinars, he continued, will put "the expertise of our instructors at the service of the people in times we know are very challenging."
Provost George E. Nasr said that the webinars "confirm LAU's commitment to its academic and cultural mission despite all the challenges. They present people with an informative platform that allows for an exchange with the university's faculty." They speak directly to two pillars of LAU's Third Strategic Plan, to promote innovative pedagogical delivery, and extend the university's reach beyond campus walls.
The first session will be delivered by LAU Instructor of English and Moral Reasoning Reine Azzi, who will be talking about Decision-Making in the Times of Crisis: Answering Tough Questions. It will be followed by a Q&A with the audience.