Dancer, Choreographer and Teacher, Dr. Nadra Assaf, Recognized for Lifetime Achievement
Under the patronage of the Ministry of Culture, LAU's associate professor of dance was honored for her contribution to the performing arts in Lebanon and the region.
By Hanan Nasser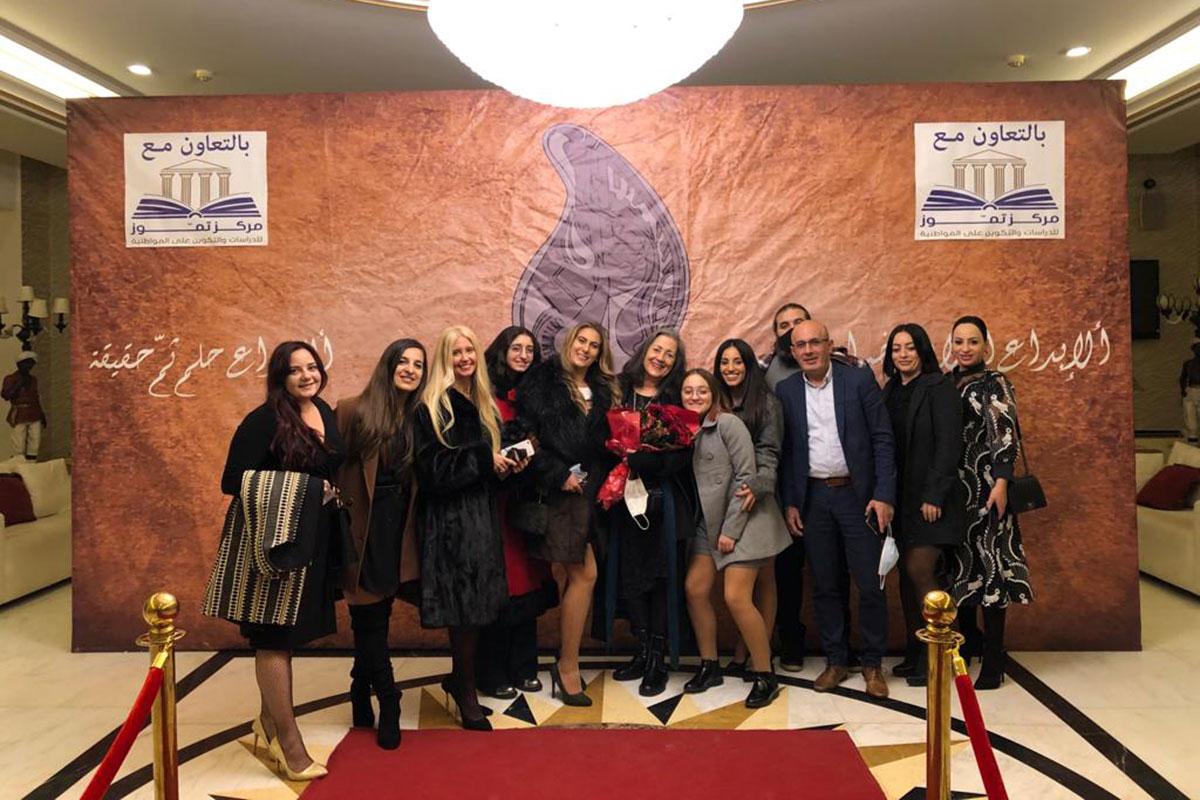 After a career spanning 31 years, LAU Associate Professor of Dance at the School of Arts and Sciences Nadra Assaf was honored for the impact her work has made on the performing arts in Lebanon and the region. A surreal moment for the passionate artist and academic whose journey has been wrought with challenges to shift perspectives about dance.
Under the patronage of the Ministry of Culture, Dr. Assaf received a lifetime achievement award on December 19 during a ceremony organized by 'Ard el Mobdeen Institute and Centre Tammouz.
Dr. Assaf has long been an advocate for the arts in Lebanon and the region. In addition to her work in research, she launched and organized the annual Dance Day Festival in Lebanon (IDDFL), which has been ongoing since 2011 and is hosted by LAU. The IDDFL offers advanced techniques and theoretical workshops free of charge to dance students across the country. She is also the founder and artistic director of Al-Sarab Dance Foundation that encompasses Al-Sarab Dance School as well as Al-Sarab Dance Company.
For Dr. Assaf the award seemed bittersweet as it comes at a time of turbulence in the country and when not all her family members are with her. Yet she could not help reflecting on the long road that had led her to this moment.
"It has been a difficult journey all-round, because if you are looking at it from a female perspective, they sexualize you. If you look at it from a male perspective, they want to bully you, in a sort of degrading, not sexualized, manner," she said.
She does acknowledge, however, that there has been some change in the way dance is perceived. The conversations she has with parents of her students today differ from when she started out in her career.
"It is better in the sense that there is more awareness. When I first came here and shared my concept of dance, with a school that was structured and a curriculum and exam, people had no idea what I was talking about," she said.
That shift would take close to 10 years, and only after the first Al Sarab graduating class, "for people to understand that this is what I was building."
A testament to that is her former student, now part-time LAU instructor of modern and contemporary dance, Jimmy Bechara.
"It's really a historic thing for me when I see him and think he was my first student and now he is my colleague. It's an interesting dynamic – that this 31-year journey of mine has included him," she said.
"When you hear him talk you realize how much better things are, because here is a male, a heterosexual male, who is a dancer, a choreographer and a dance professor, which we never thought could happen, and definitely not in higher academia. Now you have it in higher education and people take that more seriously."
Dance, according to Dr. Assaf, is not about learning a dance, it is about learning how to dance. "It is a philosophy, I tell my students," she said.
"Every movement a body makes, I believe, is a dance. I can sit and watch students on campus and to me that's a choreography; the way they maneuver themselves and interact with each other in the space. That's the type of dance I do – modern dance, expressive dance," she said.
Through her work and research studies, Dr. Assaf has also empathized with the complex relationship women have with their bodies, which is constantly being challenged by societal perceptions and expectations.
Because there is more pressure put on women than men to change their appearance and be more attractive, Dr. Assaf believes they should take ownership of their bodies in every sense. "It means I don't have conform to what society expects of me; I have to be me."
In addition to how women are made to perceive their bodies, there is the matter of ageism in the dance industry. "When I turned 50, all these questions started to come up," she said. "I was like you know what, I own my age. I am 58 years old and I am proud of it. I don't want to be 48 at 58. I want to enjoy every period of my body."
Asked what she would tell her younger self as she reaches a pivotal moment in her career and during unprecedented times of teaching under COVID-19 related restrictions, she has one advice: Calm down.
"Before this interview, my very last class was the art of dance, and the students' final exam project was interviewing dancers in Lebanon," she said. "As I sat listening to how some of these dancers in the community today spoke, starry-eyed, about their future plans, I kept thinking that was me 31 years ago."
Quoting from her performance Sawte (My Voice), she added: "If I could go back in time and give my younger self one piece of advice, it would be: Don't take yourself so seriously. You will get there. I look back at every struggle I had and think my younger me didn't enjoy all those moments when I could have. You can still do this and have a life."