In Memoriam: Dr. Irene Faffler
LAU bids farewell to the matriarch of the English and communication arts departments.
By Hanan Nasser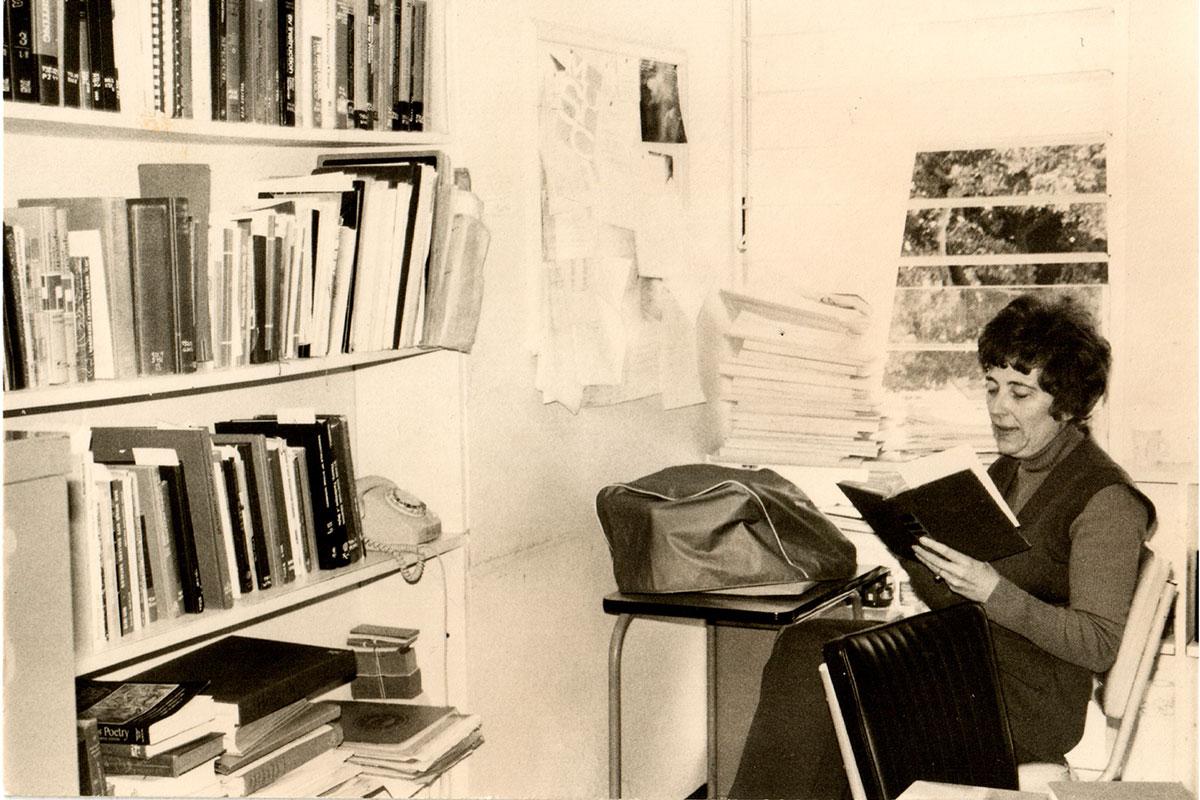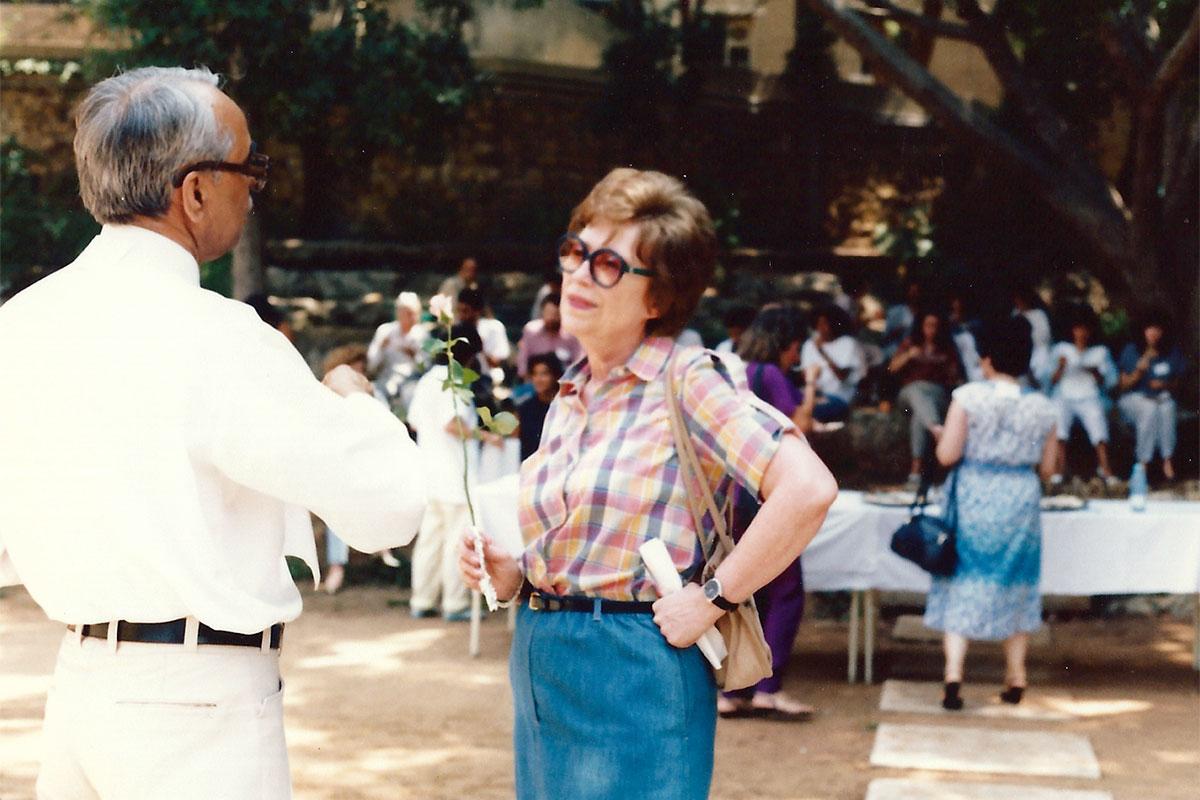 Dimmed lights. Breathless silence. Orange-colored chairs huddled together overlooking a humble stage that witnessed the roaring creativity of performers for decades. One can easily imagine Dr. Irene Faffler taking her final bow at Gulbenkian Amphitheatre, a testament to her passion for theater and her enduring legacy at LAU.
Dr. Faffler passed away in January 2021 at the age of 95. She has left a lasting impression on LAU as the creator of the institution's unique Department of Communication Arts, distinguished by its interdisciplinary program, more than 50 years ago.
Dr. Faffler, who held a PhD in Drama and Speech from the University of Minnesota, was appointed by the Presbyterian Mission in 1959, and joined the Beirut College for Women (BCW) – as LAU was known back then – as professor of literature and drama. In her 28 years at LAU, she served as faculty member, director of theater, and administrator. She was chairperson of the Humanities Division in 1964, then academic dean in 1982.
She played a role in the design of the Fine Arts Building – now the Safadi Fine Arts Building ­– in the late 1960s, where she requested the inclusion of a Greek-style theater with a stage at the center as "a workshop theatre." This was how Gulbenkian Theatre came to be, revolutionizing theatrical production in Beirut as the only indoor amphitheater in the Arab world.
Dr. Faffler considered theater the nexus of the communication arts department that at the time encompassed radio/TV/film, advertising and theater. As such, all communication arts majors were required to produce one-act plays, bringing together script writing, casting, set design, rehearsals and performance to life especially after the completion of the Gulbenkian in 1971.
Her memory remains alive in her former students, including independent filmmaker Noura Sakkaf, Dr. Laila Debs, Dr. Mona Knio, Dr. Aliya Khalidy, Hala Masri, Dr. Lina Abyad, and several others, many of whom currently teach theater at LAU.
"Dr. Faffler was my mentor and my guide. I loved her and respected her dearly. She was instrumental in my life and the way I live in this world," said Sakkaf. "The knowledge she passed on to many of my generation was priceless. She provided a safe and creative space for us at the Gulbenkian Theatre. Her door was always open, as was her heart; she listened and advised on all our troubles and problems, even personal ones."
"Many of us, her students, who thrived because of her teaching are still friends and sometimes work together; that is her legacy. May she rest in peace."
Dr. Faffler's reach extended beyond campus walls, creating a vibrant theater scene for a Lebanese community beaten down by the war. She launched the annual major theater production – a tradition that LAU proudly upholds to this day. She also established a Children's Theater on the stages of Beirut University College (BUC), the first such endeavor in Lebanon, with her Armenian colleague, Professor Malikian of Haigazian University.
"Dr. Faffler wrote plays, produced plays for children, and specialized in family theater – these fields were the beacon of LAU's reputation at the time, and it was all thanks to her," said Dr. Knio. "She made sure to have at least one theater production every year, the only event in Ras Beirut that families could enjoy and attend at the time."
She instilled in her students a sense of respect for the sanctity of theater space and a domain that was still looked down upon in the early '80s, said Dr. Khalidi. "As an advisor, she created the perfect balance in the teacher/student relationship, professionalism with compassion. All this she did with much composure, inspiration, and a wide-open heart."
As the war raged outside campus walls, Dr. Faffler was committed to maintaining a sense of normalcy within, a safe haven and a breathing space for the students.
"She was one of a kind. In the dark times of the Lebanese civil war, in the midst of destruction and death, she made Gulbenkian Theatre the center of our world," Dr. Abyad said. "A space for ideas, great texts, beauty and friendship. She made BUC the safest, most comforting, most challenging environment."
"She saved us, and now she will rest in peace in our hearts."
Hala Masri, who worked with Dr. Faffler as a student in the major theater production Don Quixote, is now senior performing arts theater manager and occupies the same office space in Safadi Fine Arts Building as her teacher. "This is an incredible inheritance. I still have some of the photos, memos, brochures and personal letters she left in the office," she said.
Through trips to the market with Dr. Faffler and Dr. Leila Khoury in search of textiles for stage costumes, Masri learned how to get the best deals, as Dr. Faffler judiciously spent the funds allocated by the university for productions to ensure the continuity of the theater program.
And it was those trips too, and the fact that they both lived on campus, that brought Dr. Khoury and Dr. Faffler together in what was to blossom into a lifelong friendship, although their careers did not converge. Dr. Khoury became a teacher of Mathematics at BCW after meeting Dr. Faffler in 1958 and later chairperson of the Department of Computer Sciences and Mathematics.
"I would go with Dr. Khoury to the market to buy material for the play. We would then sit with Dr. Faffler and discuss what we'd bought," said Masri. "Although I was still a student then, Dr. Faffler gave me every opportunity to talk about what I had learned from the experience."
A humble leader, yet one who commanded admiration and respect, "Dr. Faffler recognized leadership traits in her students and junior faculty members, especially women who, she felt, would be able to carry on the mission," added Masri. "So, she challenged them and pushed them forward by giving them more responsibilities."
Testament to that was when she appointed junior faculty to carry on the creative output of the communication arts program, including advertising, radio/TV/film, and interior design, after many of LAU's foreign professors left the country. The average age of the faculty could not have been more than 28.
When Faffler became academic dean, she appointed her former student Laila Debs, still in her early 20s, as theater director.
"Dr. Faffler is unforgettable," said Dr. Debs, who is director at C.A. Artiste Management. "Thanks to what she instilled in us – our generation under her tutorship – we came out of the bloody civil war emotionally and psychologically unscathed. Her teachings and her love for her students made her so parental to us. She reared us to safety on all levels."
Although she was adamant to stay in Beirut after the war's outbreak, Dr. Faffler was eventually compelled to leave – much to her chagrin – following the 1987 kidnapping of four American professors. She then worked for BUC's New York office as vice president for relations, before retiring a few years later in Minnesota.
Thereafter she continued supporting the university through donations for years until 2019, when she started the Dr. Irene Faffler Endowment Scholarship Fund to support performing arts students focusing on theater at LAU.
About Beirut, Dr. Faffler had said: "This is the city I want to be in, it has the arts, the people, the history, the languages. This was home."
And home it will always be. Rest in Peace.
Gifts in Dr. Faffler's memory can be made by filling out our online donation form and specifying as a gift destination Other > Dr. Irene Faffler Endowed Scholarship Fund.