In Support of the National COVID-19 Vaccination Campaign
LAU launches its COVID-19 vaccination and response campaign kickstarted by a generous $1 million donation by Mr. Bahaa Hariri.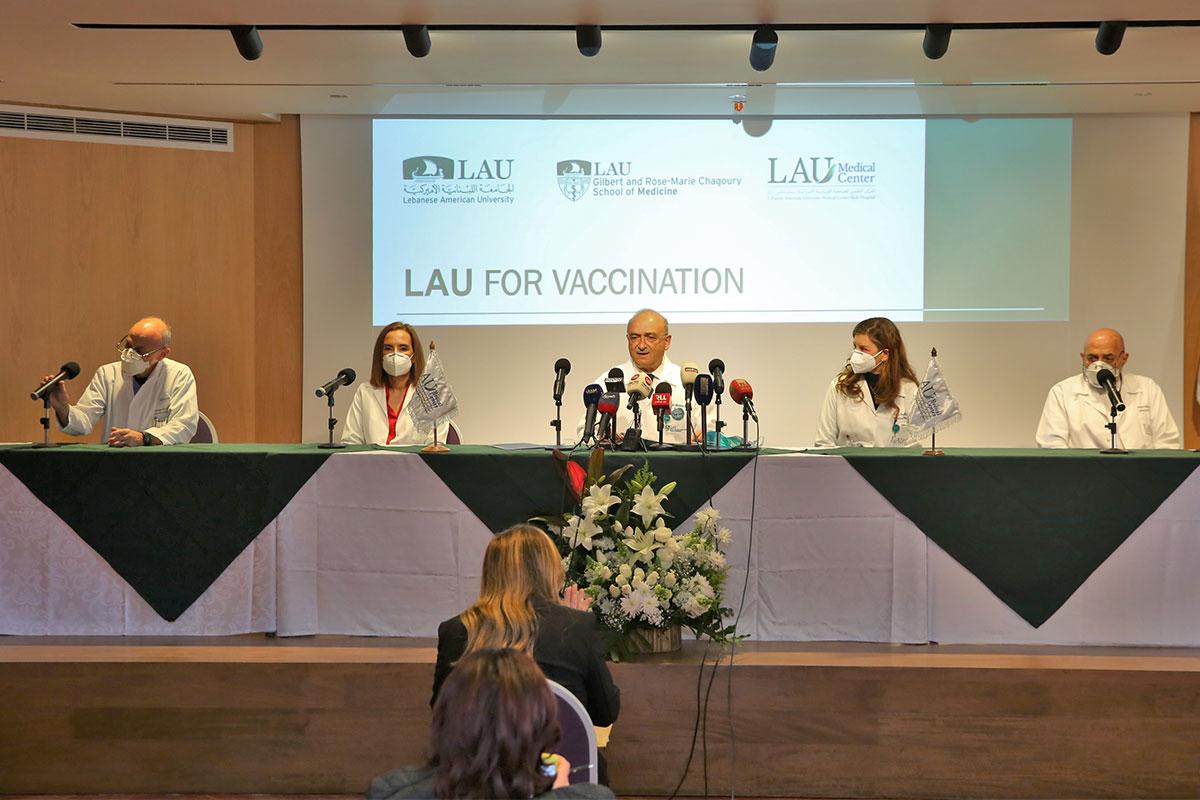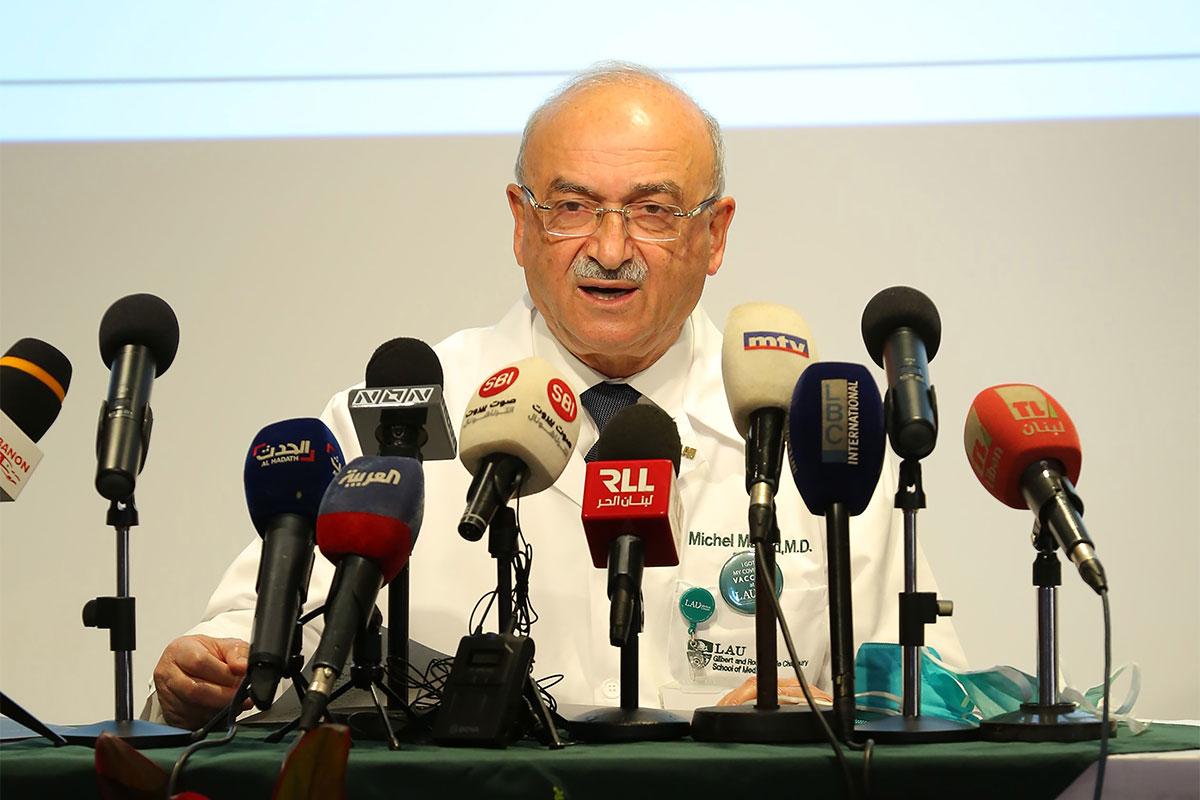 In response to circulating falsehoods on the efficacy and safety of the COVID-19 vaccine, LAU held a press conference at the LAU Medical Center-Rizk Hospital to affirm its endorsement of the national vaccination campaign, on Tuesday, February 16, 2021.
Speaking alongside LAU medical experts, President Michel E. Mawad declared that "we are all called upon to put an end to this pandemic that has caused suffering to humanity on so many levels by making sure that all those recommended to receive the vaccine do so."
Refuting false claims about the vaccine, he reassured attendees that the development process and the testing results it yielded were within the norms of older vaccines, as vetted by international bodies, including American and European supervisory organizations.
"As for virus mutations and variants, new or improved vaccines can be developed," added Dr. Mawad. "In fact, we may need to get vaccinated every year, or take a booster shot, which only amplifies the need to start the process as early as possible."
In this regard, he commended the Lebanese Government's plan to secure more vaccines to reach herd immunity before the end of 2021, and protect its people against COVID-19.
"We invite the government to increase the private sector's participation in the mass vaccination campaign, through a transparent framework involving university medical centers," he advised, stressing the need to consolidate all efforts to successfully contain this disease in the country.
From the very onset of the disease in Lebanon, LAU has been on the frontlines. Aside from taking the necessary measures to receive COVID-19 patients at its medical center, the university launched an ongoing national PCR-testing campaign and a free-of-charge Coronavirus Telecare clinic, and formed a National COVID-19 Health Response Committee composed of a number of its medical experts.
More initiatives will be undertaken by LAU, announced Dr. Mawad, with the support of the university's physicians in attendance: Chief Medical Officer, Head of Cardiology and Clinical Professor Georges Ghanem, Chair of Internal Medicine and Clinical Professor Jacques Mokhbat, Head of Infectious Diseases and Clinical Professor Roula Husni Samaha, and Clinical Assistant Professor of Infectious Diseases Anna Farra.
A fundraising campaign, launched on February 14 by the university, aims to help procure more vaccines for Lebanon. The national plan has so far secured only part of the total needs of the population to achieve herd immunity. LAU has already received a generous contribution of $1 million from Mr. Bahaa Hariri toward increasing the supply of vaccines to Lebanon.
Acknowledging LAU's "vital work," Mr. Hariri noted the importance of ensuring that everyone "is able to get a safe and effective vaccine. We have seen the devastation this pandemic has wrought on families and friends. I believe that by coming together we can each do our part to support the health and welfare of the Lebanese people." Appealing for wider support, he added, "this is just the start of this vaccine campaign and I encourage others to step forward and donate as well."
Furthermore, the anticipated opening of the LAU Medical Center-St. John's Hospital in Jounieh in March 2021 will fortify the battle against the disease. In the first phase, the center will be dedicated to receiving and treating COVID-19 patients. Pending a permit from the government, it might also be used as an additional vaccination center.
"I reiterate the readiness and willingness of our medical centers to join in the ministry's commendable efforts to immunize the Lebanese people against the pandemic so that we may work together toward one goal," concluded Dr. Mawad.
To donate or enquire about the fund, please contact Nassib Nasr at ​nassib.nasr@lau.edu.lb​, or +961 76 767 640 (LAU, Beirut campus)/ Nadya Mikdashi at nadya.mikdashi@lau.edu or +1-646-420-0706 (LAU NY).