LAU-MEPI TLers "Deserved the Opportunity and Will Honor the Responsibility"
Tomorrow's Leaders celebrate in a heartwarming virtual ceremony.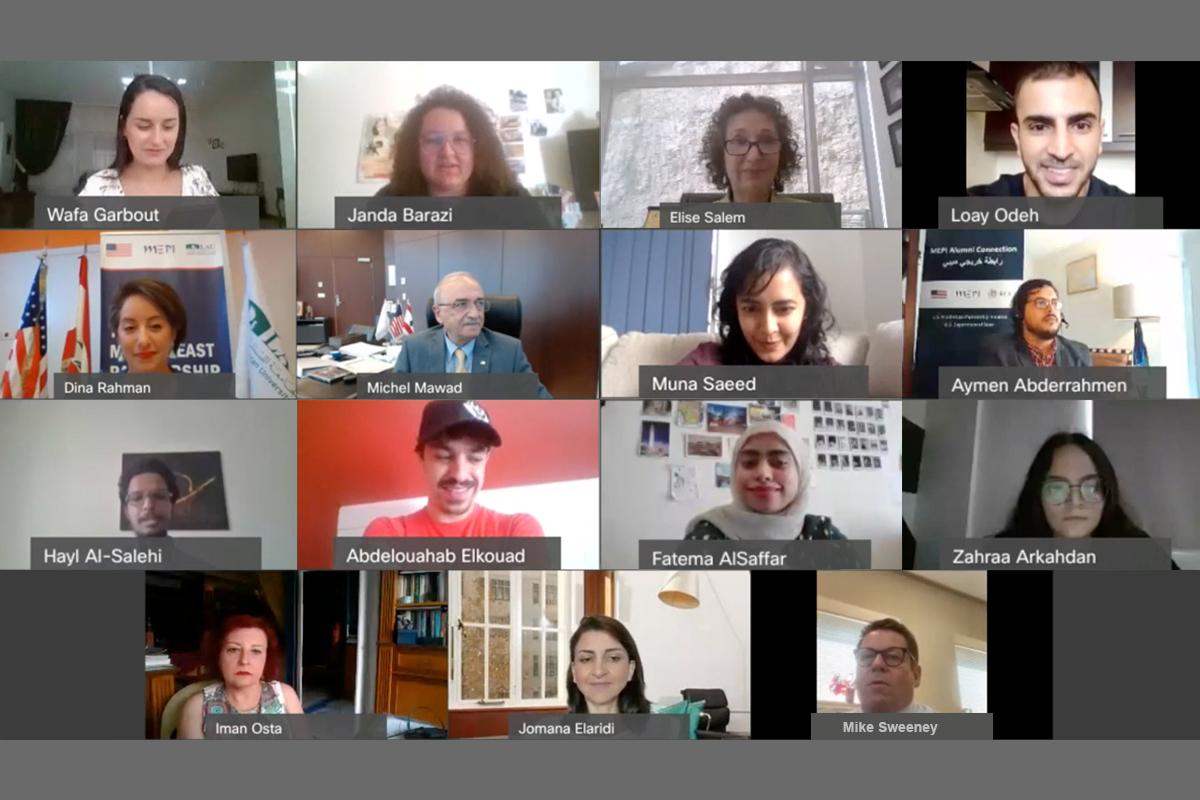 Together with the US Middle East Partnership Initiative (MEPI), LAU celebrated the graduation of 37 scholars from the Tomorrow's Leaders Undergraduate (TLU) and Graduate (TLG) programs, through a virtual ceremony held on July 9, 2021.
Funded by the US Department of State, the program covers full tuition and expenses for highly motivated young people from underserved background in the MENA region, with the aim of investing in their potential to lead and drive growth and progress in their home countries.
After welcoming attendees, LAU President Michel E. Mawad defined leadership as "the ability and passion to enlist others in your vision and help them make it their own, through character, knowledge, integrity, credibility, communication, role-modelling and critical self-examination." Its absence in our region, he continued, "has been at the heart of many of our socio-economic ailments."
In response, he said, the MEPI TL program "has opened new vistas for a purposeful, responsible life," shed light on "the existential importance of liberty," and "linked the experience of happiness to service and aligning oneself to a higher order of values."
Acting Deputy Chief of Mission and Consul General at the US Embassy in Beirut Mike Sweeney congratulated the TL Class of 2021, listing unprecedented hardships they had to endure, specifically the COVID-19 pandemic, the shift to online education, and Lebanon's economic crisis.
"Despite these challenges, we believe in your ability to build a better future, which is why the US Government is currently investing more than $52 million in the TLU and TLG programs, with an additional $20 million for the new TL Gender Scholars Program (TLS) at LAU and AUB," he said, pointing out that the graduates have joined the ranks of more than 430 TL graduates to date.
Thanking the American Government for their generosity, Vice President for Student Development and Enrollment Management Elise Salem said that no investment is needed and appreciated more than that dedicated for higher education.
From presenting remarkable capstone projects to bring awareness and equity to their communities, to conducting research and delivering fresh scholarly papers, she commended the graduates for exerting phenomenal efforts. "These students found the will and the way to volunteer, to lead and to excel," she said.
In an emotional speech, LAU-MEPI TL Executive Director Dina Abdel Rahman gave parting advice to the graduates: "Strive to serve with humility and ethics, speak less, listen more, understand, do not judge, avoid personal interpretations and build opinions and decisions on facts … Be an uplifting light in the lives of people around you and an inspiration to bring on positive change."
For LAU-MEPI TLU Academic Director and Associate Professor of Chemistry Jomana Elaridi, the TLU students' experiences presented plenty of opportunities to put their leadership to practice, especially during the recent trying months. "You have demonstrated determination, adaptability and resilience – true character strengths of the most respected of leaders," she said.
LAU-MEPI TLG Academic Director and Associate Professor of Mathematics Education Iman Osta pointed to the rigor of the MEPI TL program, which, apart from the academic experience, provided unique opportunities for graduate students to actively participate in conferences, civic engagement events and apprenticeships that helped them build their network.
Referring to the first TLG conference, Dr. Osta hailed the graduate scholars as being "producers of knowledge, who can scientifically study their society's issues and problems, advance the reflection about them and propose evidence-based solutions to decision and policy makers."
LAU-MEPI TLU valedictorian Janda Barazi, an international affairs graduate from Syria, spoke about personal and social hardships that she had encountered prior to joining the MEPI TLU program at LAU, where she finally "felt at home." Addressing her colleagues, she implored them to "hold on to your futuristic visions and always strive to change the things our societies told us were impossible: democracy, equality and peace."
In a joint address, LAU-MEPI TLG alumni Hayl Al-Salehi from Yemen, and Zahraa Arkahdan from Lebanon, spoke about their LAU journey, which had been lined with unconditional support, invaluable experiences, and a stepping stone to furthering their careers.