Meet LAU's Nine Fulbright Scholarship Recipients
The university nurtures, celebrates and draws inspiration from its students' boundless ambitions.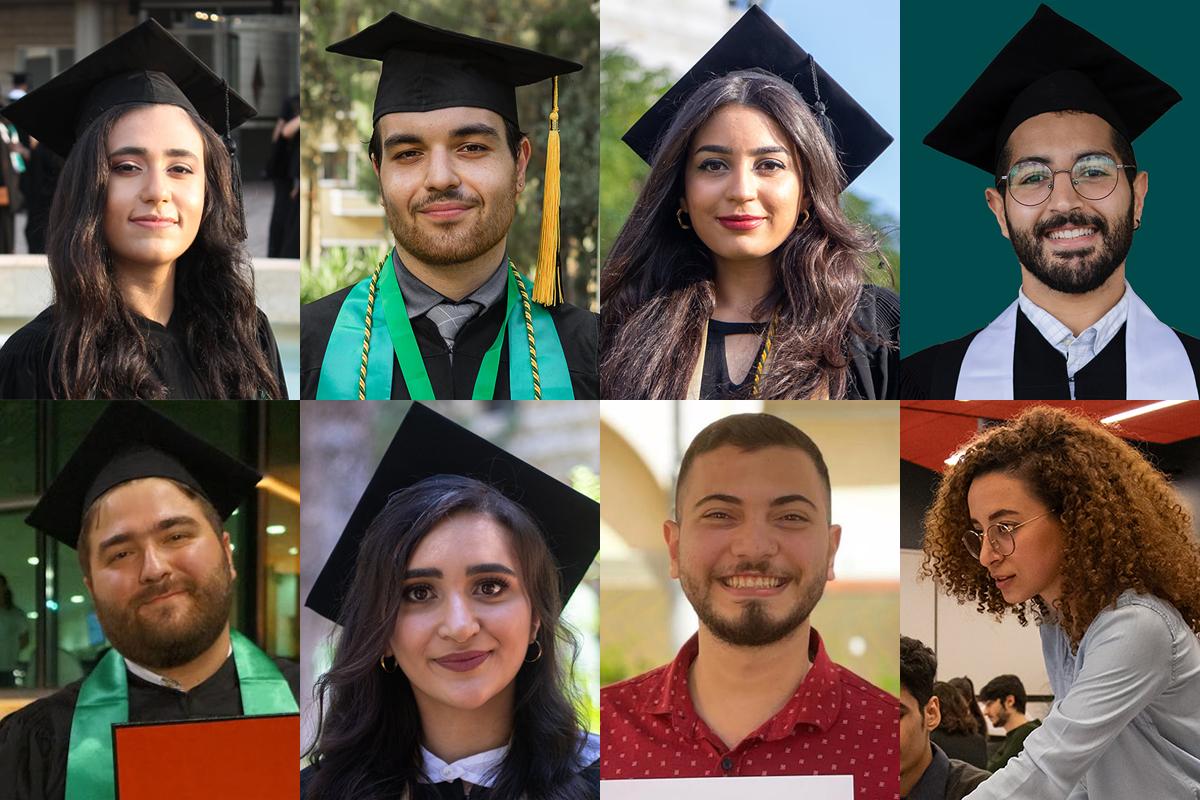 Having obtained an excellent, American-style education and enriched their undergraduate experience with a gamut of extracurricular and civic engagement opportunities, many LAU students look for prestigious scholarships every year to pursue their graduate studies.
Among them were nine ambitious students who have been selected this year to receive the globally renowned Fulbright Scholarship, the US government's flagship exchange program that allows Lebanese students to obtain a master's degree at a university of their choice in the US.
The successful graduates received full support from the Office of International Services (OIS) that works closely with a number of embassies in Lebanon to promote several study abroad and scholarship opportunities.
"We believe that our graduates' qualifications are excellent," said OIS Director Dina Abdul Rahman, "which allows them to land exceptional opportunities, especially in highly prestigious programs such as Fulbright." This, she added, is a testimony to their high caliber academically, interpersonally, and professionally.
In the following, Fulbright scholars reflect on their years at LAU, what motivates them and the Lebanon they aspire for.
Master of Science in Child and Family Studies (Research Track) at the University of Tennessee Knoxville, TN.
As Fulbright scholars, we are expected to acquire skills throughout our journey that will help develop our country when we return, and it is no secret that, for any child in Lebanon now, development is hindered by many obstacles. With poverty on the rise, socioeconomic problems such as school dropouts, child labor, child marriage, domestic violence, and lack of access to basic needs will run rampant.
My goal is to obtain a doctorate degree in the US after the completion of my master's and to pursue a career in academia, researching the impact of adversity on different areas of development and finding evidence-based prevention and intervention programs to aid underserved children and families.
At first, I was hesitant about applying to the Fulbright scholarship, knowing that it was very competitive. But my LAU professors – Dr. Loulwa Kaloyeros, Dr. Halim Tannous, and Dr. Jennifer Skulte-Ouaiss – encouraged me to apply and were supportive every step of the lengthy process, from initiating the application, obtaining recommendation letters to preparing for the interview and the requisite standardized tests. They were always one message away from guiding and advising me throughout. I also benefited tremendously from the assistance of LAU's Writing Center, especially Ms. Gacia Danaoghlian, in reviewing my statements several times prior to submitting.
I firmly believe that LAU gives all its students tremendous opportunities to thrive. I worked as a research assistant to many faculty members, and alongside Director of the Title IX Office Jennifer Skulte-Ouaiss, to make LAU a safer and more inclusive campus for all its students.
I also founded and headed the Gender and Sexuality Club that included 140 members and ran several awareness campaigns on issues that remain taboo in Lebanon, such as gender and sexual diversity, inclusivity, and women's sexuality in the Middle East.
All that may not have been possible in other universities in Lebanon – but at LAU we were able to fight stigma and hatred with outspokenness and science.
Additionally, LAU held the first student council elections after the October 17 uprising and August 4 blast, where I ran as a secular and independent student and was elected by the overwhelming majority of students. As news of these student elections spread, I believe LAU became a symbol of hope for the Lebanese people. All in all, LAU gave me a new family of supportive friends and amazing mentors. It gave me countless opportunities to grow my academic and leadership skills and to fight for my values fearlessly, all of which are invaluable assets in the Fulbright scholarship selection.
Stephanie Bechara
Master of Arts in International Political Economy and Development with a concentration in International and Development Economics at Fordham University, NY.
I chose this program to better understand the cycles of poverty in developing countries and why some countries develop better than others. I hope it will help me learn how to draft the right economic policies to promote economic growth and development, and to arrive at concrete solutions that can be implemented in Lebanon, especially considering the current economic crisis.
I believe that the two degrees I have earned at LAU – economics and psychology – along with my high academic standing have contributed to my selection as a Fulbright scholar. The extracurricular activities offered on campus have also helped enrich my profile.
Hadil Deeb
Master in Social Sciences and Comparative Education at the University of California, Los Angeles (UCLA), CA.
I will pursue my graduate studies in this field to achieve my long-term goal of fighting for the right of refugees and vulnerable communities to education. Upon completing my graduate degree, I plan to return home and open organizations that take on the whole-child approach in several areas in Lebanon with high refugee populations.
At LAU, I learned the fundamentals of education, which I was able to apply in my practicum courses at the university and at internships with Save the Children and the UNHCR. LAU helped me to strengthen my research base as well, which is highly important for a graduate degree abroad. Overall, I believe the whole LAU experience contributed to my selection for a Fulbright scholarship.
Elie Haddad
Master of Business Administration at Raymond Mason School of Business at the College of William and Mary in Williamsburg, VA.
I selected this program partly for its added value in offering mentors to graduate students, who will guide us throughout and help us attain our future goals.
While at LAU, I started my own company in financial technology in 2017, becoming the youngest founder, chairman and CEO of a joint-stock company in Lebanon, and the youngest CEO of a financial technology company in the MENA region. I managed to raise funds over three rounds of investments, partner with more than 10 banks and registered financial institutions and manage a team of 11 employees.
I also founded the Entrepreneurship Club, trained more than 250 computer science colleagues on developing web applications, and worked closely with the LAU Fouad Makhzoumi Innovation Center, where I engaged with and helped mentor dozens of startups.
Being a student at LAU certainly helped me become a more effective leader and set me on the path to success.
Leen El Harakeh
Master in Urban Studies at Arizona State University, AZ.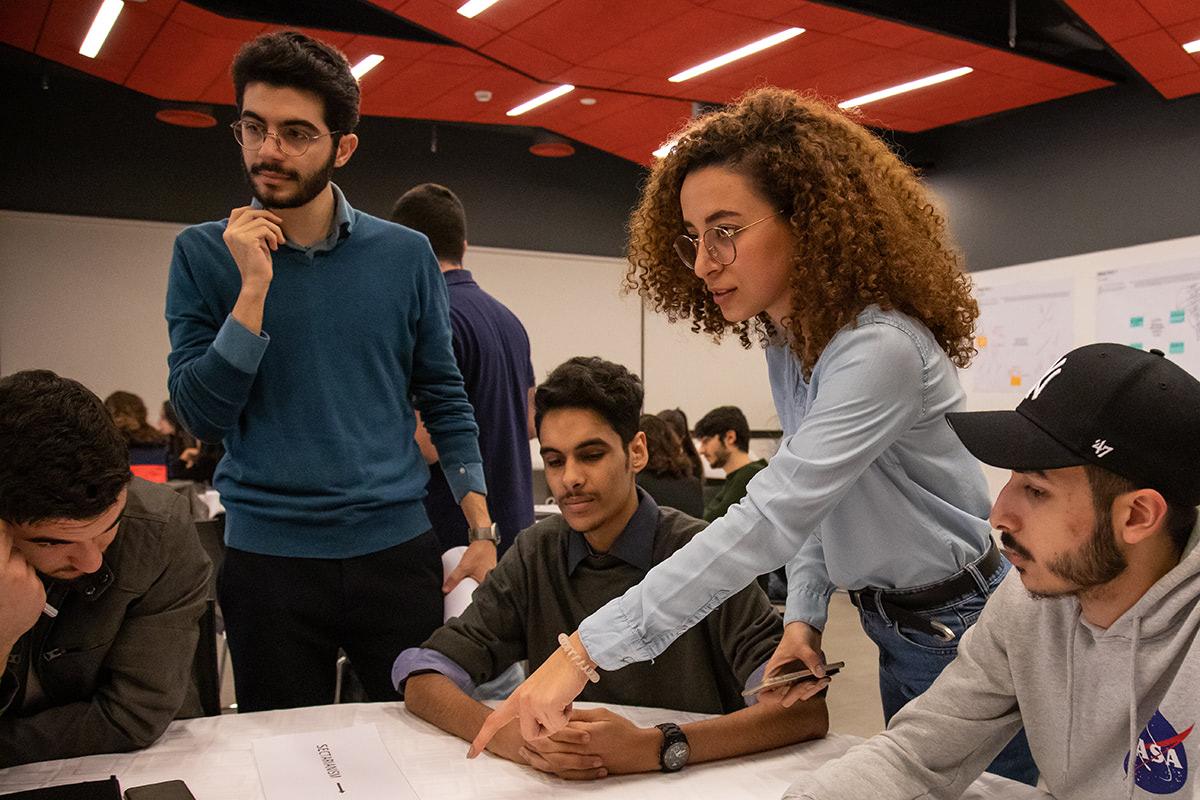 Nour Hassoun
Master of Science in Architecture and Urban Design - Entertainment Studio at the University of California Los Angeles, CA.
The program I will be joining offers specialization in the fields of architecture, design, and worldbuilding in pop culture and entertainment media, such as movies and video games. It is a cross-disciplinary, STEM-designated program that falls at the intersection of architecture, animation, and technology, which is quite convenient as I had majored in architecture with a minor in digital media and animation.
It feels like this unconventional program was made for me. As it is project-based and requires the production of a short movie before graduation, I would complete it knowing that I have a finished product that I can add to my portfolio and that will enable me to join the creative entertainment and storytelling industry.
I am certain that the wide selection of minors available at LAU have allowed me to divert my architectural studies toward the specialization I wanted to get into, and to build up a portfolio that fit perfectly into the program I had chosen, as both my minors helped me develop skills other applicants had not acquired.
I also know for a fact that the School of Architecture and Design's NAAB accreditation played a direct role in my selection for the program, as the degree was considered up to standard for advanced graduate and post-graduate studies in the US. Finally, I had a full merit scholarship that covered five of my six years of study at LAU. This scholarship was a great opportunity to study at a local university with an accredited liberal arts program.
Mohamad Ali Kalassina
Master of Science in Data Science at the University of Rochester, NY.
With data being the very center of today's professional world, I hope to acquire the skills, tools, and techniques to manage large amounts and different types of data, in order to drive effective decision-making in both the corporate and public sectors.
My time at LAU has helped me shape a comprehensive profile that fits the criteria for a Fulbright candidate. On an academic level, I was involved in multiple research and technical projects as an industrial engineering student. This gave me a clear understanding of the importance of data management and manipulation for significant results, in addition to creating an organized and efficient thought process.
On the extracurricular level, my involvement in multiple clubs and organizations allowed me to realize my potential as a value-adding member of my community. Filling leadership positions such as the Director-General of LAU's Model European Union also impacted the way that I view leadership and progress as a concept.
On the technical level, my internships with Dar El Handasah in Beirut and Nokia in the Philippines helped me develop industry-specific acumen. As a result, I landed a job with one of the leading telecommunication companies in the US, the Ingeniux group, as a supply chain specialist.
Overall, LAU has given me several opportunities to develop as an individual and to realize my potential in many different areas, which proved invaluable in the rigorous selection process of the Fulbright Program.
Marc Tohme
Master of Arts in Educational Leadership, Politics and Advocacy at New York University, NY.
I majored in political science and, in parallel, was highly active in the simulation models such as Model United Nations (MUN). The latter gave me the opportunity to be in a classroom and train students from all over Lebanon. This later encouraged me to pursue a teaching diploma at LAU as well.
Therefore, through my graduate studies under the Fulbright Scholarship, I would be merging both fields to realize my ultimate goal of contributing to reforming and improving the education sector in Lebanon.
Master in Robotics at the Michigan Technological University, MI.
When I applied to the Fulbright Scholarship, my hope was to prove that we can bring expertise to Lebanon that will help solve our problems. I am a mechanical engineering graduate and I aim to support my country through the field of robotics.
People around the world are finding optimal solutions to a series of problems with the aid of intelligent systems – so why not in Lebanon? I plan to develop the field of robotics in Lebanon by pursuing not only an MS but also a PhD, which will enable me to spread this knowledge across universities and academic institutions. The Fulbright program will hopefully be the first step toward achieving this goal.
At LAU, I was put on a path for success after graduation. Attending up-to-date courses and following up with webinars and workshops hosted by different clubs defined my vision for my future. The university was not just a place that shaped me academically but also socially. Being a scholar of the University Scholarship Program (USP) at LAU was an utmost privilege and honor; not only was the experience character building but it also elevated my personality to a whole new level.
All these gains at LAU helped me get selected as a Fulbright scholar and I believe that what we experience at LAU is precisely what such scholarships require.