Mentorship at LAU: We All Remember That One Professor Who Inspires
Dr. Mirvat El-Sibai has held a long history of mentoring and training students to become successful future scientists.
By Hanan Nasser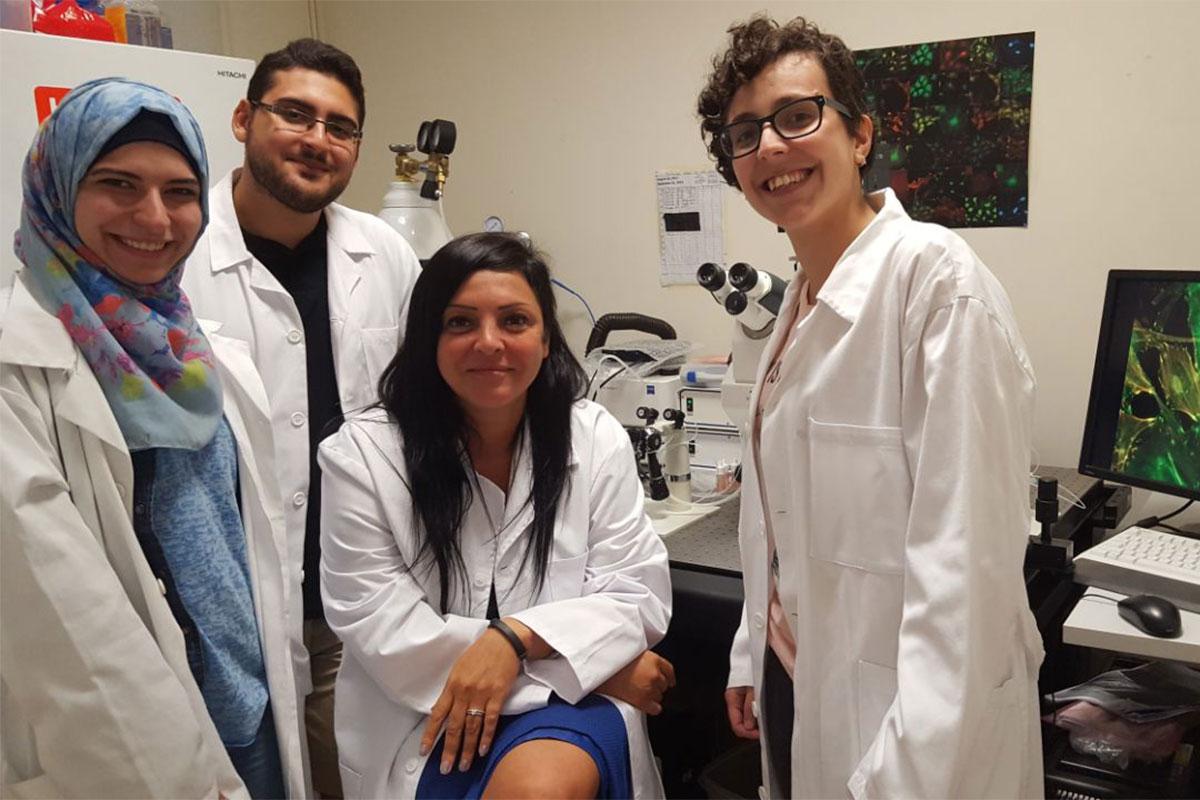 Students find inspiration in many things during their university years. But ask any student who had the most impact on them and they will surely remember that one professor who was their mentor, who encouraged them and created the right opportunities for them to thrive.
One such mentorship at LAU – in line with the university's Third Strategic Plan to promote research and innovative learning – is that of Associate Professor of Biology at the School of Arts and Sciences Mirvat El-Sibai. Recently, Dr. El-Sibai was featured by the Albert Einstein College of Medicine alongside her former mentee Dr. Gilbert Salloum (BS '15) in celebration of Arab Heritage Month.
A mentor, said Dr. El-Sibai, "should cast himself or herself as a role model, an example for the student/young scientist to emulate, so we need to hold ourselves to the highest standards of work ethics and values."
Mentorship extends beyond the walls of the classroom and helps students "navigate the knowledge they acquired and apply it in a pragmatic way to extract the most out of it in order to advance their career."
For years, Dr. El-Sibai's molecular biology lab has served as a hub where students are trained to become future scientists, and where they are pushed to think about experimental designs from A to Z.
"They have to analyze the reason behind the use of every chemical all the way to how the project as a whole would answer the theory and advance scientific knowledge."
In her mission to encourage undergraduate research, Dr. El-Sibai has regularly hosted undergrad volunteers in her lab. She has also mentored 38 graduate students from the MS in Molecular Biology (now the MS in Biological Sciences), two PhD students and two post-docs.
Many of her mentees have since joined PhD programs with full scholarships and post-doctoral fellowships in prestigious institutions, including the Albert Einstein College of Medicine, Harvard Medical School, Penn State University, Institut de Recherche en Cancérologie de Montpellier, France, and Université de Lausanne, Switzerland, among others.
One of her former mentees is alumnus Samer Hanna (MS '12) whose research in Dr. El-Sibai's lab as a graduate student focused on the molecular mechanisms in breast cancer metastasis.
Dr. Hanna graduated in 2018 with a PhD from the Albert Einstein College of Medicine and is now completing his post-doctoral training at Weill Medical College of Cornell University. He is studying the role of tumor-secreted microvesicles, known as exosomes or microparticles, in "enhancing the recruitment of host immune cells to help prepare the local environment at the distant organs for the incoming cancer cells." Distant organs refer to any organ that the tumor cells migrate to and possibly form a secondary tumor. For example, breast cancer might metastasize to the liver, which in this case is a distant organ.
During his time in Dr. El-Sibai's lab, Dr. Hanna learned numerous research techniques and developed laboratory skills in the field of cancer biology. "In addition to the extensive research experience," he said, "Dr. El-Sibai's training greatly improved my skills to independently design, execute and analyze research experiments."
After graduation, he continued to pursue research on breast cancer and its interaction with the host immune system, and to expand his skills and expertise in quantitative imaging techniques, the focus of his training at Dr. El-Sibai's lab.
In addition to the multiple techniques that served as building blocks in Dr. Hanna's current research, the mentorship contributed to his professional growth as a graduate student. "I had opportunity to present my work at local meetings and become first author and co-author on several peer-reviewed publications," he said.
For Dr. Bassem Khalil (MS '11), who is completing his second postdoctoral fellowship in Dr. Aguirre-Ghiso's laboratory at Icahn School of Medicine at Mount Sinai, Dr. El-Sibai was the driving force that propelled him in his career as a cancer researcher.
Dr. Khalil is currently working on developing cancer therapies that inhibit metastasis by inducing cancer cell dormancy and is also an adjunct assistant professor at Fordham University.
In addition to the "outstanding well-rounded training" Dr. El-Sibai provided as his thesis advisor, she "worked tirelessly to facilitate my admission to the highly prestigious PhD program at the Albert Einstein College of Medicine," he said, and continues to offer him professional and personal support almost a decade after his graduation from LAU.
"As a graduate student in her laboratory, I had the opportunity to work on an exciting research project studying how glioblastoma, a highly malignant brain tumor, invades surrounding tissues," he recalls of his time at LAU. The research study was published in an international peer-reviewed journal, in addition to a review article that has so far been cited more than 50 times.
Yet beyond the academic encouragement and guidance, students such as alumna Maria Al Haddad (MS '20), have found in Dr. El-Sibai not only a mentor but also a confidant whom they can rely on for support on a personal level.
Al Haddad describes a sense of kinship that Dr. El-Sibai fostered in her lab and which formed the nucleus of a support system for her students.
"Our lab is like a family. We celebrate together and we mourn together. We looked forward to meeting as a group weekly so we can share laughs and stories," Al Haddad said.
"She would sense if you're not doing well and she'd always help whenever possible. Her office is a vault of secrets and I can say with confidence that she has helped us all grow in science and in our personal lives," she added.
Dr. El-Sibai's philosophy is to set goals for her students while focusing on what they are most passionate about. Allowing undergraduates to volunteer in her lab was one of the ways that helped students cement their decision to pursue research based on that experience.
"At the undergraduate and graduate levels, I encourage the students to get exposed to many ideas and explore career potentials," she said of her approach.
"Planting the seed of scientific curiosity and walking students through the process of the scientific method with relevant examples from everyday life, helps, particularly undergraduate students, to find a sense of purpose early in their career," she added.
Dr. El-Sibai underlined the importance of one-on-one mentorships in universities such as LAU, describing it as the modern-day equivalent of the mentorship model "used in ancient civilizations whose objective is to develop the well-rounded scholar and to propagate schools of thought."
But ultimately, a mentor is there to inspire her students, support them through failed experiments and to remind them of the "ethical dimensions and sacrifices" of scientists.
"It is all done in the name of science, not the individual, the same way every research article is one piece of the puzzle toward helping humanity. These values students learn from their mentors," she said.