Nobel Laureate in Chemistry Speaks at LAU
Dr. Jean-Pierre Sauvage addresses young scientists during inaugural lecture organized by the School of Arts and Sciences.
By Hanan Nasser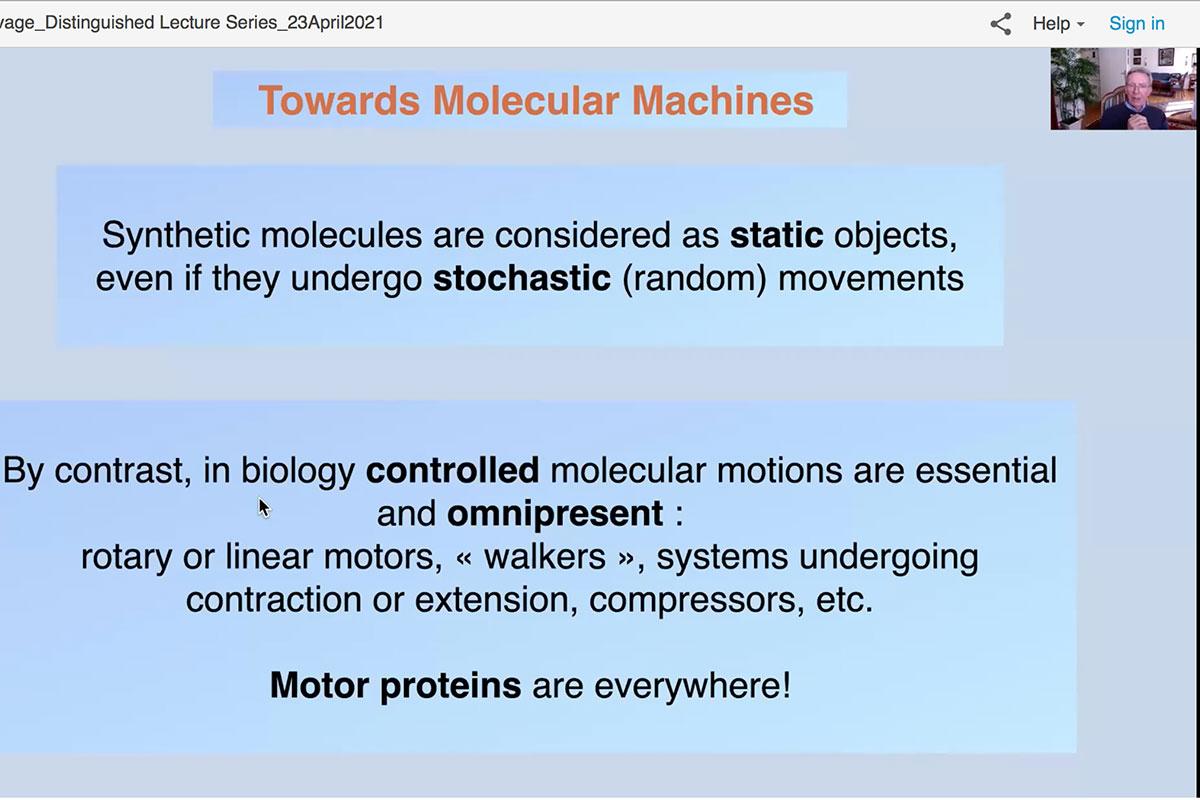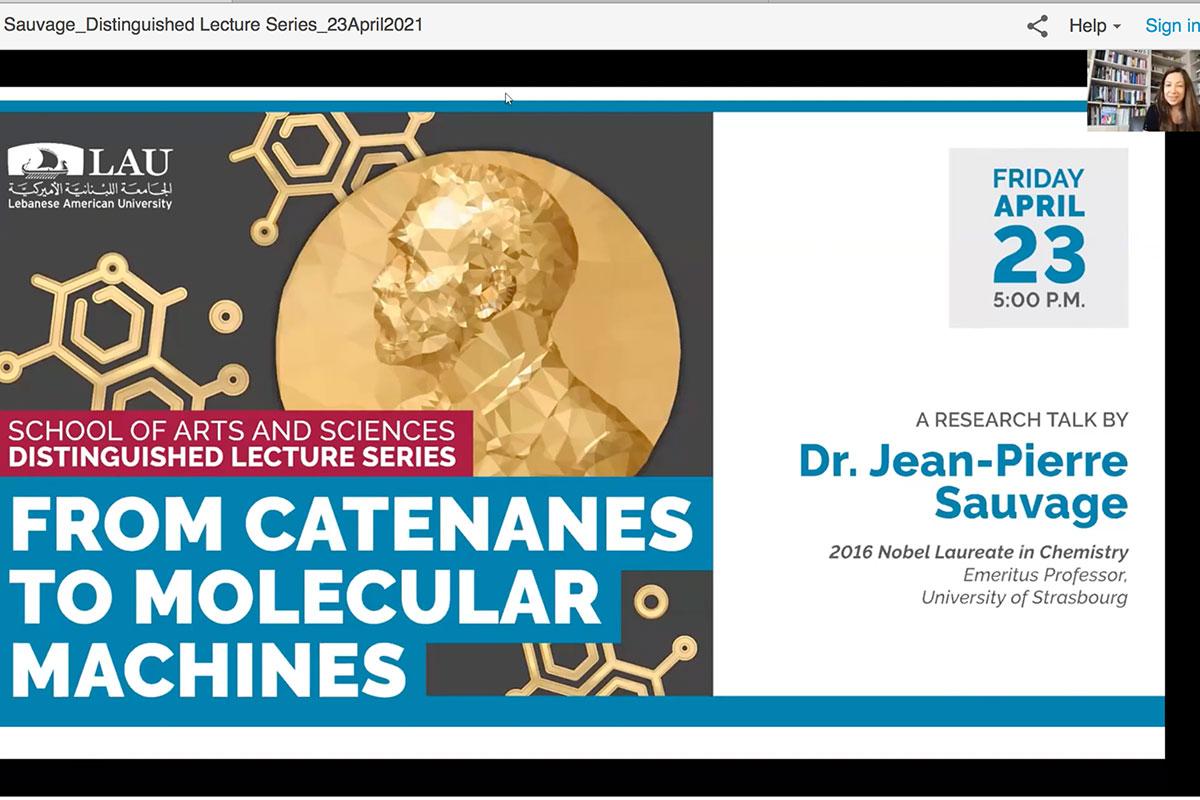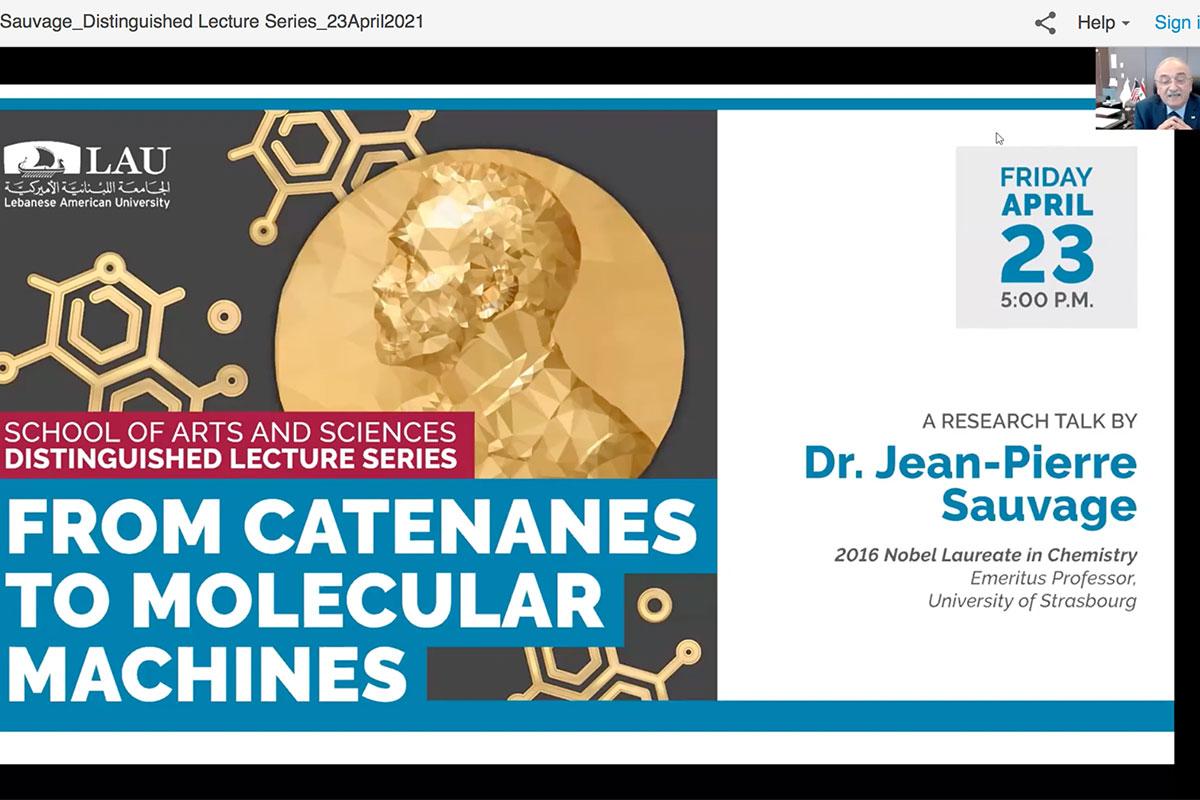 Nobel Prize laureate Jean-Pierre Sauvage enlightened students and faculty about the fascinating topic of molecular machines at the inaugural installment of the School of Arts & Sciences' (SoAS) Distinguished Lecture Series last month.
Dr. Sauvage received the Nobel Prize in Chemistry in 2016 for his pioneering studies that have led to the design and synthesis of molecular machines. He holds a chair position at the prestigious University of Strasbourg Institute for Advanced Study.
In his lecture, Dr. Sauvage talked about an important family of molecules: interlocking or threaded rings named catenanes and rotaxanes respectively. While the simplest catenane consists of two interlocking rings, rotaxanes consist of rings threaded by acyclic fragments (axes).
Those components played an important role in the emergence of the field of molecular machines, which can be used in the future for new materials, sensors and energy storage systems.
"Before the emergence of molecular machines, synthetic molecules were mostly considered as still objects or species undergoing stochastic movements. Molecular systems undergoing large amplitude motions in a controlled fashion were scarce," he explained.
Dr. Sauvage gave an overview of potential future applications for molecular machines including "a promising technique for storing and processing information with, in particular, huge information densities, activation and catalysis toward synthetic enzymes, and the development of nano-size devices able to sort and/or transport molecules through a membrane or fluid," among others.
He advised young researchers to foster connections and interact with local and international scientists. But, "novelty," he said, "is probably the most important thing to be taken into account when you start your own research." Jumping from one field "in which you are comfortable to another in which you are not so comfortable can be very beneficial. Just do it without asking yourself if you are able to do it."
Attending the virtual talk were LAU President Michel E. Mawad, SoAS Dean Cathia Jenainati and SoAS Director of Liberal Education Rony Khnayzer, who organized the event.
"As a research-focused university, LAU promotes distinction in all areas of academic endeavor," Dr. Jenainati said in her welcoming note. "We, at the School of Arts and Sciences, celebrate diversity in our academic delivery, we value research in the disciplines, and we value research across the disciplines."
Underlining the importance of research, Dr. Jenainati said that a world without it would be one "where governments carry out policy based on hunches, where medical decisions are made with no basis in clinical trial, and where manufacturers release products without research, development or testing. It would certainly be a bleak and dystopic world."
Introducing Dr. Sauvage, Dr. Mawad expressed his admiration for the Nobel Prize recipient whose great contributions to science have left "a precious legacy that will be greatly appreciated by future generations."
The SoAS Distinguished Lecture Series hosts leading scholars, policymakers, activists, entrepreneurs, and public figures to discuss timely topics such as sustainable development, technology, leadership, entrepreneurship, global citizenship, wellbeing and skills for the future. The lectures will be categorized into motivational talks and research lectures.
"The series fits within our vision of liberal education in the 21st century and will include motivational talks as well as research presentations," said Dr. Khnayzer.
"The motivational talks are intended to focus on stories of failure and success from prominent people while the research lectures will tackle areas of applied research that constitute a breakthrough in the field."