Parental Leave in Focus
AiW and NCLW roundtable discussion delves into a revised draft for parental leave law and the conversations that surround it.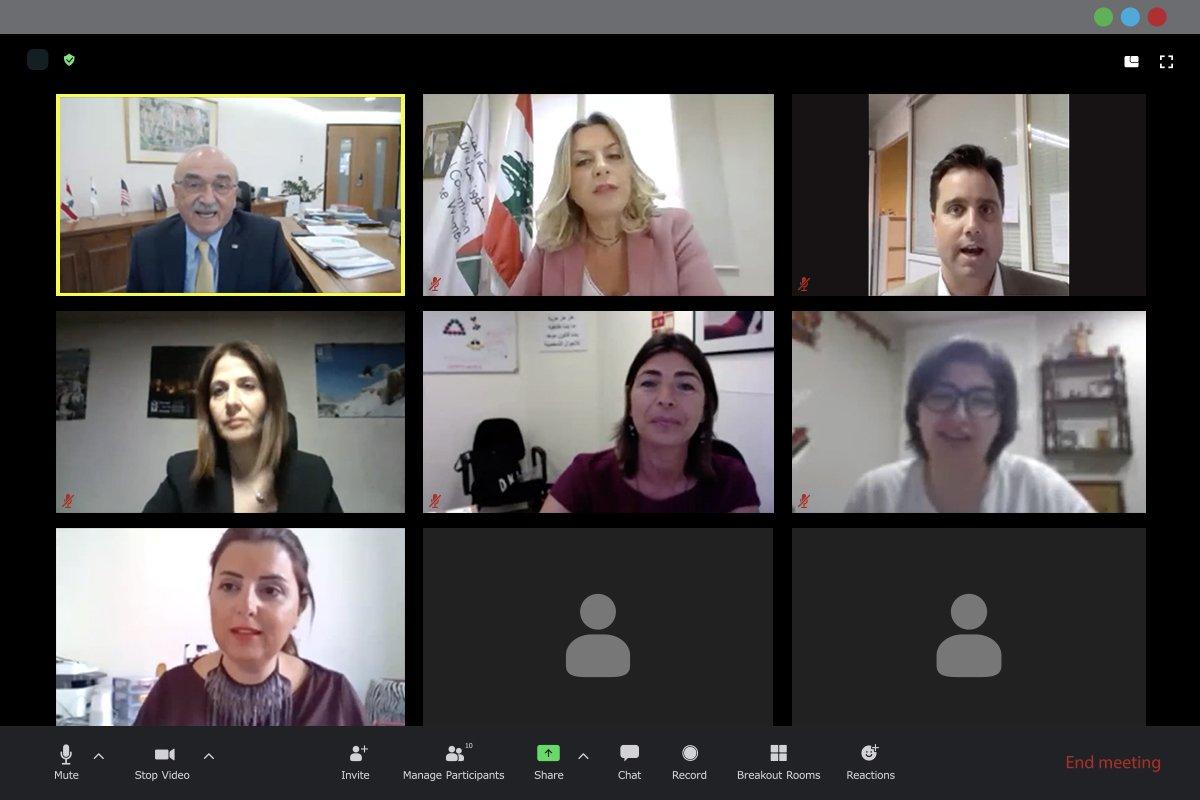 The Arab Institute for Women (AiW) at LAU and the National Commission for Lebanese Women (NCLW), hosted a virtual roundtable discussion that highlighted the importance of parental leave, and enumerated the steps that were taken to execute the draft parental leave law that will be proposed in the Lebanese parliament.
The draft law – executed under the umbrella of the AiW's project, Equality for Everyone: Gender Reform from Grassroots to Government, funded by the US Middle East Partnership Initiative (US-MEPI) – aims to promote universal parental leave and progressive childcare policies among Lebanese working parents as an entry point toward achieving greater gender equality in Lebanon.
NCLW President Claudine Aoun Roukoz called for rethinking the legislative dimension and considering it a pressing need, especially in light of unprecedented social and economic conditions in Lebanon. She highlighted the importance of redressing the gap between women's educational attainment and competencies on the one hand, and their economic participation on the other, which is threatened to drop lower than its current poor standing at 30 percent.
"The notion of parental leave is not exclusive to the maternity leave, but includes fathers, who can benefit from a paid 10-day leave during their newborn's first three months," explained Roukoz. "Social roles, which include economic and family duties," she continued "are no longer tied to one gender over another, and this should be reflected in laws that are based on gender equality."
Pointing to LAU's trailblazing origins as the first regular girls' school under the Ottoman Empire, President Michel E. Mawad lauded the joint efforts in advancing the gender equality agenda in Lebanon. "It is no secret that the institute is working with university constituents on a review of the parental leave policy at our very own LAU, which we hope to announce soon," he said.
Indeed, through the course of this project, AiW worked with the LAU administration and committees to ameliorate the internal policies related to this thematic area. It also made use of the expertise of the team of faculty and researchers to work on a series of research papers that fill the knowledge gap.
AiW Director Myriam Sfeir affirmed that they "will continue to work in-house, as well as with human resources executives at private institutions and owners of small and medium enterprises to champion progressive parental policies, expert recommendations and best practices."
Based on the findings of the general policy paper, the research-based recommendations for the short and medium term include lengthening the paid maternity leave to 15 weeks, establishing a two-week paid paternity leave, and ensuring a suitable environment for breastfeeding mothers at the workplace, said Researcher and Development Consultant Zeina El Helou.
In the long run, El Helou added, a new social contract will have to be drafted, whereby "all stakeholders – especially men – can join the conversation and champion equal parental responsibilities through fair parental leave."
Building on these recommendations, NCLW Executive Board Member and lawyer Maya Zaghrini proposed additions and revisions of the current parental leave law, such as instituting a longer maternity leave and creating a paternity leave, while providing gender-equal work environments in terms of hiring and access to benefits, as well as equal pay, among others.
Fundamentally, gender stereotypes should be eliminated and positive paternal practices implemented, said UN Women Lebanon Program Coordinator Jumanah Zabaneh. "Starting with a non-gendered approach to raising their children, to arguably more polarizing topics such as participating in unpaid household chores – caring for children, home keeping and caring for the elderly –" she said, "men could play a vital role in putting gender equality into practice."
Speaking about MEPI's role in encouraging participatory governance and economic growth, Economic Officer and MEPI Coordinator at the US Embassy Andrew Doehler said that it had "invested in LAU for this project because the US is committed to ensuring that gender equality and women's empowerment are central tenants in our foreign policy and national security strategy."